In­ves­ti­ga­tors sound a safe­ty alarm af­ter 2 pa­tients die of heart con­di­tion fol­low­ing check­point com­bo
Check­point in­hibitors like Keytru­da and Op­di­vo quick­ly achieved leg­endary sta­tus as break­through can­cer ther­a­pies with broad, block­buster roles to play on the mar­ket. But in a new study pub­lished in the New Eng­land Jour­nal of Med­i­cine, in­ves­ti­ga­tors have spot­light­ed rare cas­es in which check­point pa­tients have died or been af­flict­ed by heart trou­ble. And there's ev­i­dence that a T-cell dri­ven re­ac­tion threat­ens a very small group of pa­tients tak­ing the drugs.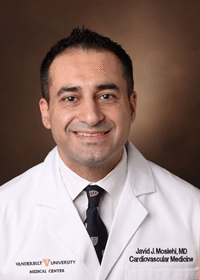 Dr. Javid J. Mosle­hi
Two melanoma pa­tients died from my­ocardi­tis af­ter tak­ing a com­bi­na­tion of Yer­voy and Op­di­vo, ac­cord­ing to the re­port. And 0.27% — a tiny sliv­er of the to­tal — de­vel­oped the con­di­tion, a po­ten­tial­ly fa­tal, T-cell–dri­ven drug re­ac­tion.
The re­searchers be­hind the re­port were care­ful to em­pha­size that no one should stop tak­ing the drugs, which have helped rev­o­lu­tion­ize melanoma ther­a­py in the past two years. But they do want physi­cians to be aware of the risk as they go about ex­plor­ing new ways to pre­vent fur­ther deaths.
Both pa­tients had ad­vance cas­es of melanoma when they were treat­ed, and nei­ther had a his­to­ry of heart prob­lems.
"We're work­ing to de­vel­op treat­ments for it. Our job is not to say the drugs are bad, but to say, 'How can we deal with it?'" Dr. Javid J. Mosle­hi, the di­rec­tor of car­dio-on­col­o­gy at Van­der­bilt School of Med­i­cine and the se­nior au­thor, told The New York Times.
The news marks an­oth­er po­ten­tial prob­lem for Op­di­vo af­ter Bris­tol-My­ers Squibb was sent reel­ing by the fail­ure of its front­line Phase III study for non-small cell lung can­cer. That out­come helped Mer­ck leap ahead by gain­ing a new ap­proval for us­ing their drug on pre­vi­ous­ly un­treat­ed pa­tients whose can­cer cells ex­press high lev­els of PD-L1.