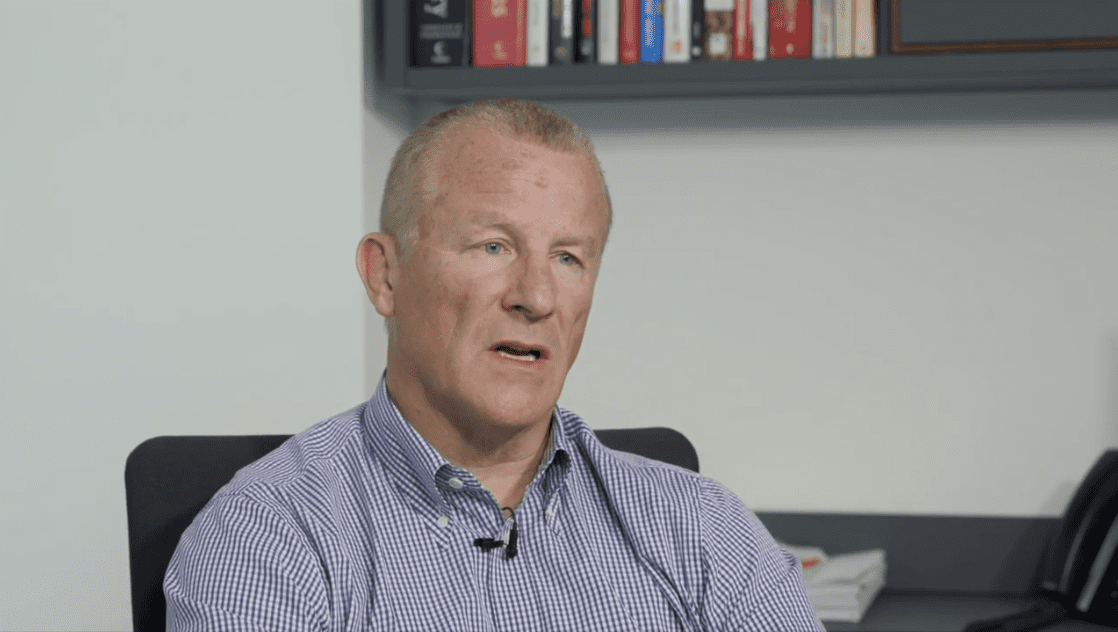 Neil Woodford via YouTube
In­vestors trapped for an­oth­er 28 days as sus­pen­sion of Wood­ford flag­ship fund drags on
So when will Neil Wood­ford's main fund be re­opened? Not in the com­ing 28 days, in­vestors learned af­ter the mar­kets closed in the UK Mon­day.
Link Fund So­lu­tions, the of­fi­cial hold­er of the Wood­ford Eq­ui­ty In­come Fund, has de­cid­ed to con­tin­ue block­ing re­demp­tions, sales or oth­er trans­ac­tions of the fund. It's hard­ly a sur­pris­ing out­come, but one that is like­ly to fur­ther frus­trate in­vestors, many of whom said they were blind­sided by the ban.
The ra­tio­nale, Link in­sists, has al­ways been to pro­tect in­vestors' in­ter­ests by al­low­ing Wood­ford's team the time to shift away from pri­vate com­pa­nies to­ward more liq­uid stocks. In the first 28 days of sus­pen­sion, they have re­port­ed­ly sold at least £300 mil­lion ($379 mil­lion) worth of as­sets, con­vert­ed in­to cash or oth­er stock hold­ings.
"When the fund re­opens, you will see a much more liq­uid port­fo­lio, but one that re­flects the same in­vest­ment strat­e­gy. The port­fo­lio will con­tin­ue to be fo­cused on un­der­val­ued com­pa­nies, but the ma­jor­i­ty of them will be FTSE 100 and FTSE 250 in­dex con­stituents," Link wrote in a state­ment, adding that it will ap­point a part­ner to as­sist with the process.
Wood­ford added in a video that he sees many com­pa­nies in this group that are "pro­found­ly un­der­val­ued" and look like at­trac­tive can­di­dates to re­plen­ish the port­fo­lio af­ter sell­ing off some fa­vorites. Over the long course of fi­nan­cial mar­ket his­to­ry, he said, val­u­a­tion wins out, align­ing share prices with re­al­i­ty soon­er or lat­er.
As long as in­vestors still trust his as­sess­ment of re­al­i­ty.
Fi­nal­ly, the be­lea­guered stock­pick­er pledged to re­turn to full trans­paren­cy once the saga is over, even though the pol­i­cy has been with­drawn for the time be­ing:
When we set Wood­ford up 5 years ago we felt our in­vestors would val­ue the in­for­ma­tion that we were able to pro­vide. I think what we un­der­es­ti­mat­ed is how our full port­fo­lio trans­paren­cy would be­come more dam­ag­ing in a pe­ri­od of un­der­per­for­mance. In essence, the trans­paren­cy be­came more dam­ag­ing than the val­ue it cre­at­ed for our in­vestors.
Sus­pend­ing the Eq­ui­ty In­come Fund, of course, still doesn't stop Wood­ford's oth­er funds from be­com­ing col­lat­er­al dam­age. And it would like­ly add fu­el to the po­lit­i­cal fire that's prompt­ed fi­nan­cial reg­u­la­tors to look in­to the halt in the first place.
The con­tro­ver­sy will have an­oth­er 28 days to brew be­fore Link re­views the sit­u­a­tion again.