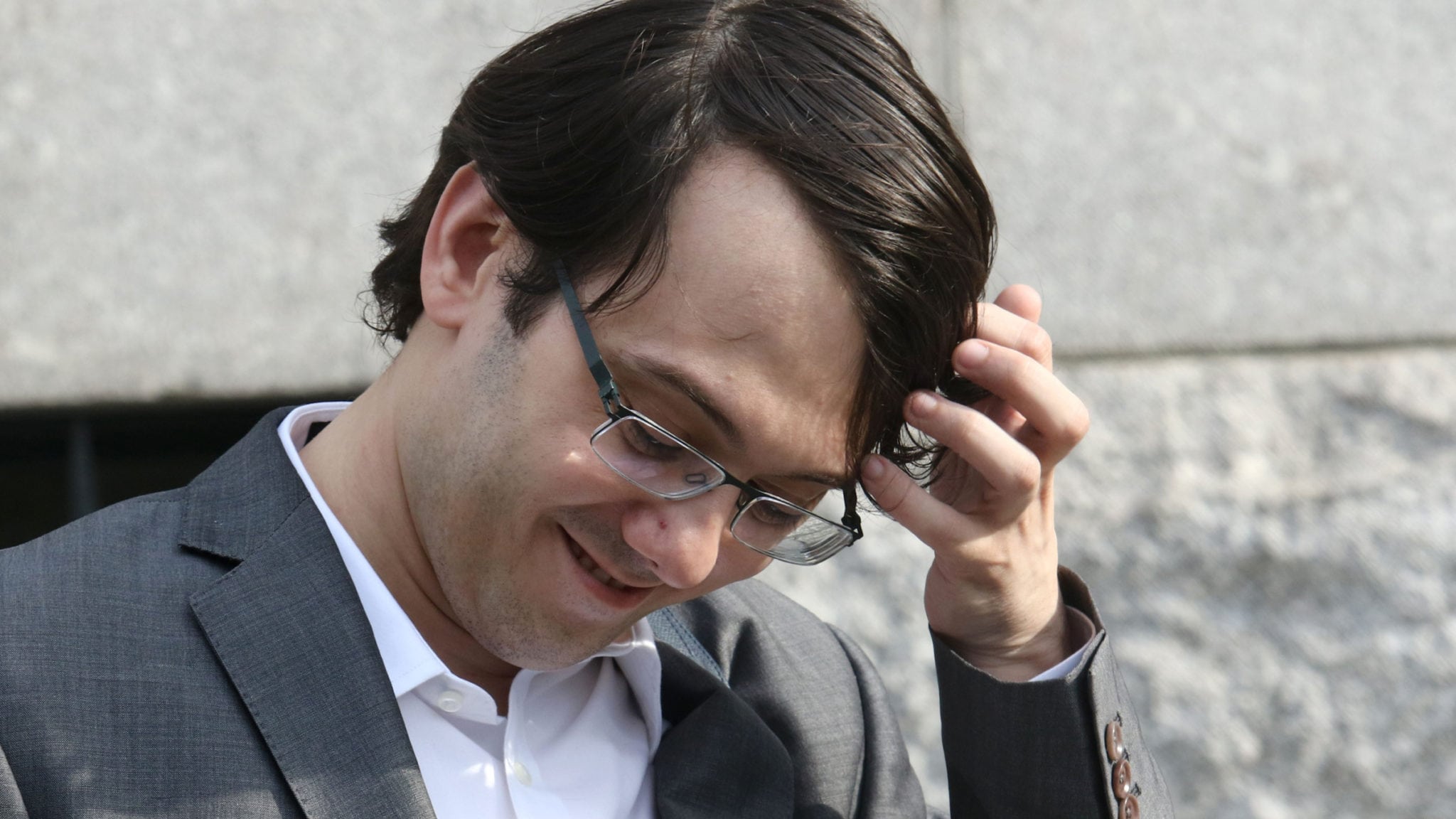 Is Mar­tin Shkre­li blog­ging from prison?
Say what you will about Mar­tin Shkre­li, but the guy ap­pears to have a re­lent­less re­silience to be heard. A few months in­to his prison sen­tence at Fort Dix, Shkre­li might be blog­ging from his cell.
That's ac­cord­ing to ac­tiv­i­ty on this site — mar­tin­shkre­li.com — which saw its first en­try post­ed yes­ter­day. Al­though it's still un­clear if the blog is gen­uine, the first post was writ­ten in Shkre­li's now-fa­mil­iar wry voice and style. He shares his per­son­al con­tact in­for­ma­tion, in­clud­ing an email ad­dress you can send ques­tions to. His peo­ple will print the emails and "snail mail" them to Shkre­li at the cor­rec­tion­al fa­cil­i­ty, the post says.
I've reached out to Fort Dix, the prison where Shkre­li is cur­rent­ly serv­ing his 7-year sen­tence for se­cu­ri­ties fraud, to see if Shkre­li can ac­tu­al­ly post blogs while in­car­cer­at­ed. What ac­cess does he have to the in­ter­net? In what cir­cum­stances would the fa­cil­i­ty in­ter­fere with his blog­ging? The in­sti­tu­tion took my call, but said it need­ed time to re­spond. I'm still wait­ing to hear back.
If the blog is in­deed gen­uine, it seems Shkre­li is de­ter­mined to share his thoughts on in­dus­try mat­ters. The first sec­tion of his first en­try is com­men­tary on bio stocks and in­dus­try news, with mus­ings like the one be­low:
No­var­tis' much-telegraphed sale of Al­con and the con­tin­ued im­plo­sion of GE re­minds us con­glom­er­ates are more out of fash­ion than prob­a­bly at any point in the his­to­ry of busi­ness. This flies in the face of me­chan­i­cal log­ic, but prac­ti­cal­ly makes sense. Find­ing good man­agers is hard (I've maybe found a very small hand­ful of de­cent man­agers out of close to 1000 I've em­ployed over the years) and con­glom­er­ates can on­ly work if you have an en­gaged CEO (about 5% of CEOs) and en­gaged man­agers (less than 5%? less than 10%?), which prob­a­bil­i­ty tells you is far low­er.
Then he out­lines sci­en­tif­ic pa­pers he's read from prison and adds notes on what he thinks about each. Last, he ded­i­cates a few para­graphs to his per­son­al life.
"I have around 38 months to go as­sum­ing no suc­cess on an ap­peal," he wrote. "I spend most of my team [sic] read­ing. A news­pa­per mis­re­port­ed that I'm 'buff'. This is not the case."
He al­so writes that news out­lets have mis­re­port­ed facts about his as­sets.
"Oh, the Wu-Tang al­bum is still in my pos­ses­sion," he wrote. "As are all of my as­sets."
News writ­ers re­port­ed back in March that US Dis­trict Judge Kiyo Mat­sumo­to or­dered Shkre­li to for­feit $7.36 mil­lion. But that or­der got stayed — as we re­port­ed — pend­ing Shkre­li's ap­peal, which could take a year or so to wrap up.
The news of Shkre­li's blog was first not­ed by Christie Smythe, a le­gal jour­nal­ist who's writ­ing a book about Shkre­li. Fol­low the con­ver­sa­tion via this tweet, and we'll up­date this sto­ry once Fort Dix gets back to us:
Mar­tin Shkre­li is now prison blog­ging. https://t.co/3Y2xcVGC2P

— Christie Smythe (@ChristieS­mythe) Ju­ly 2, 2018
---
Im­age: Mar­tin Shkre­li. SHUT­TER­STOCK