Is­raeli biotech flunks PhII liv­er can­cer study, but it in­sists drug Can-Fite dis­ease in sub­set of pa­tients
Is­raeli biotech Can-Fite Bio­Phar­ma is hop­ing to trudge ahead with a late-stage study of its ex­per­i­men­tal can­cer drug, de­spite it fail­ing a mid-stage study in pa­tients with ad­vanced liv­er can­cer.
The drug, namodeno­son, was be­ing test­ed in a 78-pa­tient Phase II study in pa­tients with ad­vanced liv­er can­cer in pa­tients with un­der­ly­ing cir­rho­sis, whose dis­ease had pro­gressed de­spite first­line treat­ment with Bay­er's Nex­avar.
Can-Fite's drug missed the main goal of over­all sur­vival; in fact namodeno­son-treat­ed pa­tients ac­tu­al­ly per­formed worse: me­di­an OS was 4.1 months for namodeno­son ver­sus 4.3 months for place­bo.
Shares of the com­pa­ny $CANF tum­bled more than 27% in pre-mar­ket trad­ing to 94 cents on Tues­day.
Pa­tients with ad­vanced liv­er can­cer are di­vid­ed in­to sub­class­es based on cir­rho­sis sever­i­ty, us­ing a wide­ly used tool as mea­sured by the Child-Pugh score, which was orig­i­nal­ly de­vel­oped in 1973 to es­ti­mate the risk of op­er­a­tive mor­tal­i­ty in pa­tients with bleed­ing esophageal varices.
In the tri­al, pa­tients giv­en the Child Pugh B (CPB) score were en­rolled, and with­in that cat­e­go­ry pa­tients were fur­ther di­vid­ed in­to three sub­cat­e­gories de­not­ing in­creas­ing sever­i­ty — CPB7, CPB8, and CPB9.
Sec­ondary study end­points in­clud­ed safe­ty, pro­gres­sion free sur­vival (PFS) and the per­cent­age of pa­tients whose tu­mors par­tial­ly shrank af­ter treat­ment, or par­tial re­sponse (PR).
CPB7 pa­tients — the largest sub­cat­e­go­ry in the tri­al (n=56) — did live longer when giv­en namodeno­son. Namodeno­son-treat­ed pa­tients (n=34) ex­pe­ri­enced me­di­an OS of 6.8 months com­pared to place­bo (n=22) with 4.3 months. Sim­i­lar­ly, for these pa­tients, PFS was 3.5 months in the namodeno­son-treat­ed group ver­sus 1.9 months in the place­bo group.
For the en­tire pa­tient pop­u­la­tion, 9% of those treat­ed by namodeno­son achieved PR ver­sus none in the place­bo group.
The drug has al­ready been grant­ed fast-track sta­tus by the FDA, and Can-Fite ap­peared en­cour­aged by the da­ta set.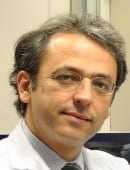 Josep Llovet
"These da­ta strong­ly sup­port the pro­gres­sion in­to Phase III," Can-Fite said in a state­ment, adding that the com­pa­ny plans to dis­cuss the re­sults with reg­u­la­to­ry agen­cies to de­ter­mine its next steps.
"The glob­al in­ci­dence of liv­er can­cer con­tin­ues to in­crease and has more than tripled in the Unit­ed States over the last three decades, and cur­rent­ly there are no rec­om­mend­ed sys­temic treat­ment op­tions for pa­tients with ad­vanced HCC and se­vere liv­er dys­func­tion (Child Pugh B)," said Josep Llovet, founder of the Liv­er Can­cer pro­gram at Mount Sinai, in a state­ment. "(T)he cur­rent da­ta from this Phase II tri­al sug­gest a sig­nal of ef­fi­ca­cy that sup­ports con­tin­u­ing the de­vel­op­ment of Namodeno­son with a Phase III study in this pop­u­la­tion. I will be hap­py to help with the de­sign of the Phase III and serve as the prin­ci­pal in­ves­ti­ga­tor of the tri­al."
Can-Fite's tech plat­form is based on re­search that points to tar­get­ing the Gi pro­tein cou­pled A3 adeno­sine re­cep­tor (A3AR), which is un­der­stood to be over­ex­pressed in in­flam­ma­to­ry and can­cer cells. The com­pa­ny has a tri­fec­ta of drugs in de­vel­op­ment, in­clud­ing namodeno­son, which is al­so be­ing test­ed for use in NASH.