It's over: Eli Lil­ly shares tank af­ter its huge gam­ble on Alzheimer's drug solanezum­ab ends in fail­ure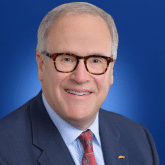 Eli Lil­ly CEO John Lech­leit­er
Eli Lil­ly's mon­u­men­tal ef­fort to prove once and for all that solanezum­ab could work in de­lay­ing Alzheimer's has end­ed in to­tal fail­ure. The phar­ma gi­ant an­nounced this morn­ing that the drug failed its third Phase III ef­fort at Lil­ly, send­ing its stock in­to a tail­spin.
Back in 2012, in­ves­ti­ga­tors for Lil­ly con­vinced the top ex­ecs at the com­pa­ny that they had seen re­al, tan­gi­ble ben­e­fits for ear­ly-stage pa­tients tak­ing the drug, de­signed to elim­i­nate de­posits of amy­loid be­ta in the brain. The da­ta, they felt, war­rant­ed an­oth­er clin­i­cal odyssey in Phase III, even though that study had failed. And CEO John Lech­leit­er was a stout ad­vo­cate through­out, will­ing to in­vest heav­i­ly in the study. But in the end, the drug of­fered noth­ing but false hope to mil­lions of pa­tients, fail­ing to bend the curve on cog­ni­tive de­clines or the abil­i­ty of pa­tients to func­tion bet­ter.
Lil­ly will take a mod­est $150 mil­lion charge in the fourth quar­ter — just a frac­tion of what it has spent on this drug.
Its shares plunged 14% on the news. And the dam­age ex­tend­ed to oth­er com­pa­nies pur­su­ing the amy­loid be­ta the­o­ry. Bio­gen, which has pro­mot­ed the prospect of ad­u­canum­ab, watched its stock plunge 10% in pre-mar­ket trad­ing. And Ax­o­vant, a com­pa­ny that nabbed a failed Alzheimer's drug from GSK and put it back in­to the clin­ic, saw its shares drop 18%, even though their drug goes af­ter a com­plete­ly dif­fer­ent tar­get.
The fail­ure here casts a par­tic­u­lar pall over the amy­loid be­ta the­o­ry. The tox­ic pro­tein clus­ters in pa­tients' brains are con­sid­ered the most like­ly sus­pect for trig­ger­ing the dis­ease, which af­flicts mil­lions. Mer­ck, Bio­gen, Lil­ly and oth­ers all have oth­er pro­grams in the pipeline that look at var­i­ous ways to re­duce the lev­el of amy­loid be­ta in the brain. And those pro­grams will con­tin­ue, along with the de­bate over what tar­gets should be used in fu­ture stud­ies.
Not­ed Leerink's Sea­mus Fer­nan­dez:
This re­sult will no doubt cast a shad­ow over LLY's Alzheimer's Dis­ease (AD) pipeline port­fo­lio, which is heav­i­ly based on the be­ta amy­loid hy­poth­e­sis. Oth­er com­peti­tors' pro­grams based on this hy­poth­e­sis will prob­a­bly con­tin­ue, but this will like­ly have neg­a­tive read-through on these re­sults in the short term.
The fail­ure at Eli Lil­ly al­so un­der­scores the dis­as­trous record that Alzheimer's drugs over­all have had in the clin­ic for more than a decade, with a near-uni­ver­sal fail­ure rate. Eli Lil­ly has had one of the longest run­ning R&D ef­forts in Alzheimer's, with some jaw-drop­ping set­backs along the way. It al­so tried to go af­ter Alzheimer's with sema­gace­s­tat, on­ly to find that the drug ap­par­ent­ly in­creased the risk of the dis­ease. In­ves­ti­ga­tors and ex­ecs, though, have been steadi­ly lured on by the prospect of mega-block­buster sales, of­ten cru­el­ly tout­ing the po­ten­tial of a ther­a­py, on­ly to ad­mit fail­ure in the end.
"The re­sults of the solanezum­ab EX­PE­DI­TION3 tri­al were not what we had hoped for and we are dis­ap­point­ed for the mil­lions of peo­ple wait­ing for a po­ten­tial dis­ease-mod­i­fy­ing treat­ment for Alzheimer's dis­ease," said Lech­leit­er. "We will eval­u­ate the im­pact of these re­sults on the de­vel­op­ment plans for solanezum­ab and our oth­er Alzheimer's pipeline as­sets."