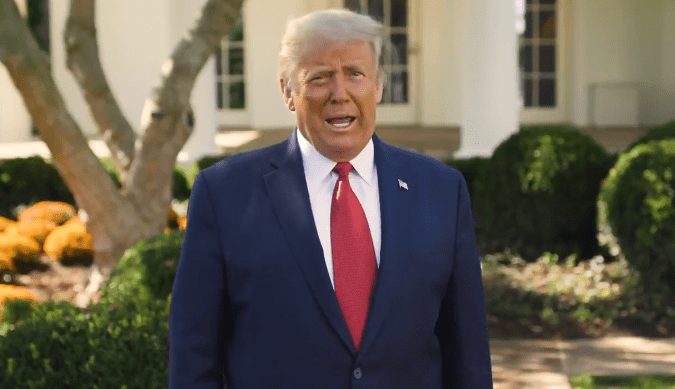 President Donald Trump (Screenshot from Twitter)
'I've au­tho­rized it' — Trump promis­es quick EUA and free ac­cess to Re­gen­eron's an­ti­body cock­tail, call­ing it a 'cure'
Re­gen­eron has re­quest­ed an emer­gency use au­tho­riza­tion for its Covid-19 an­ti­body cock­tail — a move an­nounced hours af­ter Pres­i­dent Don­ald Trump all but sug­gest­ed it's a done deal.
"We're try­ing to get them on an emer­gency ba­sis," he said in a video on Twit­ter where he al­so claimed, with­out da­ta, that REGN-COV2 is a cure. "We've au­tho­rized it — I've au­tho­rized it."
While that de­ci­sion had his­tor­i­cal­ly been the ex­clu­sive ju­ris­dic­tion of ca­reer sci­en­tists at the FDA, a re­cent pow­er grab by the HHS and Trump's in­ces­sant at­tacks on the agency have raised ques­tions about who's ac­tu­al­ly call­ing the shots. And de­spite mul­ti­ple at­tempts to con­vince the pub­lic of the FDA's in­de­pen­dence, com­mis­sion­er Stephen Hahn has come un­der fire him­self for cit­ing fac­tu­al­ly in­cor­rect num­bers to help ad­min­is­tra­tion of­fi­cials talk up the po­ten­tial of con­va­les­cent plas­ma.
To read Endpoints News become a free subscriber
Unlock this article instantly, along with access to limited free monthly articles and our suite of newsletters