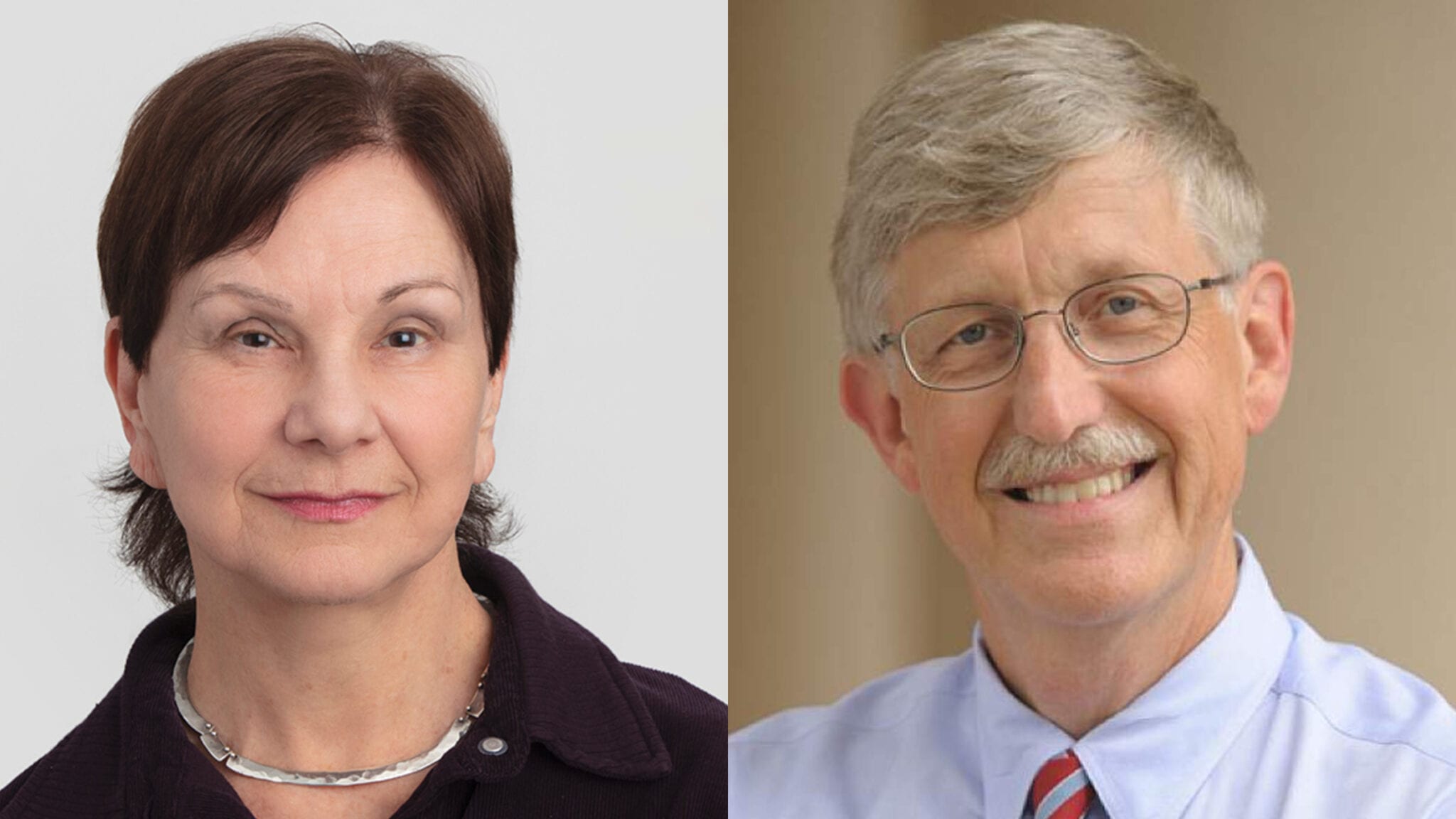 Janet Woodcock and Francis Collins
Janet Wood­cock and Fran­cis Collins dish on lessons learned from the pan­dem­ic
With al­most 550,000 Covid-19 deaths in the US, it might seem hard to fath­om any sil­ver lin­ings from such a tragedy. But NIH di­rec­tor Fran­cis Collins and FDA act­ing com­mis­sion­er Janet Wood­cock did their best on Wednes­day to ex­plain what they've seen and learned and what the coun­try needs to do to pre­pare for the next pan­dem­ic.
For Wood­cock, who led the ther­a­peu­tics side of Op­er­a­tion Warp Speed be­fore re­turn­ing to lead the FDA, Covid-19 clin­i­cal tri­al in­ef­fi­cien­cies and a dearth of com­mu­ni­ty-based re­search in­fra­struc­ture sit atop her list.
While point­ing to her pub­li­ca­tion last month in Na­ture Re­views Drug Dis­cov­ery, she ex­plained how just 5% of the al­most 3,000 Covid-19 ther­a­peu­tic tri­als were ac­tu­al­ly ran­dom­ized and ad­e­quate­ly pow­ered to re­veal ac­tion­able da­ta.
"There was a tremen­dous amount of du­pli­ca­tion, and a lot of small tri­als that yield­ed tan­ta­liz­ing in­for­ma­tion that sent peo­ple off to use treat­ments that were not use­ful and po­ten­tial­ly harm­ful," Wood­cock said at the Milken In­sti­tute event. "In a glob­al emer­gency we need to have more cen­tral co­or­di­na­tion be­cause we should re­al­ly ran­dom­ize the first pa­tient."
On the lack of re­search in­fra­struc­ture, Wood­cock ex­plained how com­mu­ni­ties with­out aca­d­e­m­ic med­ical cen­ters or ad­e­quate­ly trained per­son­nel were stuck with­out any op­tions for en­rolling peo­ple in tri­als. "You can't just build up in­fra­struc­ture ca­pac­i­ty in the mid­dle of a pan­dem­ic," she said. "We had tens of thou­sands of peo­ple dy­ing from Covid and we couldn't get enough pa­tients en­rolled in some tri­als."
Collins, mean­while, point­ed to three lessons learned. The first is to en­sure NIH and the phar­ma in­dus­try main­tain its pub­lic-pri­vate part­ner­ship, known as AC­TIV, which bet­ter co­or­di­nat­ed and stream­lined bio­med­ical re­search re­sources for test­ing new and re­pur­posed com­pounds to treat Covid-19.
"If we can do it in two weeks, as we did with AC­TIV, we can prob­a­bly do it again and make these kinds of part­ner­ships," Collins said.
Sec­ond­ly, he point­ed to the dis­con­nect in the clin­i­cal tri­al net­works in the US, not­ing Wood­cock's com­ments. While he said the du­plica­tive and po­ten­tial­ly un­help­ful tri­als weren't re­ceiv­ing funds from NIH, they may have been us­ing NIH-fund­ed in­fra­struc­ture.
"We can­not let this clin­i­cal tri­al ecosys­tem fall back in­to this scat­ter­shot ap­proach or we'll be sor­ry. We need a much more rig­or­ous ap­proach. If we need­ed the ev­i­dence, we now have it," Collins said.
And third­ly, he point­ed to the need for con­tin­u­ing NIH's ven­ture cap­i­tal-like strat­e­gy used in its RADx com­pe­ti­tion to speed new Covid-19 tests to mar­ket.
"There's a lot of tech­nolo­gies out there," he added, not­ing the Shark Tank ap­proach may be bet­ter suit­ed for many of the ones in de­vel­op­ment, as op­posed to the NIH grant process, which can take more time.
Last­ly, both Wood­cock and Collins point­ed to the need to in­crease the di­ver­si­ty of clin­i­cal tri­als, which Collins not­ed was a heavy lift for some of the Covid-19 vac­cine de­vel­op­ers.
"The way in which bio­med­ical re­search works is con­t­a­m­i­nat­ed by struc­tur­al racism," Collins said.
Wood­cock echoed that sen­ti­ment, ex­plain­ing how of­ten tri­als are run in dif­fer­ent coun­tries but they don't nec­es­sar­i­ly re­flect the di­ver­si­ty of the US pop­u­la­tion.
For a look at all End­points News coro­n­avirus sto­ries, check out our spe­cial news chan­nel.