J&J ad­vances through PhII with a promis­ing hep C triple and 100% cure rate
Cur­ing he­pati­tis C is a done deal now. But J&J is step­ping through the clin­ic with a new com­bo that the phar­ma gi­ant hopes will prove it can do it all faster, and pre­sum­ably cheap­er, than what's avail­able now.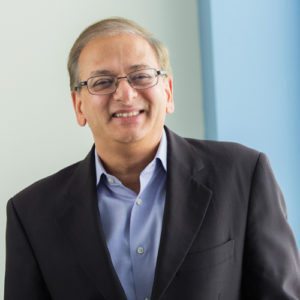 Achillion CEO Milind Desh­pande
In a new batch of da­ta put out Fri­day morn­ing by J&J part­ner Achillion $ACHN, J&J's team scored a 100% cure rate in three co­horts of pa­tients get­ting a triple com­bi­na­tion of odalasvir, AL-335 and Oly­sio (simepre­vir). A fourth co­hort that ex­clud­ed simepre­vir achieved a 90% cure rate at SVR12, 12 weeks af­ter treat­ment. And one of the triplet co­horts achieved 100% cure for 20 pa­tients af­ter just 6 weeks of treat­ment.
That last fig­ure could be cru­cial, says Baird's Bri­an Sko­r­ney:
Suc­cess at six weeks has the po­ten­tial to make this reg­i­men a se­ri­ous com­peti­tor to Gilead's reg­i­mens, which cure in eight to 12 weeks.
The Phase IIa re­sults fixed the dose that J&J $JNJ will use in the next step, a Phase IIb that will en­roll both treat­ment-naive and treat­ment-ex­pe­ri­enced non-cir­rhot­ic pa­tients chron­i­cal­ly in­fect­ed with he­pati­tis C virus which runs the slate of geno­types 1, 2, 4, 5, and 6. In­ves­ti­ga­tors will al­so ex­pand the IIa to in­clude a broad­er mix of pa­tients as they push ahead to­ward piv­otal stud­ies and what looks like a prob­a­ble ap­proval.
Gilead, as we know, changed the treat­ment stan­dard with its break­through hep C drugs, be­gin­ning with So­val­di and con­tin­u­ing with Har­voni. Gilead al­so has a triple in the works, and has a rep­u­ta­tion as a tough com­peti­tor in any mar­ket it plays in. Gilead's suc­cess was al­so fol­lowed up by new com­bos from Mer­ck and Ab­b­Vie, which fur­ther com­pli­cate the ar­rival of any new ther­a­pies. While whole­sale prices have been drop­ping, putting Gilead past the peak rev­enue stage, J&J still sees some big com­mer­cial up­side in a world where mil­lions of these slow-burn­ing cas­es have yet to be di­ag­nosed.
That strat­e­gy drove a deal to li­cense in Achillion's NS5A drug odalasvir (ACH-3102) in a $1.1 bil­lion pact. The phar­ma gi­ant al­so bought out Alios for $1.75 bil­lion, gain­ing the nu­cleotide NS5B in­hibitor AL-335, which was added to a port­fo­lio that al­so in­clud­ed the NS3/4A pro­tease in­hibitor Oly­sio.
It's not all good news for the hep C team, though. Jef­feries' Bri­an Abra­hams was quick to note that there are still unan­swered ques­tions on how this sec­ond-wave ri­val­ry will play out, and whether J&J can suc­cess­ful­ly carve out a piece of the mar­ket. And he not­ed:
Based on two vi­ral re­bounds ob­served in the 8 week dual NS5A arm, we have con­firmed that ACHN/JNJ will no longer pur­sue a dual-reg­i­men — slight­ly dis­ap­point­ing, giv­en re­sults of the pi­lot "proxy" odalasvir-so­fos­bu­vir study, which had shown 100% SVRs with an odalasvir con­tain­ing dual-reg­i­men with both 8- and even 6-week treat­ment du­ra­tions, and could have been a dif­fer­en­ti­at­ing fea­ture. (We spec­u­late this may be due to ei­ther AL-335 be­ing less po­tent than so­fos­bu­vir, or to odalasvir dos­ing/ex­po­sure still be­ing op­ti­mized). The 6 week triple-reg­i­men showed promis­ing 100% EoT sup­pres­sion, and giv­en JNJ's plan to ex­plore a 6 week reg­i­men in ph.IIb, we be­lieve SVR da­ta avail­able at the meet­ing in 2 weeks could look promis­ing and in­di­cate a po­ten­tial fu­ture path for the cock­tail.
Not­ed Achillion CEO Milind Desh­pande:
"Based on these in­ter­im re­sults, Janssen plans to ad­vance a phase 2b pro­gram for the triple com­bi­na­tion to fur­ther un­der­stand the po­ten­tial of this 3DAA drug com­bi­na­tion to short­en the du­ra­tion of treat­ment for pa­tients suf­fer­ing from HCV. De­spite re­cent ther­a­peu­tic ad­vances, we be­lieve there re­mains a sig­nif­i­cant un­met need in ad­dress­ing the glob­al bur­den of he­pati­tis C virus in those liv­ing with the dis­ease."