J&J faces its sec­ond ri­val Rem­i­cade knock­off as FDA gives Mer­ck a shot at a $7B fran­chise
The FDA has ap­proved a new knock­off of J&J's top earn­ing drug Rem­i­cade, which may fi­nal­ly start to shift the mar­ket dy­nam­ics to­ward greater com­pe­ti­tion with low­er prices.
This new one is dubbed Ren­flex­is and comes from Sam­sung Bioepis, one of the big play­ers in the biosim­i­lars field. And it ar­rives in the US mar­ket close to a year af­ter the EMA ap­proved it for Eu­rope.
J&J's Rem­i­cade earned close to $7 bil­lion last year, mak­ing this by far its biggest drug in the port­fo­lio. And as J&J not­ed a few days ago dur­ing its Q1 call with an­a­lysts, the phar­ma gi­ant has yet to feel much of an im­pact from the first Rem­i­cade biosim­i­lar from Pfiz­er, In­flec­tra (in­flix­imab-dyyb), which was de­vel­oped by Cell­tri­on and then bagged by the phar­ma gi­ant in its ac­qui­si­tion of Hos­pi­ra. That was ap­proved last fall.
Now Mer­ck will pick up the com­mer­cial­iza­tion work of this sec­ond knock­off as J&J en­ters a new stage in de­fend­ing the huge fran­chise. Iron­i­cal­ly, Mer­ck will now mar­ket Rem­i­cade in Eu­rope, while com­pet­ing with it in the US.
One rea­son why physi­cians may be stick­ing with the brand­ed Rem­i­cade is that Pfiz­er of­fered on­ly a 15% dis­count on their drug. We'll see if Mer­ck de­cides to be more ag­gres­sive in en­ter­ing the new show­down with two ma­jor league ri­vals. But it will wait to the launch be­fore it re­veals the dis­count price.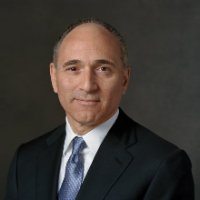 Joe Jimenez. No­var­tis
No­var­tis CEO Joe Jimenez, who's been field­ing knock­offs through San­doz, has pre­dict­ed that biosim­i­lar dis­counts will even­tu­al­ly reach 75%, though the mar­ket has a long way to go be­fore it reach­es the bar­gain base­ment.
These launch­es come af­ter J&J had vowed to fight to the last at­tor­ney in their le­gal bat­tle to pro­tect the US Rem­i­cade fran­chise, but a judge ruled against the phar­ma gi­ant last sum­mer, clear­ing a path for the com­pe­ti­tion.
Like a num­ber of oth­er play­ers in the field, Sam­sung Bioepis — close­ly al­lied with Bio­gen — has set its sights on the first wave of block­buster biosim­i­lars, with pro­grams for En­brel, Hu­mi­ra, Lan­tus, Avastin as well as Rem­i­cade.
This was un­usu­al among the re­cent biosim­i­lar ap­provals as it came with­out an FDA ex­pert pan­el re­view, sig­nal­ing that the agency is be­com­ing in­creas­ing­ly com­fort­able in rolling out new OKs for this class of drugs.
$MRK says pric­ing of Rem­i­cade biosim­i­lar will be an­nounced clos­er to launch – fol­low­ing 180-day no­tice pe­ri­od https://t.co/3hnezI­azYY

— Meg Tir­rell (@megtir­rell) April 21, 2017