J&J In­no­va­tion ex­pands its biotech in­cu­ba­tor JLABS in­to Man­hat­tan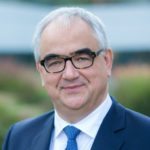 Paul Stof­fels, J&J
John­son & John­son In­no­va­tion is tak­ing a bite of the Big Ap­ple. The new ven­ture group has tied up with the New York Genome Cen­ter to hatch plans for a 30,000-square-foot JLABS in­cu­ba­tor in So­Ho with $17 mil­lion in state fund­ing.
The new fa­cil­i­ty will open next year, but it's al­ready look­ing for a blend of life sci­ences star­tups to prep a move-in.
New York of­fi­cials — state and city — have been rolling out some am­bi­tious plans to jump­start a biotech hub. Man­hat­tan is home to a large line­up of pres­ti­gious re­search or­ga­ni­za­tions, and this ef­fort will be in­clud­ed in the list of ini­tia­tives aimed at build­ing a con­cen­tra­tion of new com­pa­nies.
It won't be a sim­ple af­fair. Man­hat­tan is al­so one of the most ex­pen­sive places on the plan­et to op­er­ate, mak­ing in­cu­ba­tors like this key to get­ting star­tups through the Val­ley of Death and on in­to sus­tain­able drug de­vel­op­ment ef­forts.
"Ex­pand­ing the JLABS mod­el to New York City, home to world-class aca­d­e­m­ic and med­ical in­sti­tu­tions, fur­thers John­son & John­son In­no­va­tion's com­mit­ment to pro­vid­ing re­sources that cat­alyze and fos­ter the growth of life sci­ence ecosys­tems around the world," said Paul Stof­fels, MD, Chief Sci­en­tif­ic Of­fi­cer, John­son & John­son. "Our hope is that JLABS @ NYC will pro­vide a re­source-rich en­vi­ron­ment for in­no­va­tors through­out the New York re­gion where to­day's ideas can be­come health­care prod­ucts that tru­ly im­pact pa­tient's lives."