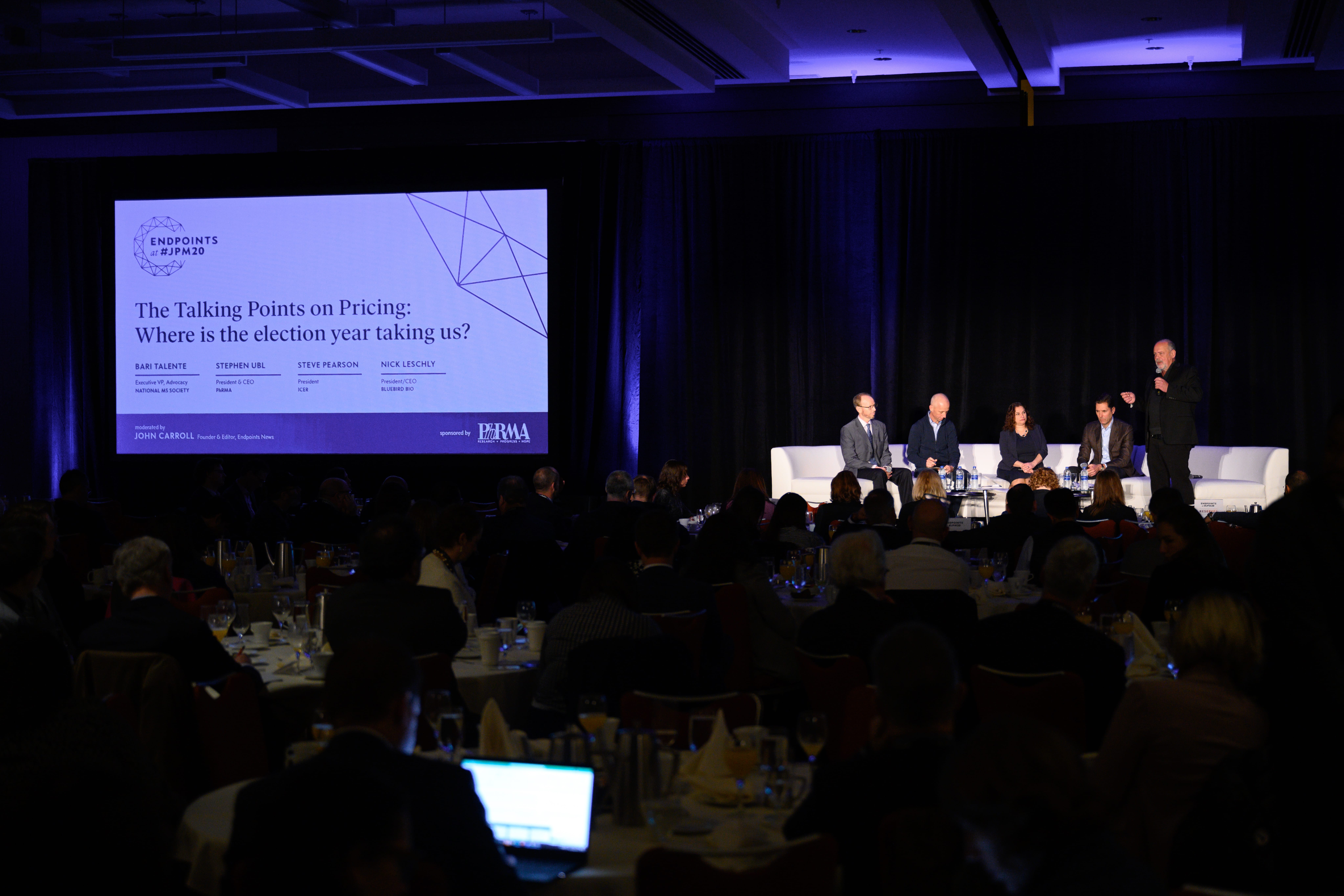 Endpoints@JPM: (left to right) Steve Pearson, Nick Leschly, Bari Talente, Stephen Ubl, John Carroll
#JPM20: 'The NPV is al­ways wrong.' Take­da preps an­oth­er spin­out — this time on psych
Ed­i­tor's Note: End­points News is re­port­ing live from #JPM20 af­ter kick­ing things off with an ac­tion-packed event, which you can re­play here. What fol­lows is a stream of tid­bits we have col­lect­ed while wan­der­ing around Union Square in San Fran­cis­co. Check back in through­out the week for up­dates by John Car­roll and Ja­son Mast.
SAN FRAN­CIS­CO — A year ago Take­da CEO Christophe We­ber and R&D chief Andy Plump ar­rived at JP Mor­gan right on the heels of clos­ing their big Shire buy­out. Now they're back af­ter shak­ing up the port­fo­lio, boost­ing R&D spend­ing by about 50% to $4.5 bil­lion and ad­just­ing the pipeline — a task which isn't quite fin­ished yet.
In an in­ter­view on Tues­day, Plump told me that Take­da is prepar­ing the lat­est in a long string of spin­outs af­ter set­ting aside a pack­age of psych drugs that would be bet­ter suit­ed to the hands of some spe­cial­ists. Like a lot of the ma­jor R&D out­fits, it's not one of their core fields of ex­per­tise.
These Take­da drugs — in­clud­ing ther­a­pies for de­pres­sion and schiz­o­phre­nia — are "very in­ter­est­ing but still dif­fi­cult," in­volv­ing 3 clin­i­cal-stage pro­grams and a "hand­ful" of pre­clin­i­cal ef­forts, which Plump is quick to con­cede of­fer plen­ty of chal­lenges to de­vel­op­ers.
Spin­outs are some­thing that Take­da is good at. They've been do­ing these deals for sev­er­al years now — in the US, Eu­rope and Asia — cre­at­ing up to 25 com­pa­nies where they typ­i­cal­ly hand off drugs to en­tre­pre­neurs and re­tain a chunk of eq­ui­ty of around 25% to 30% of the biotech in­volved.
Their de­ci­sions on what to keep and what to deal out, adds Plump and We­ber, have noth­ing to do with pro­ject­ed rev­enue.
The key as­pect is in­no­va­tion, says We­ber. Are they in­no­v­a­tive ther­a­pies? And it's not be­cause you shouldn't do it on pro­ject­ed rev­enue so much as you can't do it that way.
You can't do it on NPV, adds Plump, be­cause then "NPV be­comes the dri­ver of the de­ci­sion and the NPV is al­ways wrong."
The two Take­da ex­ecs spent con­sid­er­able time and ef­fort in re­vamp­ing Take­da in­to a glob­al, top 15 play­er with scale.
"We were lack­ing scale to sus­tain our R&D in­vest­ment," says the CEO. The Shire buy­out "gave us scale that al­lows us to com­pete with any­one." — John Car­roll
#JPM20: Catal­ent CEO John Chimin­s­ki isn't go­ing any­where im­por­tant with­out his lucky boots
End­points@JPM: John Car­roll with Catal­ent CEO John Chimin­s­ki at a fire­side chat.
Click on the im­age to see the full-sized ver­sion
In my one-on-one with Catal­ent CEO John Chimin­s­ki I was drawn to the cow­boy boots he was wear­ing — not ex­act­ly the kind of stan­dard Brooks Broth­ers at­tire you of­ten see at JP Mor­gan — and asked him how many miles he had put on the boots as he trav­eled the world man­ag­ing a glob­al CD­MO.
Here's part of the re­sponse, and it's price­less:
In ad­vance of the IPO…our own­ers, Black­stone, went to the in­vest­ment bankers and they said, 'Hey, be­fore Chimin­s­ki goes out on the road show, he's got to shave his beard and he can't wear the boots.' So I told the in­vestors — and I would just say, I used a cou­ple of hand ges­tures — and I said, look, you might as well shave my head, be­cause I'll have about that much con­fi­dence. And I will tell you right now, if I didn't show up with my boots, which is a lit­tle hard­er nowa­days cause I've got arthrit­ic hips, if I didn't show up with my boots, I'd had some in­vestors that are sell­ing. So these boots have about a mil­lion miles and 165 mil­lion shares of Catal­ent were sold with these ba­bies…
Boots aren't go­ing any­where guys. — John Car­roll
#JPM20 Paul Hud­son con­tin­ues to re­brand Sanofi, promis­es more ac­qui­si­tions and megablock­buster in Dupix­ent
Paul Hud­son wants you to know that Sanofi's rep­u­ta­tion as a timid com­pa­ny isn't true. Or at least it's no longer true.
"An ac­cu­sa­tion la­beled or lev­eled at us the last few years is that we've been a lit­tle too in­to the late-stage, a lit­tle too risk-averse and per­haps we changed the pro­file of the com­pa­ny to be a lit­tle bit con­ser­v­a­tive," Hud­son said at Sanofi's JP Mor­gan pre­sen­ta­tion. "I can tell you from the peo­ple I'm work­ing along­side now it's not the case."
Hud­son used his first JPM pre­sen­ta­tion as Sanofi CEO to dou­ble down on the vi­sion he's hint­ed at since he was first tapped for the job in June and laid out firm­ly last month. That in­cludes less di­a­betes, more vac­cines, more on­col­o­gy and a clean break from car­dio­vas­cu­lar. It al­so, he guar­an­teed, in­cludes ac­qui­si­tions.
"We will en­rich our pipeline ex­ter­nal­ly," Hud­son said.
Of the as­sets they have, Dupix­ent is the cen­ter­piece. Hud­son again said Sanofi could make the asth­ma and rash drug a megablock­buster, with over $10 bil­lion in peak sales as it reach­es more pa­tients. That would be about 5 times its cur­rent an­nu­al­ized sales and, along with mid-to-high sin­gle-dig­it growth in vac­cines, a key part of hit­ting Hud­son's goal of a 32% busi­ness mar­gin. (Part of the Dupix­ent prof­its go to Re­gen­eron, who co-de­vel­oped the drug).
Not part of that plan is push­ing di­a­betes drugs in the US, where Hud­son said per­sis­tent price pres­sure had cut in­to prof­its, de­spite the fact they're sell­ing more of their prod­ucts, which in­clude in­sulin and a GLP-1 ag­o­nist. Sanofi end­ed di­a­betes and car­dio­vas­cu­lar re­search in the De­cem­ber re­struc­ture.
"It is what it is," Hud­son said, adding that there were more prof­itable di­a­betes op­por­tu­ni­ties abroad, in­clud­ing in Chi­na.
In that De­cem­ber re­struc­ture, Sanofi re­worked the agree­ment with Re­gen­eron and said they would fo­cus on six drugs: a pre­ven­ta­tive treat­ment for RSV in in­fants, two new he­mo­phil­ia drugs, a lyso­so­mal dis­or­der drug, a se­lec­tive es­tro­gen in­hibitor for breast can­cer and a BTK in­hibitor for MS.
He went through each at JPM, and promised there would be a read­out on the MS drug in days or weeks, which they'll act on im­me­di­ate­ly.
"We are ready to go with four Phase III tri­als," Hud­son said. "We will not wait and will not hes­i­tate."
Skep­ti­cal they can pull it off? Hud­son won't ar­gue, but he said in Sanofi's case, there's not much else to do.
"There may be skep­ti­cism," he said, "but frankly there's been more skep­ti­cism for longer about what we've failed to de­liv­er be­fore." — Ja­son Mast
#JPM20: Con­sid­ered New Pfiz­er yet? The CEO says he's whip­ping it in­to shape and get­ting more fo­cused in R&D
SAN FRAN­CIS­CO — Al­bert Bourla isn't a fan of the Old Pfiz­er. Or of the an­a­lysts who are ig­nor­ing the New Pfiz­er.
Bourla, giv­ing his sec­ond JP Mor­gan pre­sen­ta­tion as Pfiz­er CEO af­ter over 25 years at the US drug-mak­ing gi­ant, con­tin­ued the re­brand he had been tapped to lead: Po­si­tion­ing Pfiz­er as a com­pa­ny that had been bloat­ed for years but was now set for a stream­lined fu­ture.
"Phase II suc­cess rates – the in­dus­try is at 30%. Pfiz­er for many years was at 15%," Bourla told JP Mor­gan an­a­lyst Christo­pher Scott on stage. "We were tak­ing an ap­proach of very lit­tle rig­or."
Bourla said Pfiz­er would fur­ther pare down on non-R&D ex­pens­es, con­tin­u­ing a trend they be­gan by spin­ning off their Up­john di­vi­sion and com­bin­ing their con­sumer health busi­ness in­to a joint ven­ture with Glax­o­SmithK­line. The GSK ven­ture will move to an IPO with­in 3 or 4 years, he said, echo­ing pre­vi­ous com­ments from the British phar­ma.
With­in re­search, Bourla said, they would fo­cus on 6 ar­eas, rather than the 12 they had long de­vel­oped. Asked which parts of the pipeline were ex­cit­ing but over­looked, Bourla dove for a minute through the R&D as­sets he thought Wall Street had ig­nored, in­clud­ing their vac­cines, gene ther­a­pies, and in­flam­ma­tion drugs.
"We do have five dif­fer­ent JAKS that we are start­ing in more than 10 dif­fer­ent in­di­ca­tions, and on­ly one of them I have seen mi­nor pro­jec­tions for," he said. "I can go on and on."
Bourla said they would fo­cus on li­cens­ing small add-ons to the pipeline in those 6 ar­eas and wouldn't move to­ward a larg­er merg­er or ac­qui­si­tion. It was a dis­cour­ag­ing com­ment for a JP Mor­gan crowd watch­ing for the next ma­jor deal, but al­so one Pfiz­er has made in the past — months be­fore ac­quir­ing Ar­ray in an $11.4 bil­lion deal.
"We nev­er say nev­er," Bourla said. — Ja­son Mast
#JPM20: Con­sum­mate deal­mak­er Vivek Ra­maswamy bags a record re­gion­al up­front in lat­est deal — this time fo­cused on Japan
Vivek Ra­maswamy at the US-Chi­na Bio­phar­ma In­no­va­tion and In­vest­ment Sum­mit in Shang­hai on Oc­to­ber 23, 2018; Cred­it: End­points News, Pharm­Cube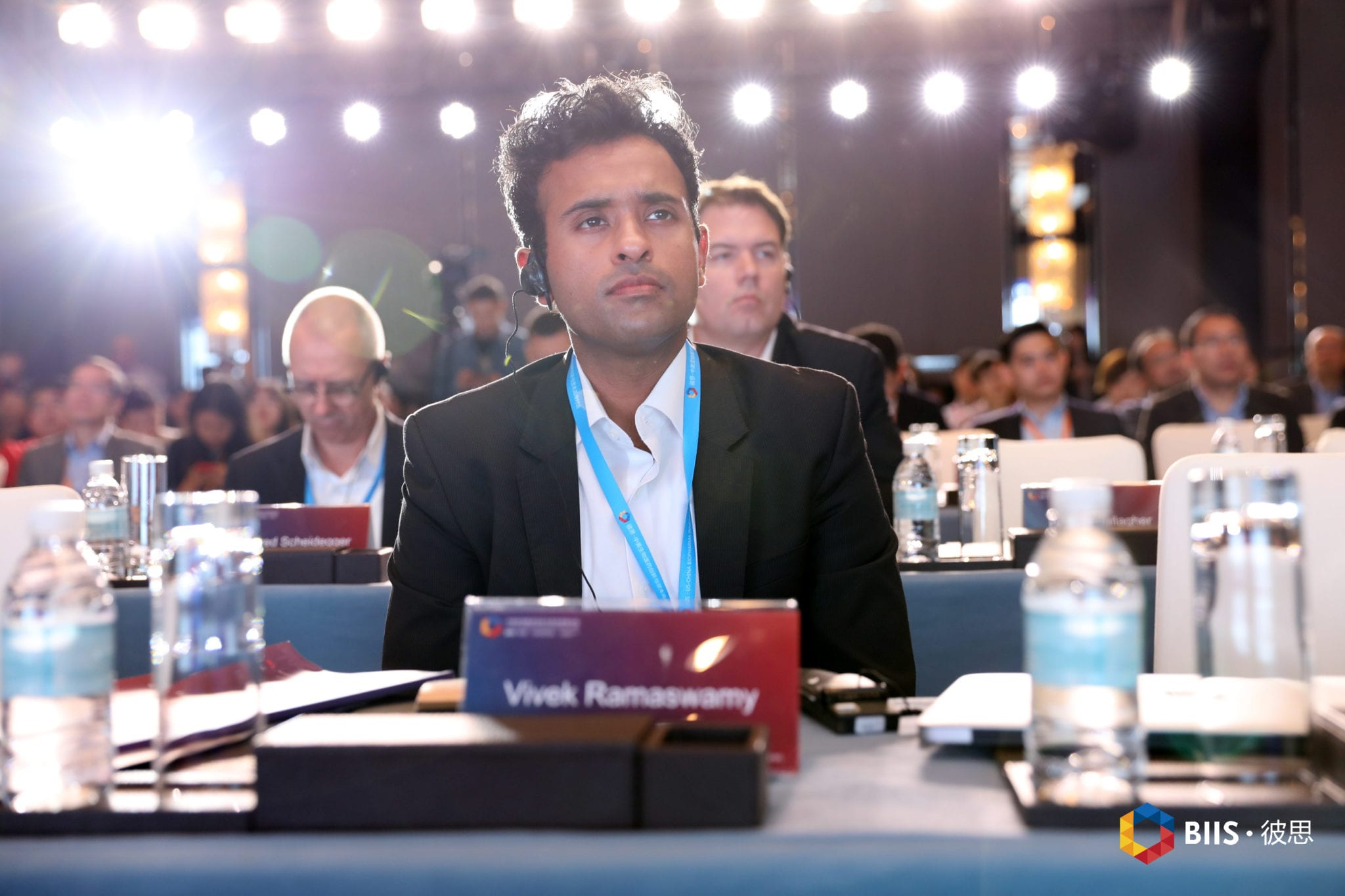 Click on the im­age to see the full-sized ver­sion
SAN FRAN­CIS­CO — At the start of my pan­el on deal­mak­ing on Mon­day I joked that con­sum­mate ne­go­tia­tor Vivek Ra­maswamy was prob­a­bly mak­ing a deal as we spoke, tex­ting terms on the mo­bile.
To­day he tells me I wasn't far off the mark. A deal was cook­ing right off stage.
On Day Three of JP Mor­gan Ra­maswamy has com­plet­ed what his team is call­ing "the largest ever re­gion­al li­cens­ing deal for a derm prod­uct pri­or to Phase III da­ta and one of the largest up­front pay­ments ever for a Japan­ese li­cens­ing deal pri­or to Phase III da­ta across any in­di­ca­tion."
And this one was signed late Tues­day night af­ter they put the fin­ish­ing touch­es to the con­tract.
"I al­most laughed when you said that," Ra­maswamy tells me about the pan­el com­ment. "If I had not put my phone on flight mode that would have been true."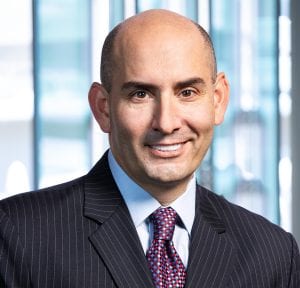 Todd Za­vod­nick
His der­ma­tol­ogy play Der­ma­vant has li­censed out ex­clu­sive rights to de­vel­op, reg­is­ter and mar­ket tap­inarof in Japan to Japan To­bac­co, which is pass­ing on the li­cense to its sub­sidiary, Torii Phar­ma­ceu­ti­cal. The Japan­ese com­pa­ny is pay­ing $60 mil­lion and up to $53 mil­lion in de­vel­op­ment mile­stones for tap­inarof, in de­vel­op­ment for pso­ri­a­sis and atopic der­mati­tis.
Der­ma­vant CEO Todd Za­vod­nick is clear­ly stoked about the num­bers for his drug, and the shot of work­ing on this with JT's com­pa­ny.
"It's not just a li­cens­ing deal," he says, "it's the right part­ner."
Ra­maswamy bought the drug from GSK for up to $324 mil­lion. The phar­ma gi­ant had been re­vamp­ing its pipeline as R&D chief Hal Bar­ron took aim at a come­back. The non­s­teroidal an­ti-in­flam­ma­to­ry top­i­cal cream — which ac­ti­vates the aryl hy­dro­car­bon re­cep­tor — hasn't been a high-pro­file agent. But re­searchers have high­light­ed promis­ing mid-stage da­ta to un­der­score its po­ten­tial. Now it's in Phase III for pso­ri­a­sis, with plans to tee up atopic der­mati­tis.
Not sur­pris­ing­ly, any men­tion of AD im­me­di­ate­ly spark com­par­isons to the mar­ket­ing jug­ger­naut Re­gen­eron and Sanofi have cre­at­ed for Dupix­ent. But Der­ma­vant's drug is a top­i­cal, and Za­vod­nick says that in AD, pa­tients typ­i­cal­ly get an in­jectable and a top­i­cal. So he be­lieves that pa­tients will start with the top­i­cal and then move to the com­bi­na­tion, leav­ing plen­ty of room for his drug in the mar­ket.
Ra­maswamy al­so notes that it's rare to see two sig­nif­i­cant der­ma­tol­ogy deals at one JP Mor­gan. Eli Lil­ly got the par­ty start­ed with their $1.1 bil­lion Der­mi­ra buy­out, which gave them le­brik­izum­ab. Der­ma­vant's deal makes for a nice book end to that pack­age of news.
Says Ra­maswamy: "Der­ma­tol­ogy is back." — John Car­roll
#JPM20 Two biotech leg­ends talk about gene ther­a­py's past and fu­ture
Fan­tas­tic gene ther­a­py ses­sion led by @John­Cendpts of @endpts at @WuXi_AppTec #WuX­iGlob­al­Fo­rum at #JPM20, w/ fun mo­ment from Dr. James Wil­son of @Pen­n­Med­i­cine call­ing @TachiYa­ma­da of @Fra­zier­Health the leg­endary '@Be­y­once of life sci­ences, known by one name on­ly, Tachi'. #End­NF pic.twit­ter.com/fhN71cZJ44

— Chil­dren's Tu­mor Fdn (@Chil­dren­s­Tu­mor) Jan­u­ary 14, 2020
SAN FRAN­CIS­CO — I had a chance on Tues­day to mod­er­ate a dis­cus­sion on gene ther­a­py R&D at the huge WuXi con­fer­ence at the Hilton with Fra­zier's Tachi Ya­ma­da — ex-CSO at GSK and Take­da — and James Wil­son from Penn, two big fig­ures in the field who start­ed a new biotech a lit­tle un­der a year ago to fo­cus on mono­genic dis­eases of the CNS. I did a bow to both of them for every­thing they've pi­o­neered in the last 2 decades, which spurred Ya­ma­da to give Wil­son cred­it for the sci­ence work. As for Wil­son, he got the biggest re­sponse from the au­di­ence with a re­mark that Tachi is al­ways just called by his first name, mak­ing him the Be­y­once of biotech. — John Car­roll
#JPM20: Bio­gen CEO Michel Vounatsos of­fers a 'smile of con­fi­dence' as he presents ad­u­canam­ab
SAN FRAN­CIS­CO – Bio­gen isn't soft­en­ing its rhetoric.
Two months af­ter re­search chief Al San­drock all-but dared the FDA not to ap­prove its Alzheimer's drug, CEO Michel Vounatsos told an over­flow­ing ball­room at JP Mor­gan that the suc­cess of a drug that op­er­ates like ad­u­canum­ab is a "dream."
"Some of you were at CTAD and saw the da­ta," Vountsos said, re­fer­ring to the con­tro­ver­sial sub­group analy­sis they pre­sent­ed their ad­u­canum­ab tri­al at the Clin­i­cal Tri­als for Alzheimer's Dis­ease con­fer­ence. "Who in the room doesn't know some­one who has been de­ment­ed?"
That analy­sis, com­ing months af­ter the com­pa­ny first an­nounced the drug had failed, re­lied on be­liev­ing how late changes – called 'pro­to­col amend­ments' – to one of two iden­ti­cal tri­als made one suc­ceed and the oth­er fail.
"With­out all the pro­to­col amend­ments, I would not be here, to­day, stand­ing with a smile of con­fi­dence on the way for­ward," Vounatsos said, not quite smil­ing.
Still, Bio­gen has heard the crit­i­cism from in­vestors, most no­tably Baird's Bri­an Sko­r­ney, that their big am­bi­tions have left them with few as­sets in their pipeline like­ly to raise rev­enue soon. Vounatsos walked through the oth­er parts of their pipeline, in­clud­ing a lu­pus drug, an ALS drug, a new MS drug and, of course, an­oth­er new Alzheimer's drug with a dif­fer­ent ap­proach: Tau. — Ja­son Mast
End­points@JPM: Arie Bellde­grun, Josh Bilenker, Stéphane Ban­cel, Vivek Ra­maswamy, Mar­i­anne De Backer dis­cuss pric­ing with John Car­roll.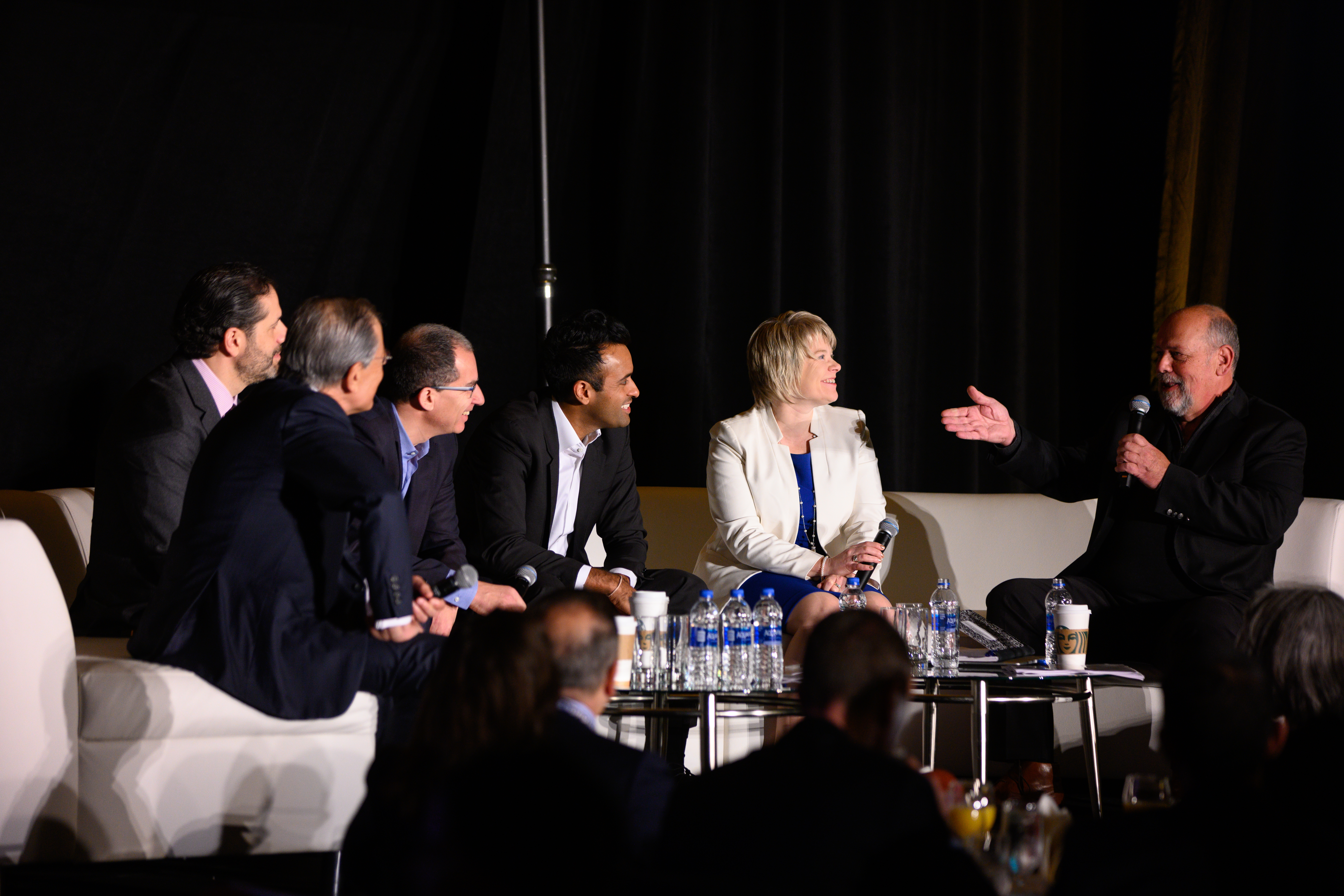 Click on the im­age to see the full-sized ver­sion
#JPM20: Gilead launch­es new T cell en­gi­neer­ing play­er — with help from fa­mil­iar play­ers at Vi­da and West­lake
SAN FRAN­CIS­CO — Af­ter mak­ing its mark in can­cer cell ther­a­pies with the Kite buy­out, Gilead has al­lied it­self with a pair of ven­ture in­vestors to hunt for new ther­a­pies that can ad­dress the flip side of that ther­a­peu­tic coin. And they're chip­ping in­to the launch round while adding more cash and mile­stones for a re­search col­lab­o­ra­tion to get things un­der­way.
The new biotech they're show­ing off around JP Mor­gan this week is Kyver­na Ther­a­peu­tics, which is be­ing gift­ed with some cut­ting-edge T cell en­gi­neer­ing tech as well as a $25 mil­lion Se­ries A to fund work on the dis­cov­ery of new drugs for au­toim­mune dis­ease — brak­ing the im­mune sys­tem in­stead of or­ga­niz­ing an at­tack. Gilead signed off on a col­lab­o­ra­tion that starts with a $17.5 mil­lion up­front and a full slate of re­search and com­mer­cial mile­stones that can go up to $570 mil­lion.
The start­up brings to­geth­er some high-pro­file fig­ures and tech­nol­o­gy.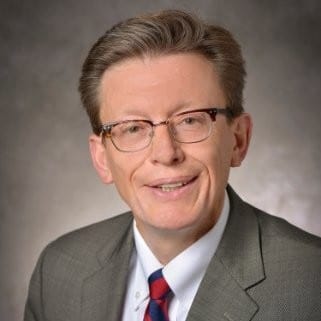 Do­minic Borie
Do­minic Borie, a Genen­tech vet and the for­mer head of ex­ter­nal re­search for Hori­zon Ther­a­peu­tics, is head­ing the new ven­ture as CEO. While at Stan­ford, Borie was cred­it­ed with play­ing a part in val­i­dat­ing JAK in­hi­bi­tion for rheuma­toid arthri­tis — a break­through tech that a bevy of drug de­vel­op­ers would like to leapfrog with new and bet­ter drugs. Jef­frey Greve, for­mer­ly at Delinia ahead of their Cel­gene buy­out, is CSO.
They're be­ing backed by Fred Co­hen at Vi­da Ven­tures and Beth Sei­den­berg, who found­ed West­lake Vil­lage BioPart­ners in LA af­ter jump­ing from Klein­er Perkins, where she spe­cial­ized in biotech for years. Co­hen kick­start­ed Vi­da along with a group of ex­pe­ri­enced ven­ture play­ers, with a big role for Arie Bellde­grun, who sold Kite to Gilead and re­tains some A list con­tacts at the big biotech.
The up­start will be us­ing syn­Notch tech­nol­o­gy from Kite, which picked it up in Gilead's ac­qui­si­tion of Wen­dell Lim's Cell De­sign Labs a cou­ple of years ago, which Bellde­grun had backed as well, sit­ting on the board with Sei­den­berg.
These are the re­la­tion­ships that breed trust and com­pa­nies. — John Car­roll
#JPM20: Bio­Marin chief Bi­en­aime is build­ing a gene ther­a­py pipeline, and the man­u­fac­tur­ing need­ed to con­trol mar­kets
SAN FRAN­CIS­CO — JJ Bi­en­aimé and his team aren't just run­ning as fast as pos­si­ble to stay in the lead in the race to the first mar­ket­ing OK for a gene ther­a­py for he­mo­phil­ia A. They're build­ing a pipeline, and the man­u­fac­tur­ing ca­pac­i­ty need­ed to dom­i­nate their mar­kets.
In a chat just ahead of the fir­ing gun at JP Mor­gan, the Bio­Marin CEO told me that the biotech had ob­tained of­fi­cial sanc­tions in the US and UK to launch a Phase I/II study of BMN 307 this quar­ter for phenylke­tonuria (PKU). Now they will set out to see if a sin­gle dose of their gene ther­a­py can re­store nat­ur­al Phe me­tab­o­lism, nor­mal­ize plas­ma Phe lev­els and en­able a nor­mal di­et in pa­tients with PKU.
Next up in the gene ther­a­py port­fo­lio, he tells me, is HAE.
What's more, he adds, Bio­Marin has com­plet­ed work at a fa­cil­i­ty in No­va­to that dou­bles their gene ther­a­py ca­pac­i­ty — jump­ing from 5,000 to 10,000 pa­tients a year. That could han­dle the he­mo­phil­ia A mar­ket and the rest of the mar­kets to come for some time. It al­so gets them around the bot­tle­neck of gene ther­a­py pro­duc­tion that has been hold­ing back some of the new play­ers in the field.
"It's not our in­tent to turn in­to a pure gene ther­a­py com­pa­ny, but it will play an im­por­tant role in Bio­Marin," says Bi­en­aimé.
For now, the sto­ry around gene ther­a­py at Bio­Marin is cen­tered on a sim­ple theme: Bio­Marin has the first shot at an up­com­ing ap­proval in he­mo­phil­ia A, but a wan­ing lev­el of re­sponse leaves a few an­a­lysts won­der­ing whether Sang­amo, in par­tic­u­lar, can catch up with a bet­ter ther­a­py. The rea­son­ing is built around the as­sump­tion that pa­tients would pre­fer to wait for a bet­ter gene ther­a­py, as they can on­ly be dosed with an AAV prod­uct once.
Bi­en­aimé, though, doesn't be­lieve that's true. He points to new work on next-gen gene ther­a­pies skirt­ing AAV that can be re­peat­ed­ly dosed, and that opens the door to a re-up down the road if their prod­uct stops work­ing. Pa­tients will take a prospec­tive cure, he says, with a 4-year up­date com­ing up that he be­lieves will show a con­tin­ued pro­tec­tion against bleeds.
One oth­er point: The CEO be­lieves that giv­en the high cost of treat­ing he­mo­phil­ia pa­tients now, pay­ers will ac­cept a drug that costs $2 mil­lion to $3 mil­lion. (Not that that is the price they ex­pect to charge. That de­ci­sion comes lat­er.)
But will they want some as­sur­ances that it will work long enough to make it less ex­pen­sive in the long run? — John Car­roll
#JPM20: Ver­tex lays out post-CF am­bi­tions as Gilead de­murs on ac­qui­si­tion
SAN FRAN­CIS­CO – Ver­tex laid out a vi­sion for a post-CF and a post-Jef­frey Lei­den fu­ture at their in­vestor pre­sen­ta­tion Mon­day morn­ing. It looks a lot like the past.
That fu­ture, the out­go­ing CEO Lei­den said, will cen­ter on oth­er fields like cys­tic fi­bro­sis: Spe­cif­ic nich­es where few life-al­ter­ing drugs ex­ist, in­clud­ing sick­le cell and a rare lung dis­ease. Those are al­so fields where Ver­tex could stand to charge the high prices they're be­com­ing known for.
"You will nev­er see a me-too drug from us," Lei­den said, a day af­ter Alex­is Borisy sparked wide­spread buzz with a new biotech aimed at low­er­ing drug prices through me-too drugs. "We think trans­for­ma­tive med­i­cines are of the high­est val­ue for pa­tients."
This year was all but des­tined to mark a new chap­ter for Ver­tex. Near­ly 20 years af­ter start­ing their CF pro­gram, the com­pa­ny in­tro­duced their cap­stone last year in Trikaf­ta, a drug that cov­ers 90% of pa­tients. Lei­den cel­e­brat­ed the news by leav­ing the CEO spot to be­come ex­ec­u­tive chair­man.
Lei­den may or may not have been re­fer­ring to Borisy's star­tups with his com­ments, but the ref­er­ence is fit­ting. Ver­tex's drugs have made cys­tic fi­bro­sis a liv­able dis­ease, but it comes at a price tag – over $300,000 for Trikaf­ta – pay­ers like the NHS have balked at.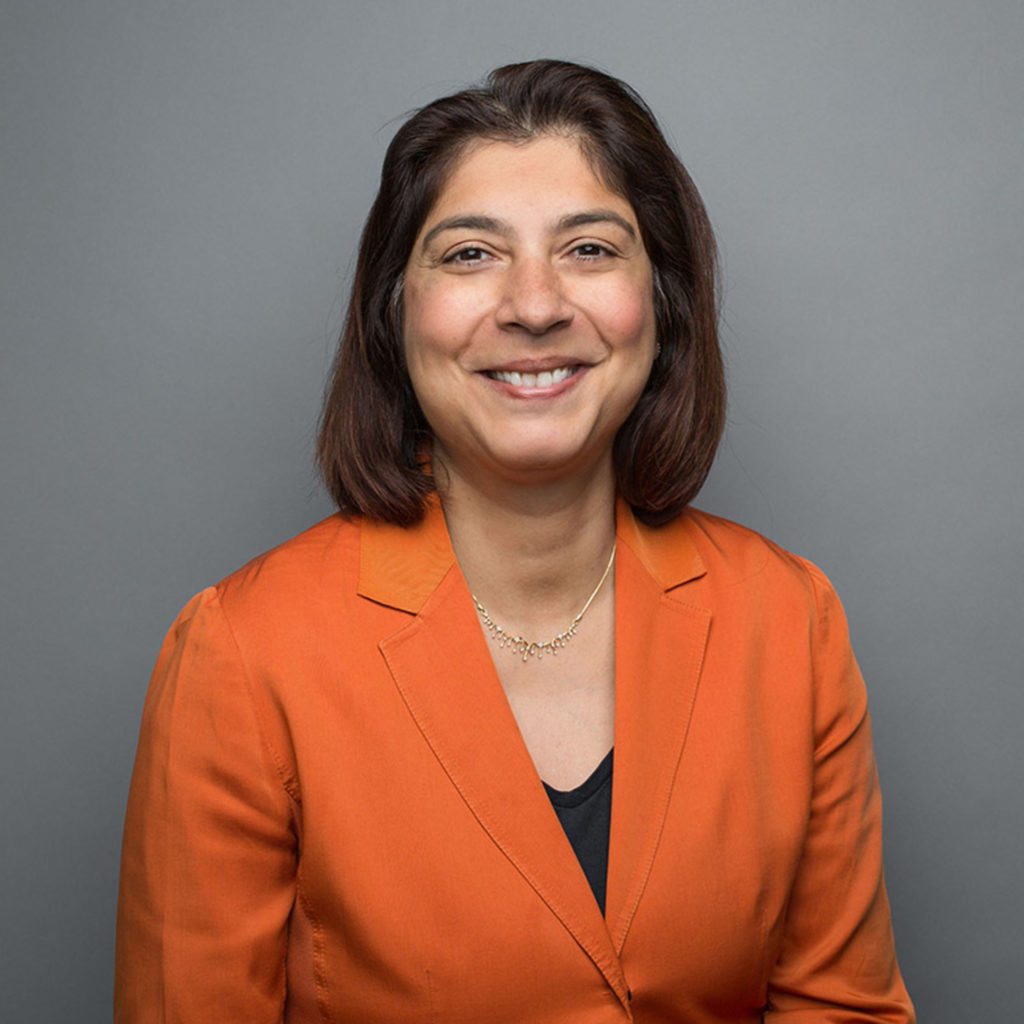 Resh­ma Ke­wal­ra­mani
With the Ver­tex changes and Gilead sit­ting on both a wealth of cash and a shaky pipeline, ru­mors swirled the big Cal­i­for­nia biotech could pur­sue a mas­sive buy­out. But ear­ly Mon­day morn­ing, Gilead CEO Daniel O'Day threw cold wa­ter on that, telling in­vestors that the com­pa­ny was look­ing to ex­pand but any changes would be "bolt-on ac­qui­si­tions."
In what was billed as a "fire­side chat," in­com­ing Ver­tex CEO Resh­ma Ke­wal­ra­mani de­tailed the pipeline she would lead. Those as­sets in­clude mar­ket­ing an ex­pand­ed in­di­ca­tion for Trikaf­ta (it's not yet ap­proved for chil­dren un­der 12), a drug for al­pha-1 an­tit­rypsin de­fi­cien­cy – a lung dis­or­der sim­i­lar to cys­tic fi­bro­sis – their gene ther­a­py pro­gram for sick­le cell and be­ta tha­las­samia, and the po­ten­tial cell ther­a­py cure for di­a­betes they ac­quired with the $950 mil­lion Sem­ma buy­out.
The wa­ter-cool­er has al­so buzzed with talk that Ver­tex could ac­quire CRISPR Ther­a­peu­tics, their part­ner on the gene ther­a­py pro­gram.
Ke­wal­ra­mani didn't ad­dress that. In­stead, she of­fered a tar­get for Ver­tex's most re­cent ac­qui­si­tion: bring­ing the cell ther­a­py in­to the clin­ic.
"We've set an am­bi­tious goal for our­selves with Sem­ma," Ke­wal­ra­mani said. — Ja­son Mast