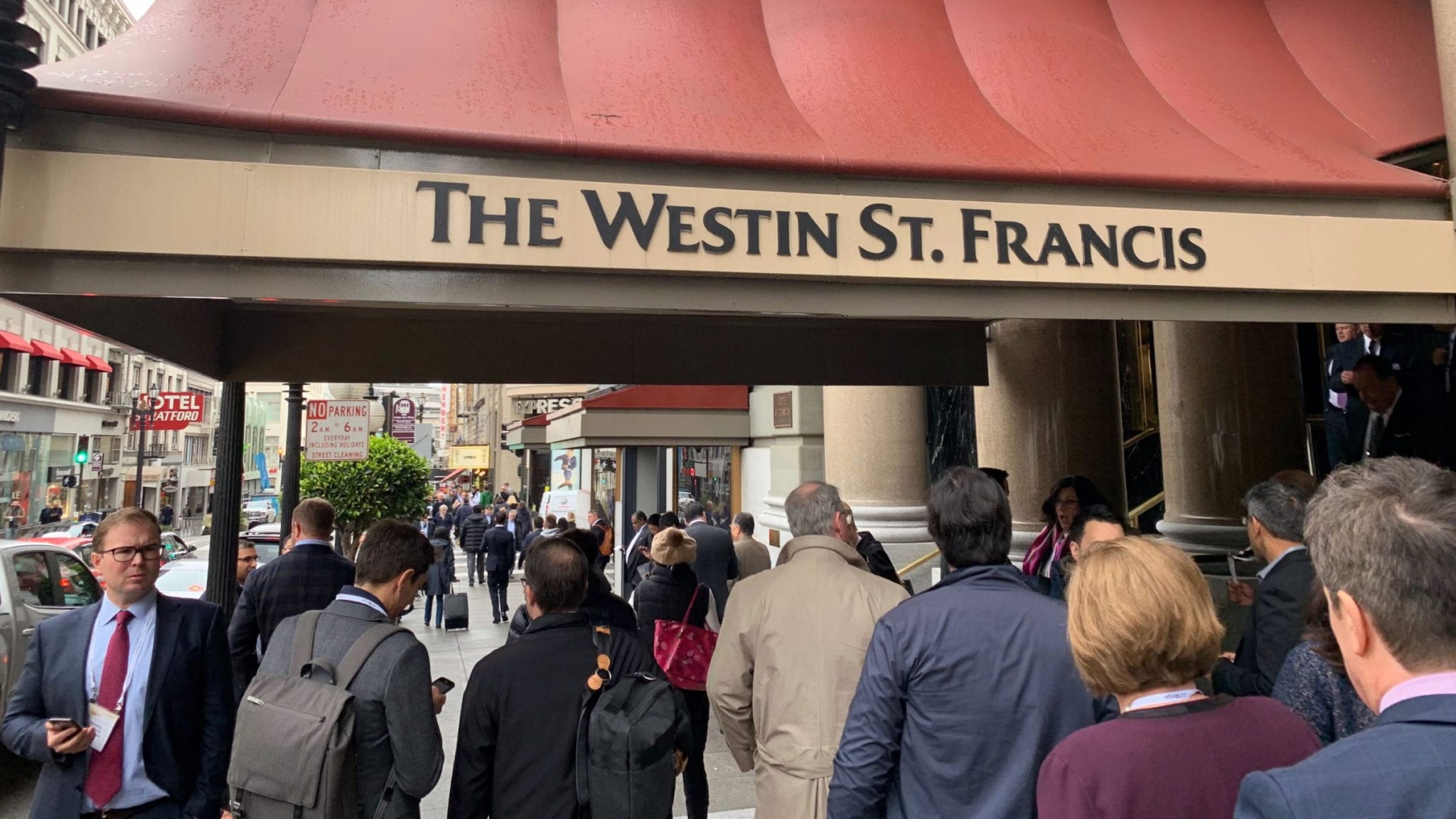 Crowd gathering at the Westin St. Francis for JPM in 2019 (Endpoints News)
#JPM22 goes vir­tu­al, cav­ing to pres­sure af­ter a wave of big drug­mak­ers pull out due to Omi­cron fears
Well, see you in Jan­u­ary 2023.
In a sur­prise about-face, #JPM22 will now be ful­ly vir­tu­al af­ter or­ga­niz­ers of the pop­u­lar biotech con­fer­ence de­cid­ed to pull the plug on a live event in San Fran­cis­co giv­en fears over the Omi­cron vari­ant and a grow­ing cho­rus of drug­mak­ers opt­ing out.
The move is no big sur­prise af­ter re­ports swirled about some of the in­dus­try's biggest play­ers nix­ing plans to at­tend live and pres­sur­ing the bank to re­con­sid­er the an­nu­al meet at the West­in St. Fran­cis. STAT re­port­ed Tues­day that Mod­er­na and Am­gen, among oth­er large drug­mak­ers, had al­ready pulled out.
But the de­ci­sion will put a damper on bio­phar­ma's new year. #JPM22 was en­vi­sioned as bio­phar­ma's re­turn to the new nor­mal af­ter the pre­vi­ous year's con­fer­ence was all vir­tu­al amid the height of the pan­dem­ic.
With live plans now can­celed, End­points News has al­so made the de­ci­sion to take its mul­ti-day hy­brid event sched­ule ful­ly vir­tu­al. That means no live cock­tail hour or net­work­ing events, but we will still be bring­ing you the biggest news sur­round­ing the con­fer­ence as well as in­sight­ful pan­els and fire­side chats pre­view­ing the new year.
We'll be sad to not see our friends and col­leagues on site, but we en­cour­age every­one to still reg­is­ter for the event and join the con­ver­sa­tion. This year, even as Omi­cron swirls, is set­ting up to be a big one for the in­dus­try, and we'll have some of the biggest names out there giv­ing us their takes on what's next.
See you next year.