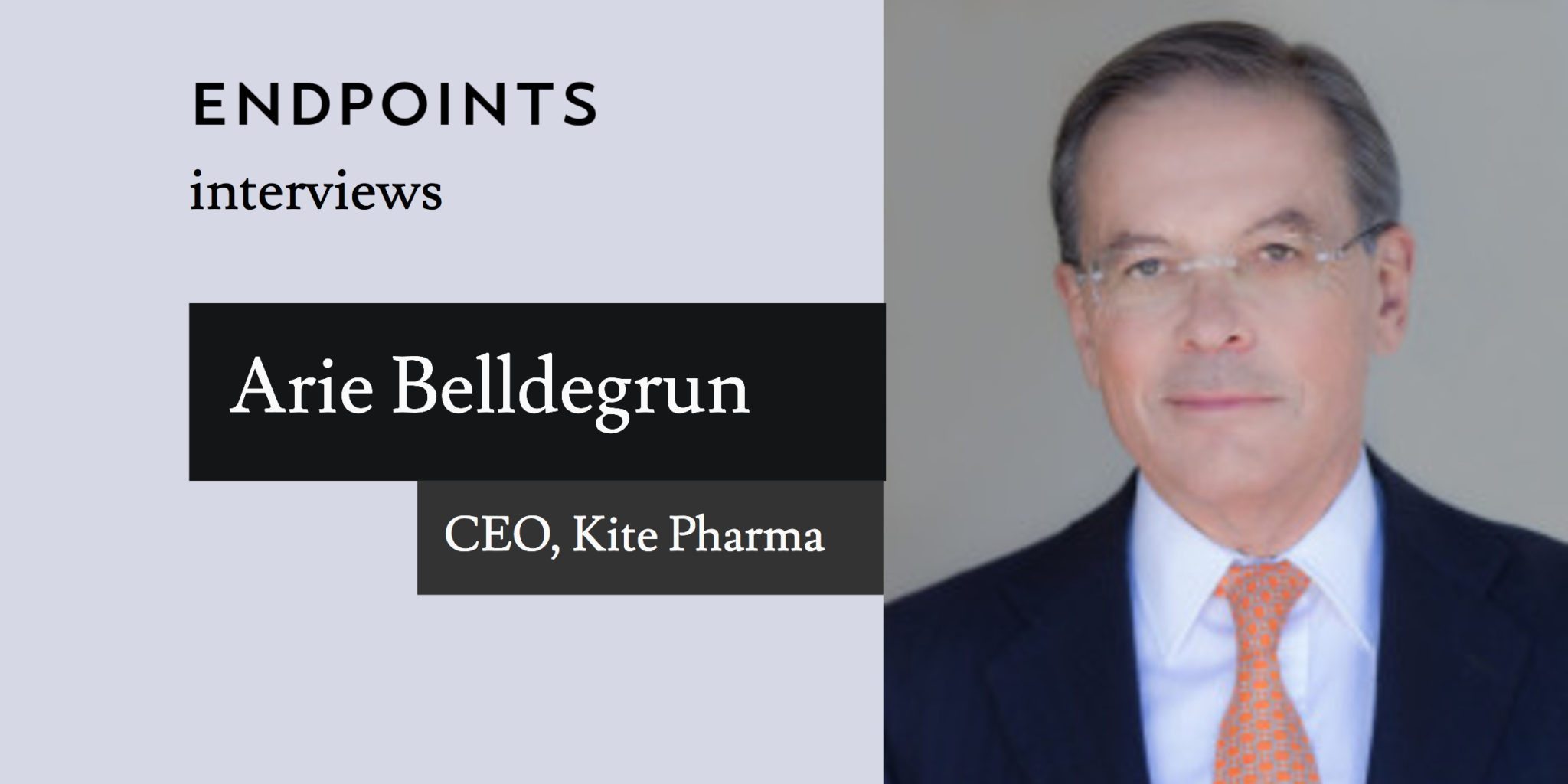 ---
Early on in his career, Arie Belldegrun did research under Steven Rosenberg at the NCI. Now, looking back over the intervening decades, he still marvels at the first groundbreaking lab experiments that would eventually point to the late-stage CAR-T therapies at a handful of companies like Kite Pharma, where he's the CEO now and Rosenberg is the eminent scientist in his corner of the ring.
"We were so impressed that T cells were killing cancer cells in vivo, in 1985," Belldegrun tells me. "That's where it started. Since then we've continued to work."
Later, much later, engineering T cells with the right antigen would produce dramatic results in patients who had run out of options.  "That is 10 years old," Belldegrun says, "you can't take it out of context."
But you might be forgiven for it if you just tuned in over the last two years. The field has exploded, attracting hundreds of millions of dollars and the fixed attention of some of the most interesting companies in biotech.
Over just the last few months, the competitive lineup on CAR-T has changed dramatically as the three leading companies turned into the final stretch in the race to see who will be the first on the market. Juno Therapeutics was tripped by a brief clinical hold in July following the death of four patients, which pushed back its first potential approval to 2018. Then, just days ago, Novartis made the stunning announcement that it is disbanding its 400-member cell therapy unit, laying off 120 and absorbing the survivors into its oncology division — a clear retreat that left the pharma giant looking fragile on the CAR-T front as it protested that nothing had changed.
Only Kite has remained undamaged and on track, still plugging away at long-standing plans to launch marketing in a looming 2017. If anything, it picked up the pace, surprising analysts with its recently announced decision to pivot to the FDA in just a few weeks with the first round of data from its first pivotal study. And the company, which now has 350 staffers, plans to see that number swell to 500 by the end of this year as it marks a big transition into marketing.
For Belldegrun, though, this sprint to the finish — as well as prepping for everything still ahead — is being propelled by the momentum of those decades of research work. In an interview with Endpoints News this week, he admits to being surprised by some recent events, and not so startled by others.
"I have the highest respect for Novartis," he adds, citing David Epstein, the pharma chief who recently was unexpectedly bounced from the pharma giant and who helped shepherd the program, and CEO Joe Jimenez, who adopted cell therapies as the next big thing in oncology. "I wish them luck. I know what we are doing at Kite. It has absolutely no effect on what we are doing."
He does wonder, though, how you can manage a operation like CAR-T requires in the midst of a major pharma R&D division, as Novartis is now planning.
"This is where biotechnology is better than large pharma," he says. CAR-T, he adds, isn't about developing a treatment in a vial or a pill, it's a 24/7 process involving multiple people.
"How can Novartis be successful including cell therapy into a pharmacological group?" asks the Kite CEO. "I don't know."
One notable surprise came from Juno, which had to drop fludarabine from its pivotal study of JCAR015 following a series of deaths. As Juno would carefully explain at ASCO, it's the mixture of fludarabine and cyclophosphamide — the cy/flu combo — that conditions patients for the best response, clearing the path for the cell therapy to work. But they would drop fludarabine from the key trial in order to persuade the FDA that it was safe to continue.
"We came to the conclusion that a low-dose combination of fludarabine and cyclophosphamide, plus the number of cells we tested," was the right way to go, explains Belldegrun. "Since then we have not changed it and we are not planning to."
"We found the right dose, intermediate." Too much, he adds, and you get huge toxicity. Too little, and there's no effect. "Now we know the number of cells to give, what is the best chemo ablation needed to get the best effect" and allow cells to proliferate.
Juno itself is likely to agree with that assessment. As I reported earlier today, the company has been working on its own recipe, hoping to achieve the kind of confidence that Belldegrun has in Kite's work.
"It definitely changed the competitive scene," Belldegrun says about events at Juno, "and I cannot say it made it harder."
The CEO cites other advantages as well. Kite won their breakthrough drug designation at the FDA as a company, says the CEO, while Novartis (tied to the University of Pennsylvania) and Juno (allied with Memorial Sloan Kettering) would rely on their academic liaisons. He's convinced that direct exposure gave his company valuable experience in deciphering the agency's expectations for their work.
He also is bullish about Kite's initial work across all CD19-positive cells, seeing Juno and Novartis' initial approach to ALL as too limiting. And he expects the field to continue to make dramatic leaps that will continue to disrupt the competitive landscape.
"This is just the beginning of a revolutionary technology," he says. Synthetic biology will help give birth to super T cells that can go far beyond where Kite or anyone else can approach now. With gene editing, he says, you can edit in a PD-L1 checkpoint inhibitor, not give it to patients separately.
Those future technology waves will give other companies a chance to step in, just as Novartis or some other big players may choose to buy in at the right time.
"Whether they push it now or not is irrelevant," says Belldegrun, "they [Novartis] can come back later, find another company."
In the meantime, he's also been working with GE to make big improvements in the manufacturing process, looking to transform what has been a very complex, time-consuming process into a quick, simple turnaround that will be needed to help make this a commercial success.
Says Belldegrun: "GE will revolutionize everything."
And just as Kite was in on the beginning of the CAR-T revolution, he expects it to be a leader in what's coming.
So far, he's been right in a field where wrong turns have been plentiful. Steering the company through the next phase will require all the experience that Belldegrun likes to cite. It will also likely take some luck. The CEO doesn't seem to lack for either right now.
---
The best place to read
Endpoints News

? In your inbox.

Comprehensive daily news report for those who discover, develop, and market drugs. Join 47,900+ biopharma pros who read Endpoints News by email every day.

Free Subscription
---
---
---