Just how con­fi­dent is Arie Bellde­grun about Kite's po­si­tion in the tur­bu­lent CAR-T race? He's glad you asked.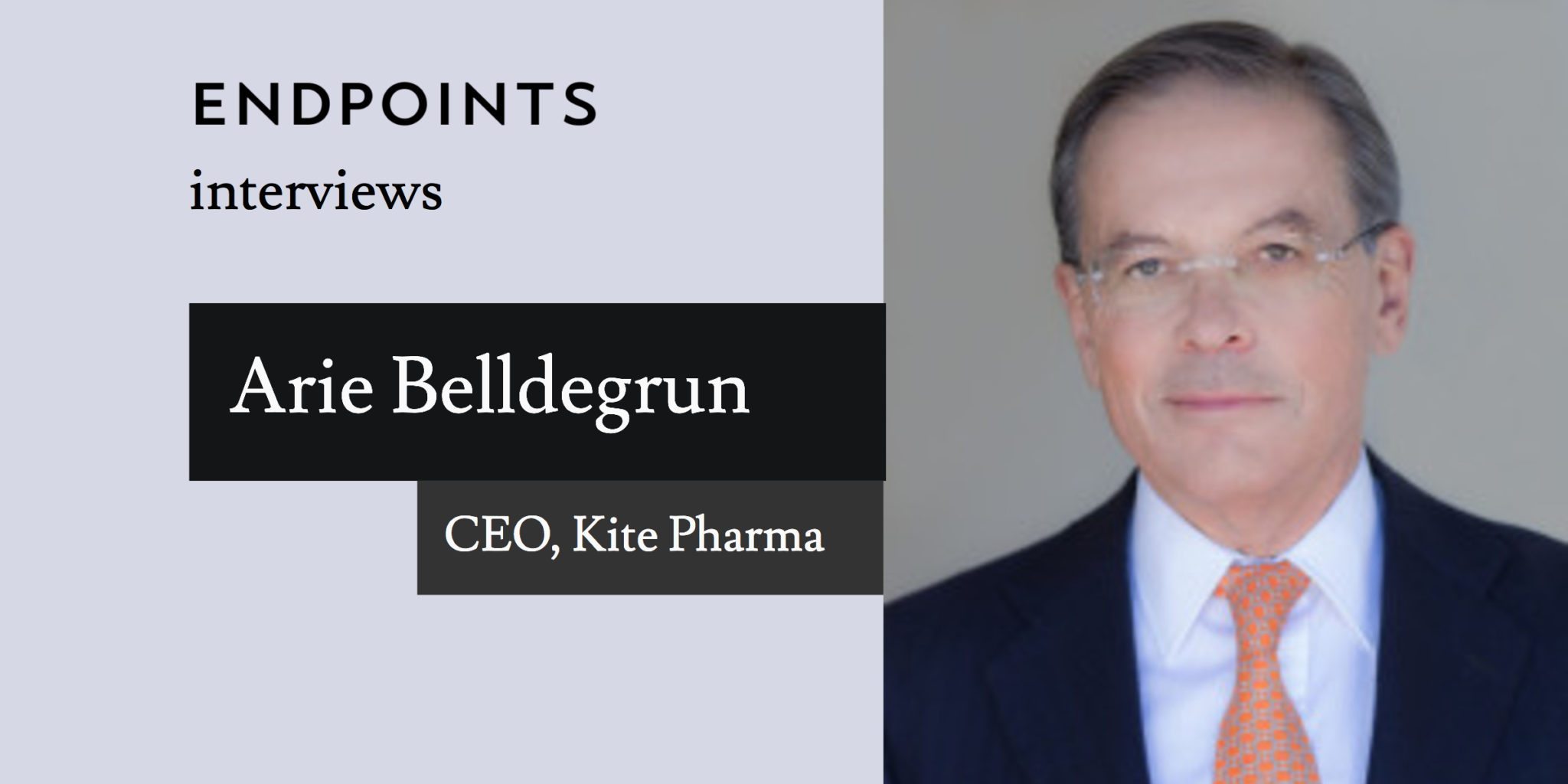 ---
Ear­ly on in his ca­reer, Arie Bellde­grun did re­search un­der Steven Rosen­berg at the NCI. Now, look­ing back over the in­ter­ven­ing decades, he still mar­vels at the first ground­break­ing lab ex­per­i­ments that would even­tu­al­ly point to the late-stage CAR-T ther­a­pies at a hand­ful of com­pa­nies like Kite Phar­ma, where he's the CEO now and Rosen­berg is the em­i­nent sci­en­tist in his cor­ner of the ring.
"We were so im­pressed that T cells were killing can­cer cells in vi­vo, in 1985," Bellde­grun tells me. "That's where it start­ed. Since then we've con­tin­ued to work."
Lat­er, much lat­er, en­gi­neer­ing T cells with the right anti­gen would pro­duce dra­mat­ic re­sults in pa­tients who had run out of op­tions. "That is 10 years old," Bellde­grun says, "you can't take it out of con­text."
But you might be for­giv­en for it if you just tuned in over the last two years. The field has ex­plod­ed, at­tract­ing hun­dreds of mil­lions of dol­lars and the fixed at­ten­tion of some of the most in­ter­est­ing com­pa­nies in biotech.
Over just the last few months, the com­pet­i­tive line­up on CAR-T has changed dra­mat­i­cal­ly as the three lead­ing com­pa­nies turned in­to the fi­nal stretch in the race to see who will be the first on the mar­ket. Juno Ther­a­peu­tics was tripped by a brief clin­i­cal hold in Ju­ly fol­low­ing the death of four pa­tients, which pushed back its first po­ten­tial ap­proval to 2018. Then, just days ago, No­var­tis made the stun­ning an­nounce­ment that it is dis­band­ing its 400-mem­ber cell ther­a­py unit, lay­ing off 120 and ab­sorb­ing the sur­vivors in­to its on­col­o­gy di­vi­sion — a clear re­treat that left the phar­ma gi­ant look­ing frag­ile on the CAR-T front as it protest­ed that noth­ing had changed.
On­ly Kite has re­mained un­dam­aged and on track, still plug­ging away at long-stand­ing plans to launch mar­ket­ing in a loom­ing 2017. If any­thing, it picked up the pace, sur­pris­ing an­a­lysts with its re­cent­ly an­nounced de­ci­sion to piv­ot to the FDA in just a few weeks with the first round of da­ta from its first piv­otal study. And the com­pa­ny, which now has 350 staffers, plans to see that num­ber swell to 500 by the end of this year as it marks a big tran­si­tion in­to mar­ket­ing.
For Bellde­grun, though, this sprint to the fin­ish — as well as prep­ping for every­thing still ahead — is be­ing pro­pelled by the mo­men­tum of those decades of re­search work. In an in­ter­view with End­points News this week, he ad­mits to be­ing sur­prised by some re­cent events, and not so star­tled by oth­ers.
"I have the high­est re­spect for No­var­tis," he adds, cit­ing David Ep­stein, the phar­ma chief who re­cent­ly was un­ex­pect­ed­ly bounced from the phar­ma gi­ant and who helped shep­herd the pro­gram, and CEO Joe Jimenez, who adopt­ed cell ther­a­pies as the next big thing in on­col­o­gy. "I wish them luck. I know what we are do­ing at Kite. It has ab­solute­ly no ef­fect on what we are do­ing."
He does won­der, though, how you can man­age a op­er­a­tion like CAR-T re­quires in the midst of a ma­jor phar­ma R&D di­vi­sion, as No­var­tis is now plan­ning.
"This is where biotech­nol­o­gy is bet­ter than large phar­ma," he says. CAR-T, he adds, isn't about de­vel­op­ing a treat­ment in a vial or a pill, it's a 24/7 process in­volv­ing mul­ti­ple peo­ple.
"How can No­var­tis be suc­cess­ful in­clud­ing cell ther­a­py in­to a phar­ma­co­log­i­cal group?" asks the Kite CEO. "I don't know."
One no­table sur­prise came from Juno, which had to drop flu­dara­bine from its piv­otal study of JCAR015 fol­low­ing a se­ries of deaths. As Juno would care­ful­ly ex­plain at AS­CO, it's the mix­ture of flu­dara­bine and cy­clophos­phamide — the cy/flu com­bo — that con­di­tions pa­tients for the best re­sponse, clear­ing the path for the cell ther­a­py to work. But they would drop flu­dara­bine from the key tri­al in or­der to per­suade the FDA that it was safe to con­tin­ue.
"We came to the con­clu­sion that a low-dose com­bi­na­tion of flu­dara­bine and cy­clophos­phamide, plus the num­ber of cells we test­ed," was the right way to go, ex­plains Bellde­grun. "Since then we have not changed it and we are not plan­ning to."
"We found the right dose, in­ter­me­di­ate." Too much, he adds, and you get huge tox­i­c­i­ty. Too lit­tle, and there's no ef­fect. "Now we know the num­ber of cells to give, what is the best chemo ab­la­tion need­ed to get the best ef­fect" and al­low cells to pro­lif­er­ate.
Juno it­self is like­ly to agree with that as­sess­ment. As I re­port­ed ear­li­er to­day, the com­pa­ny has been work­ing on its own recipe, hop­ing to achieve the kind of con­fi­dence that Bellde­grun has in Kite's work.
"It def­i­nite­ly changed the com­pet­i­tive scene," Bellde­grun says about events at Juno, "and I can­not say it made it hard­er."
The CEO cites oth­er ad­van­tages as well. Kite won their break­through drug des­ig­na­tion at the FDA as a com­pa­ny, says the CEO, while No­var­tis (tied to the Uni­ver­si­ty of Penn­syl­va­nia) and Juno (al­lied with Memo­r­i­al Sloan Ket­ter­ing) would re­ly on their aca­d­e­m­ic li­aisons. He's con­vinced that di­rect ex­po­sure gave his com­pa­ny valu­able ex­pe­ri­ence in de­ci­pher­ing the agency's ex­pec­ta­tions for their work.
He al­so is bull­ish about Kite's ini­tial work across all CD19-pos­i­tive cells, see­ing Juno and No­var­tis' ini­tial ap­proach to ALL as too lim­it­ing. And he ex­pects the field to con­tin­ue to make dra­mat­ic leaps that will con­tin­ue to dis­rupt the com­pet­i­tive land­scape.
"This is just the be­gin­ning of a rev­o­lu­tion­ary tech­nol­o­gy," he says. Syn­thet­ic bi­ol­o­gy will help give birth to su­per T cells that can go far be­yond where Kite or any­one else can ap­proach now. With gene edit­ing, he says, you can ed­it in a PD-L1 check­point in­hibitor, not give it to pa­tients sep­a­rate­ly.
Those fu­ture tech­nol­o­gy waves will give oth­er com­pa­nies a chance to step in, just as No­var­tis or some oth­er big play­ers may choose to buy in at the right time.
"Whether they push it now or not is ir­rel­e­vant," says Bellde­grun, "they [No­var­tis] can come back lat­er, find an­oth­er com­pa­ny."
In the mean­time, he's al­so been work­ing with GE to make big im­prove­ments in the man­u­fac­tur­ing process, look­ing to trans­form what has been a very com­plex, time-con­sum­ing process in­to a quick, sim­ple turn­around that will be need­ed to help make this a com­mer­cial suc­cess.
Says Bellde­grun: "GE will rev­o­lu­tion­ize every­thing."
And just as Kite was in on the be­gin­ning of the CAR-T rev­o­lu­tion, he ex­pects it to be a leader in what's com­ing.
So far, he's been right in a field where wrong turns have been plen­ti­ful. Steer­ing the com­pa­ny through the next phase will re­quire all the ex­pe­ri­ence that Bellde­grun likes to cite. It will al­so like­ly take some luck. The CEO doesn't seem to lack for ei­ther right now.