Kel­ly Mar­tin once again finds him­self at the helm of a biotech, sail­ing in chop­py seas
Kel­ly Mar­tin is once again run­ning a biotech com­pa­ny — on­ly this time it's just a tem­po­rary gig un­til a more per­ma­nent re­place­ment can be found to run No­van $NOVN, a port­fo­lio com­pa­ny of his at Ma­lin that ran in­to some pro­found trou­ble re­cent­ly.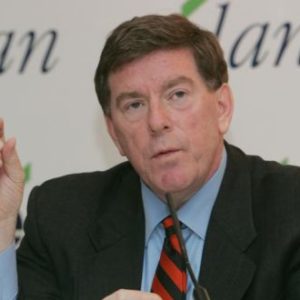 Kel­ly Mar­tin
Mar­tin, the for­mer chief ex­ec­u­tive at Elan, switched to in­ter­im CEO from his post on the board at No­van, which he ac­quired as his ven­ture group Ma­lin jumped in as a big in­vestor of the Uni­ver­si­ty of North Car­oli­na spin­out. He was tapped as the board de­cid­ed to shake things up, lay­ing off around a dozen staffers and fo­cus­ing the found­ing CEO Nate Stasko on his role as chief sci­en­tif­ic of­fi­cer.
No­van's shares were tossed in­to the Wall Street shred­der in late Jan­u­ary when the biotech re­vealed that one of its Phase III stud­ies for its lead drug for ac­ne failed and the oth­er cleared — but just bare­ly — the bar for sta­tis­ti­cal sig­nif­i­cance.
The com­pa­ny has been build­ing a ni­tric ox­ide plat­form and has had some am­bi­tious plans to use it for a broad range of ap­pli­ca­tions.
Durham, NC-based No­van's lat­est state­ment makes clear that the com­pa­ny hasn't giv­en up on the drug, which it once boast­ed was the first im­por­tant new drug to come along for ac­ne in 20 years. But in­vestors aren't very en­thu­si­as­tic. The biotech's mar­ket cap has shriv­eled from close to $300 mil­lion to $72 mil­lion as the com­pa­ny looks to con­serve cash and fig­ure out how to over­come this big set­back.
Mar­tin, a Mer­rill Lynch vet­er­an who was fre­quent­ly cas­ti­gat­ed for his free­wheel­ing use of the cor­po­rate jet at Elan, sold the biotech to Per­ri­go for $8.6 bil­lion. As the head man at Ma­lin, Mar­tin has been in­vest­ing heav­i­ly in a group of transat­lantic biotechs.