Kel­ly Mar­tin skips to a new CEO suite as his last biotech team rais­es the white flag
A few months af­ter step­ping away from the helm of a biotech with a flut­ter­ing pulse, ex-Elan chief Kel­ly Mar­tin is back in charge of an­oth­er drug com­pa­ny with its own set of is­sues to deal with.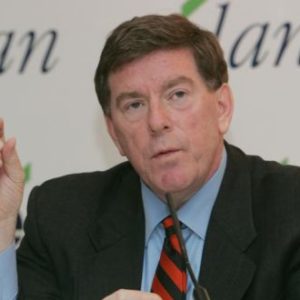 Kel­ly Mar­tin
Ra­dius Health in Waltham, MA an­nounced that the 61-year-old Mar­tin is step­ping in to re­place Jes­per Hoei­land, the No­vo vet who is now head­ed home to Den­mark. Hoei­land was brought in to lead the charge on a new os­teo­poro­sis drug mar­ket­ed as Tym­los, which hasn't been go­ing well.
Ac­cord­ing to an SEC fil­ing, Mar­tin gets a salary of $600,000 and starts off with an op­tion on 575,000 shares, which he can buy at cur­rent mar­ket val­ue as they vest over 4 years — time he can use to add val­ue to the com­pa­ny.
Once a high fli­er in biotech — lit­er­al­ly, Mar­tin en­joyed the use of a pri­vate jet at Elan that drew quite a bit of heat from the ac­tivists be­fore he sold the com­pa­ny for $8.6 bil­lion — the ex-banker with roots in Mer­rill Lynch went on to man­age biotech in­vestor Ma­lin and then No­van, a biotech in North Car­oli­na that col­lapsed as its lead drug failed.
No­van $NOVN put out an SOS just a few days ago, an­nounc­ing a re­view of its (lim­it­ed) strate­gic op­tions as the share price with­ered to around 38 cents.
Ac­cord­ing to the last proxy state­ment avail­able from No­van, Mar­tin picked up $730,000 in salary and bonus for 2018, with about as much in stock op­tions. He held eq­ui­ty val­ued at more than $15 mil­lion — though the cur­rent share price would in­di­cate a col­lapse on that score.
At Ra­dius $RDUS, Mar­tin gets a com­pa­ny that has seen its stock price slide steadi­ly since win­ning the race with Am­gen (which had ro­mo) on os­teo­poro­sis and jump­ing in­to the mar­ket with Tym­los (abaloparatide). When it was first ap­proved, sell-side con­sen­sus es­ti­mat­ed peak sales in 2022 at $467 mil­lion.
Mar­tin and his new team have a long way to go be­fore they get there, though. To­tal sales for 2019 were $173 mil­lion, but grow­ing.
So­cial im­age: Kel­ly Mar­tin, in­com­ing Ra­dius CEO (An­dre Ca­ma­ra, The Times)