Ker­ris­dale's Sahm Ad­ran­gi leads a bru­tal new biotech short at­tack as tri­al re­sults loom
Ker­ris­dale Cap­i­tal's Sahm Ad­ran­gi has called a cou­ple of re­cent biotech dis­as­ters in ad­vance. Just two months ago his pre­dic­tion that Bavar­i­an Nordic's can­cer vac­cine would flunk a long-run­ning study proved ac­cu­rate, and that came right on the heels of Sage's ug­ly mis­fire on SRSE demon­strat­ing that the drug was no bet­ter than a place­bo in get­ting a re­sponse.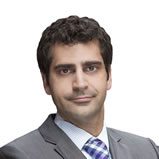 Sahm Ad­ran­gi
Now the in­flu­en­tial hedge fund man­ag­er has got a new biotech in his sights, and this morn­ing he's pulling the trig­ger on an­oth­er short at­tack, blast­ing the com­pa­ny's lead drug as an ab­solute fail­ure in the mak­ing.
The biotech is Prothena $PR­TA and the drug is NEOD001, an AL amy­loi­do­sis drug which fig­ures promi­nent­ly in a mar­ket cap that has swelled well past the $2 bil­lion mark.
Ac­cord­ing to Ker­ris­dale an­a­lysts, the Phase I/II study for this drug failed to show any promise. Point­ing to ex­pert — though un­named — fig­ures in the field, the da­ta from the loom­ing Phase IIb and Phase III stud­ies will prove the drug's worth­less­ness be­yond any doubt.
"It's clear that this has no chance of suc­cess," Ad­ran­gi tells me. "Both stud­ies are go­ing to flop."
Any ex­pec­ta­tions of suc­cess, they add, are built on ran­dom re­spons­es for the NT-proB­NP bio­mark­er that are like­ly to hap­pen at any time in any case.
To be sure, Ker­ris­dale's mis­sion is clear here — and it's al­so con­tro­ver­sial in a mar­ket that of­ten sin­gles out shorts for crit­i­cism. Hav­ing pre­dict­ed a cat­a­stro­phe in the clin­ic, it's now bet­ting that Prothena's shares will tank, and if it does they stand to prof­it enor­mous­ly. But in a field where anony­mous short at­tacks are a dime a dozen, Ker­ris­dale's Ad­ran­gi goes pub­lic with his gam­bles, and the rea­sons why he's gone on the of­fen­sive. They rep­re­sent the po­lar op­po­site of the sell-side notes, which of­ten gain wide­spread at­ten­tion for rosy sce­nar­ios.
Prothena's shares dropped 8% on the re­port this morn­ing.
I've queried Prothena ex­ecs for a re­sponse as Ker­ris­dale's re­port hit Wednes­day morn­ing.
Ker­ris­dale's short re­ports — they al­so go long on oc­ca­sion — are typ­i­cal­ly harsh and Prothena is no ex­cep­tion. Some key points:
"Prothena's "best re­sponse" is an un­in­for­ma­tive mea­sure that sub­sti­tutes vari­ance for ef­fi­ca­cy, and Prothena pro­vides this in lieu of mean­ing­ful da­ta be­cause NEOD001 does not work." The re­port cites one pa­tient who had to drop out of the study af­ter a dan­ger­ous de­vel­op­ment, but was still count­ed as a suc­cess. And Ker­ris­dale ac­cus­es Prothena of hid­ing bad da­ta.
"Prothena's car­diac best re­sponse rate is mere­ly a byprod­uct of well-doc­u­ment­ed nat­ur­al vari­ance, and we be­lieve there is no chance of NEOD001 pro­duc­ing sta­tis­ti­cal­ly sig­nif­i­cant re­sults in its cur­rent Phase 2b and Phase 3 tri­als."
There was no dose re­sponse rate tracked and no way the drug can beat the re­spons­es seen in a con­trol arm.
The sci­ence is bad. "The pro­teins and amy­loid struc­tures vary be­tween pa­tients and even among amy­loid de­posits with­in a sin­gle pa­tient far too much for a sin­gle cryp­tic epi­tope to work with any con­sis­ten­cy."
And they even go af­ter Neil Wood­ford, a backer who has al­so in­vest­ed in North­west Bio­ther­a­peu­tics, now trad­ing as a pen­ny stock.
Prothena re­cent­ly wrote off a pso­ri­a­sis drug af­ter a dis­ap­point­ing Phase Ib, blunt­ly call­ing the da­ta a dis­ap­point­ment. But Ad­ran­gi and his an­a­lyst say they had no choice in the mat­ter, call­ing it im­pos­si­ble to mask.
Ker­ris­dale takes no pris­on­ers dur­ing these at­tacks.