Keytru­da bo­nan­za in­spires a facelift and plans to in­vest more than $600M in trans­la­tion­al re­search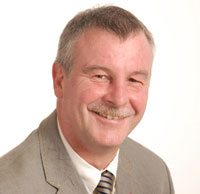 Dave Tapol­czay, CEO Life Arc
Sci­en­tists with the UK's MRC Tech­nol­o­gy played a key role in hu­man­iz­ing the an­ti­body that would go on to be­come Keytru­da, Mer­ck's new flag­ship check­point in­hibitor. And the wind­fall of cash that they get in a roy­al­ty stream from that ef­fort is fi­nanc­ing a makeover and a mis­sion to in­vest the cash, to fund the ig­ni­tion of new dis­cov­ery work aimed at spawn­ing a wave of new biotech prod­uct de­vel­op­ment projects.
As of to­day, MRC Tech­nol­o­gy is LifeArc, and the game plan there is to fund £500 mil­lion of new work on an­timi­cro­bials, neu­ro­science, per­son­al­ized on­col­o­gy and res­pi­ra­to­ry med­i­cine.
"The name LifeArc bet­ter re­flects what we achieve in be­ing the arc or bridge be­tween great sci­ence and its ap­pli­ca­tion to help pa­tients," said LifeArc CEO Dave Tapol­czay.
The cash stream from Mer­ck has been swelling as the phar­ma gi­ant has rushed to stake out a lead­ing role in the PD-(L)1 field, jump­ing ahead of Bris­tol-My­ers Squibb — at least for the mo­ment — in key ar­eas like lung can­cer.
Now the new­ly dubbed LifeArc al­so has the cash to set up two small funds that will back aca­d­e­m­ic re­searchers fi­nanced by oth­er or­ga­ni­za­tions as well as an ear­ly-stage fund for new drugs. And the Mer­ck mon­ey has fi­nanced new digs as well for its 80 sci­en­tists in­volved in an­ti­body and small mol­e­cule re­search at Steve­nage, with a new fa­cil­i­ty in Ed­in­burgh as well.
The an­nounce­ment at LifeArc came just ahead of Medicxi's news that it is rolling out a new $300 mil­lion late-stage biotech fund, adding fur­ther to the amount of cash avail­able for biotechs in the re­gion. The UK's Gold­en Tri­an­gle has tra­di­tion­al­ly lagged be­hind the big glob­al hubs in Boston/Cam­bridge and the Bay Area, but it re­mains a vi­tal part of the glob­al life sci­ence R&D scene with stel­lar sci­ence at top in­sti­tu­tions.