Kite adds promis­ing leukemia re­spons­es in small CAR-T stud­ies, then fires the start­ing gun on its rolling sub­mis­sion
Kite Phar­ma­ceu­ti­cals $KITE has lined up a fresh batch of pos­i­tive ef­fi­ca­cy da­ta for its lead CAR-T for ad­vanced cas­es of acute lym­phoblas­tic leukemia at ASH. And then lat­er Sun­day evening the biotech added that it has launched its rolling sub­mis­sion for a first ap­proval.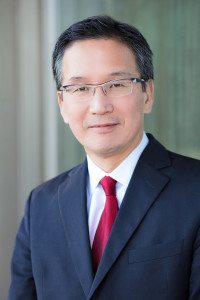 David Chang, Kite
In­ves­ti­ga­tors turned up at the big ASH meet­ing to say that the drug spurred a com­plete re­mis­sion in 9 of 11 evalu­able pa­tients — 82% — en­rolled in the ZU­MA-3 and ZU­MA-4 Phase I stud­ies for ALL in a pre­lim­i­nary re­view.
But the treat­ment was not with­out dan­ger. Five of the 13 had se­ri­ous bouts of cy­tokine re­lease syn­drome as well as 5 who had grade three or above cas­es of neu­ro­log­i­cal events. There were no cas­es of cere­bral ede­ma, which have be­dev­iled ri­val Juno, but one of the pa­tients in the tri­als died from CRS.
Kite had long hoped to file its first ap­pli­ca­tion for KTE-C19 be­fore the end of the year, but was forced to de­lay un­til Q1 2017 af­ter some in­ter­ac­tions with the FDA, pre­sum­ably so it would have time to in­clude da­ta on the 6-month re­spons­es of pa­tients in ZU­MA-1. Some an­a­lysts have been skep­ti­cal of the dura­bil­i­ty of the treat­ment af­ter see­ing the ef­fect de­cline over a few months of treat­ment, but com­pa­ny ex­ecs ex­pect to see that re­sponse lev­el plateau at a sig­nif­i­cant lev­el.
Soon af­ter Kite post­ed the lat­est da­ta on their ther­a­py Sun­day, the com­pa­ny an­nounced that it had launched the rolling sub­mis­sion and would get it com­plet­ed by the end of the first quar­ter of 2017. But No­var­tis now may have an edge in fil­ing first, and look­ing for the first ever ap­proval of a CAR-T ther­a­py.
The drug re­mains one of the lead­ing CAR-T ther­a­pies head­ing to the FDA. No­var­tis is now hus­tling along its own CAR-T af­ter reg­is­ter­ing an im­pres­sive 82% com­plete re­mis­sion rate among the 50 chil­dren and young adults with B-cell acute lym­phoblas­tic leukemia.
"In the Phase I por­tion of these stud­ies, we on­ly en­rolled pa­tients with high dis­ease bur­den to rig­or­ous­ly eval­u­ate safe­ty and ef­fi­ca­cy of KTE-C19," said Kite R&D di­rec­tor David Chang. "We look for­ward to ini­ti­at­ing the Phase II por­tions of these stud­ies in 2017."