Kite catch­es the in­side track on the last leg of a race to the fin­ish line with No­var­tis on a CAR-T first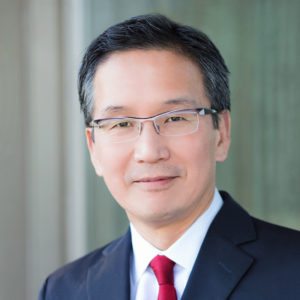 David Chang, Kite
The race be­tween No­var­tis $NVS and Kite $KITE to win the first FDA ap­proval of a CAR-T for can­cer is now in the fi­nal stretch, and Kite just short­ened its dis­tance to the fin­ish line.
The biotech an­nounced this morn­ing that the FDA is pro­vid­ing a pri­or­i­ty re­view for their drug KTE-C19 (axi­cab­ta­gene ciloleu­cel), which will cut the time it takes for reg­u­la­tors to com­plete their ex­am­i­na­tion from 10 months down to 6. The FDA's PDU­FA date is No­vem­ber 29.
Kite's big ri­val No­var­tis won a pri­or­i­ty re­view two months ago, which should pro­vide a com­fort­able lead for the first de­ci­sion on its land­mark drug. Both rep­re­sent the cut­ting edge of a new class of drug that ex­tracts cells from pa­tients and then reengi­neers them in­to an at­tack weapon tar­get­ing can­cer cells.
Both KTE-C19 and No­var­tis' CTL019 are tapped as two of the top block­busters in the in­dus­try pipeline. They're go­ing af­ter dif­fer­ent in­di­ca­tions on the first round, with Kite ini­tial­ly tak­ing on drug-re­sis­tant non-Hodgkin lym­phoma. But No­var­tis — tak­ing its first shot at chil­dren with acute lym­phoblas­tic leukemia — will switch fo­cus to its JULI­ET study for some head-to-head com­par­isons on dif­fuse large B-cell lym­phoma that will at­tract plen­ty of in­tense at­ten­tion, as well as spec­u­la­tion over the im­pact it will have on Kite's stock price.
That new da­ta — which al­ready earned a spe­cial break­through ti­tle at the FDA — should ar­rive next month.
In the mean­time, reg­u­la­tors will be fol­low­ing through on re­views for two des­ig­nat­ed 'break­through' drugs, mak­ing it at least pos­si­ble for the two drugs to reach an ex­pert pan­el at about the same time.
Kite had man­aged to get through its reg­is­tra­tion pro­gram with­out any ex­cep­tion­al safe­ty is­sues — right un­til it was hit a few weeks ago with the death of a pa­tient due to cere­bral ede­ma. The biotech went to some pains to note just how sick this pa­tient was when he died, but its stock slid as in­vestors con­sid­ered the im­pli­ca­tions. Juno's lead CAR-T was knocked out of the race when 5 pa­tients died of cere­bral ede­mas, or brain swelling, in­clud­ing 2 who died af­ter the FDA de­cid­ed to lift a clin­i­cal hold on the pro­gram af­ter just a few days.
Those deaths and all the safe­ty is­sues fac­ing CAR-T ther­a­pies will now get care­ful scruti­ny at the FDA.
"Pa­tients with re­frac­to­ry ag­gres­sive NHL face a dire prog­no­sis with on­ly a 50 per­cent chance of sur­viv­ing six months. This un­der­scores the ur­gent med­ical need for these pa­tients and why every day mat­ters, from de­vel­op­ment to man­u­fac­tur­ing to clin­i­cal ex­pe­ri­ence," said David Chang, ex­ec­u­tive vice pres­i­dent of re­search and de­vel­op­ment and CMO of Kite. "We firm­ly be­lieve in the po­ten­tial for axi­cab­ta­gene ciloleu­cel to ad­dress this need and forge a new path for the fu­ture of cell ther­a­py."