Kite CEO Arie Bellde­grun preps for a loom­ing date with the FDA as he tack­les first-mover ad­van­tage in CAR-T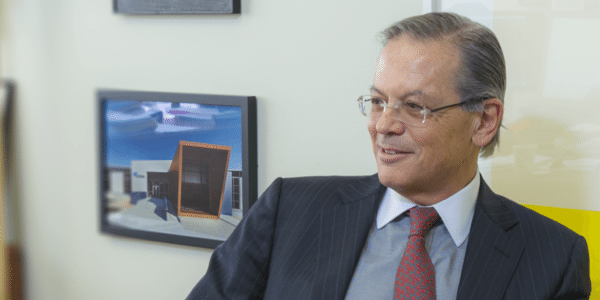 New York — Arie Bellde­grun has a date with the FDA "with­in a month" that will dic­tate just how fast Kite Phar­ma $KITE will be able to file for an ap­proval of its lead CAR-T. But as of now, the biotech has ear­ly da­ta ready to go to meet a dead­line the CEO set for him­self in 2014: To file for an ap­proval of KTE-C19 be­fore the end of this year.
In a sit­down short­ly af­ter the end of Kite's an­nu­al R&D meet­ing with an­a­lysts in Man­hat­tan, Bellde­grun re­it­er­at­ed one of the key themes dur­ing the ses­sion. He wants to nail down the first-mover ad­van­tage in CAR-T, and he's ready to go with pos­i­tive three-month re­sults on the ther­a­py for ad­vanced dif­fuse large B-cell lym­phoma (DL­B­CL).
Their up­com­ing pre-ap­pli­ca­tion meet­ing with reg­u­la­tors will pro­vide the clar­i­ty Kite is look­ing for on sub­mit­ting the da­ta. And even if the FDA de­cides that it wants to wait for 6-month re­sults, he adds, that will be in hand in Feb­ru­ary, with a sub­mis­sion ready to go be­fore the end of Q3.
If all goes ac­cord­ing to plan with the ac­cel­er­at­ed timetable, Bellde­grun reck­ons that he has "a 12-month lead for sure" over the com­pe­ti­tion, though he's al­so quick to add that the gi­ant No­var­tis — which re­cent­ly stunned out­side ob­servers by dis­solv­ing its cell ther­a­py unit — can be hard to read. That's enough time to play a lead­ing role with pay­ers as well as the physi­cians at dozens of sites where KTE-C19 would be ad­min­is­tered to a mar­ket of up to about 7,000 treat­ment-re­sis­tant pa­tients like­ly to qual­i­fy for ther­a­py. And he is keen to play the lead­ing role in cre­at­ing this mar­ket, ahead of Juno and No­var­tis.
Much of the pre­sen­ta­tion Tues­day was de­vot­ed to demon­strat­ing that Kite is ready to seize the mo­ment. The heads of re­search, man­u­fac­tur­ing and com­mer­cial op­er­a­tions all took their turns on stage to as­sert their readi­ness to roll on a quick green light from the FDA. And right be­hind the pi­o­neers, Kite has lined up a slate of new drugs as well as new col­lab­o­ra­tions on next-gen treat­ments that are de­signed to keep the lead, adding new safe­ty switch­es and bet­ter tech­nolo­gies aimed at keep­ing the lead when the fo­cus shifts to CAR-T 2.0.
Kite CMO and R&D chief David Chang ham­mered that next-gen point by un­veil­ing four new near-term clin­i­cal pro­grams, spot­light­ing KITE-796 for acute myeloid leukemia and KITE-585 for mul­ti­ple myelo­ma, which tar­gets BC­MA. Those drugs al­so flag an evo­lu­tion at the biotech, as they look be­yond the close part­ner­ship they have at the NCI and look to de­vel­op in-house treat­ments which re­ly on new tech­nolo­gies de­signed to im­prove safe­ty and ef­fi­ca­cy.
Kite re­ceived mixed re­views for its 3-month KTE-C19 da­ta when it was re­leased a few weeks ago. The three-month snap­shot was clear­ly pos­i­tive and the FDA has proved ready and will­ing to push out new can­cer drugs at a record pace, op­ti­mists not­ed, well ahead of the late-stage da­ta that was once es­sen­tial. But a vo­cal crowd of skep­tics on Twit­ter ze­roed in on the de­clin­ing re­sponse rates tracked among the pa­tients tak­ing KTE-C19, which re­lies on a process in which T cells are ex­tract­ed from pa­tients, reengi­neered to hunt down can­cer cells and then re­in­fused back in­to pa­tients.
The ini­tial over­all re­sponse rates as well as com­plete re­spons­es de­clined from an ini­tial 76% and 47% re­spec­tive­ly to 39% and 33% at three months, the crit­ics hoot­ed. And the fact that CAR-T is still very much a rad­i­cal­ly new ther­a­peu­tic ap­proach to can­cer gives oth­ers pause as well. But Bellde­grun him­self re­mains con­fi­dent that the num­bers will plateau, as they have be­fore, in this pa­tient group, re­tain­ing a promis­ing pro­file for reg­u­la­tors as well as pa­tients. More da­ta is ex­pect­ed at ASH that will al­so help il­lu­mi­nate its ther­a­peu­tic im­pact.
Kite caught a big ad­van­tage in this race in Ju­ly, when the FDA clamped a brief clin­i­cal hold on Juno's ri­val ther­a­py. And even though the biotech quick­ly had the hold lift­ed af­ter promis­ing to drop flu­dara­bine from the pre­con­di­tion­ing reg­i­men — help­ing to ease con­cerns about the tox­ic re­sponse that killed 4 pa­tients in two dif­fer­ent stud­ies — it's ap­proval time­line was knocked back from 2017 to 2018, hand­ing Kite a clear lead.
Bellde­grun is do­ing every­thing he can to hang on to that lead, and plans to use every minute to get his com­pa­ny rec­og­nized as the leader in cre­at­ing the mar­ket to come. It's all up to the FDA now to de­cide just how soon that may hap­pen.