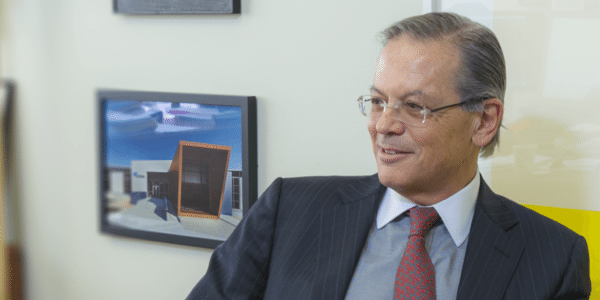 New York — Arie Belldegrun has a date with the FDA "within a month" that will dictate just how fast Kite Pharma $KITE will be able to file for an approval of its lead CAR-T. But as of now, the biotech has early data ready to go to meet a deadline the CEO set for himself in 2014: To file for an approval of KTE-C19 before the end of this year.
In a sitdown shortly after the end of Kite's annual R&D meeting with analysts in Manhattan, Belldegrun reiterated one of the key themes during the session. He wants to nail down the first-mover advantage in CAR-T, and he's ready to go with positive three-month results on the therapy for advanced diffuse large B-cell lymphoma (DLBCL).
Their upcoming pre-application meeting with regulators will provide the clarity Kite is looking for on submitting the data. And even if the FDA decides that it wants to wait for 6-month results, he adds, that will be in hand in February, with a submission ready to go before the end of Q3.
If all goes according to plan with the accelerated timetable, Belldegrun reckons that he has "a 12-month lead for sure" over the competition, though he's also quick to add that the giant Novartis — which recently stunned outside observers by dissolving its cell therapy unit — can be hard to read. That's enough time to play a leading role with payers as well as the physicians at dozens of sites where KTE-C19 would be administered to a market of up to about 7,000 treatment-resistant patients likely to qualify for therapy. And he is keen to play the leading role in creating this market, ahead of Juno and Novartis.
Much of the presentation Tuesday was devoted to demonstrating that Kite is ready to seize the moment. The heads of research, manufacturing and commercial operations all took their turns on stage to assert their readiness to roll on a quick green light from the FDA. And right behind the pioneers, Kite has lined up a slate of new drugs as well as new collaborations on next-gen treatments that are designed to keep the lead, adding new safety switches and better technologies aimed at keeping the lead when the focus shifts to CAR-T 2.0.
Kite CMO and R&D chief David Chang hammered that next-gen point by unveiling four new near-term clinical programs, spotlighting KITE-796 for acute myeloid leukemia and KITE-585 for multiple myeloma, which targets BCMA. Those drugs also flag an evolution at the biotech, as they look beyond the close partnership they have at the NCI and look to develop in-house treatments which rely on new technologies designed to improve safety and efficacy.
Kite received mixed reviews for its 3-month KTE-C19 data when it was released a few weeks ago. The three-month snapshot was clearly positive and the FDA has proved ready and willing to push out new cancer drugs at a record pace, optimists noted, well ahead of the late-stage data that was once essential. But a vocal crowd of skeptics on Twitter zeroed in on the declining response rates tracked among the patients taking KTE-C19, which relies on a process in which T cells are extracted from patients, reengineered to hunt down cancer cells and then reinfused back into patients.
The initial overall response rates as well as complete responses declined from an initial 76% and 47% respectively to 39% and 33% at three months, the critics hooted. And the fact that CAR-T is still very much a radically new therapeutic approach to cancer gives others pause as well. But Belldegrun himself remains confident that the numbers will plateau, as they have before, in this patient group, retaining a promising profile for regulators as well as patients. More data is expected at ASH that will also help illuminate its therapeutic impact.
Kite caught a big advantage in this race in July, when the FDA clamped a brief clinical hold on Juno's rival therapy. And even though the biotech quickly had the hold lifted after promising to drop fludarabine from the preconditioning regimen — helping to ease concerns about the toxic response that killed 4 patients in two different studies — it's approval timeline was knocked back from 2017 to 2018, handing Kite a clear lead.
Belldegrun is doing everything he can to hang on to that lead, and plans to use every minute to get his company recognized as the leader in creating the market to come. It's all up to the FDA now to decide just how soon that may happen.
---
The best place to read
Endpoints News

? In your inbox.

Comprehensive daily news report for those who discover, develop, and market drugs. Join 47,900+ biopharma pros who read Endpoints News by email every day.

Free Subscription
---
---
---