Lead vac­cine from Vi­cal and Astel­las flops in a Phase II her­pes study
San Diego-based Vi­cal $VI­CL says that its lead vac­cine ASP0113 flopped in a Phase II study de­signed to thwart her­pes in kid­ney trans­plant pa­tients. The vac­cine, part­nered with Astel­las in a $135 mil­lion deal that dates back to 2011, was sup­posed to knock down the pro­por­tion of pa­tients hav­ing CMV in­fec­tions, or viremia. But it failed the pri­ma­ry as well as sec­ondary end­points in the tri­al.
Vi­cal's shares dropped 18% in pre-mar­ket trad­ing this morn­ing.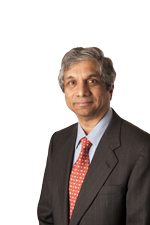 Vi­jay Samant, CEO Vi­cal
The de­vel­op­ers, though, are re­main­ing com­mit­ted to a Phase III study of ASP0113 in hematopoi­et­ic cell trans­plant pa­tients.
"We are pleased with our col­lab­o­ra­tive re­la­tion­ship with Astel­las, and we look for­ward to the re­sults from the piv­otal Phase III study in HCT re­cip­i­ents, which we ex­pect to ob­tain dur­ing the fourth quar­ter of 2017," said Vi­cal CEO Vi­jay Samant.
Vi­cal, which has a $35 mil­lion mar­ket cap, cre­at­ed the DNA vac­cine by en­cod­ing CMV phos­pho­pro­tein 65 and gly­co­pro­tein B anti­gens with an eye to kick­ing up an im­mune re­sponse against the virus.