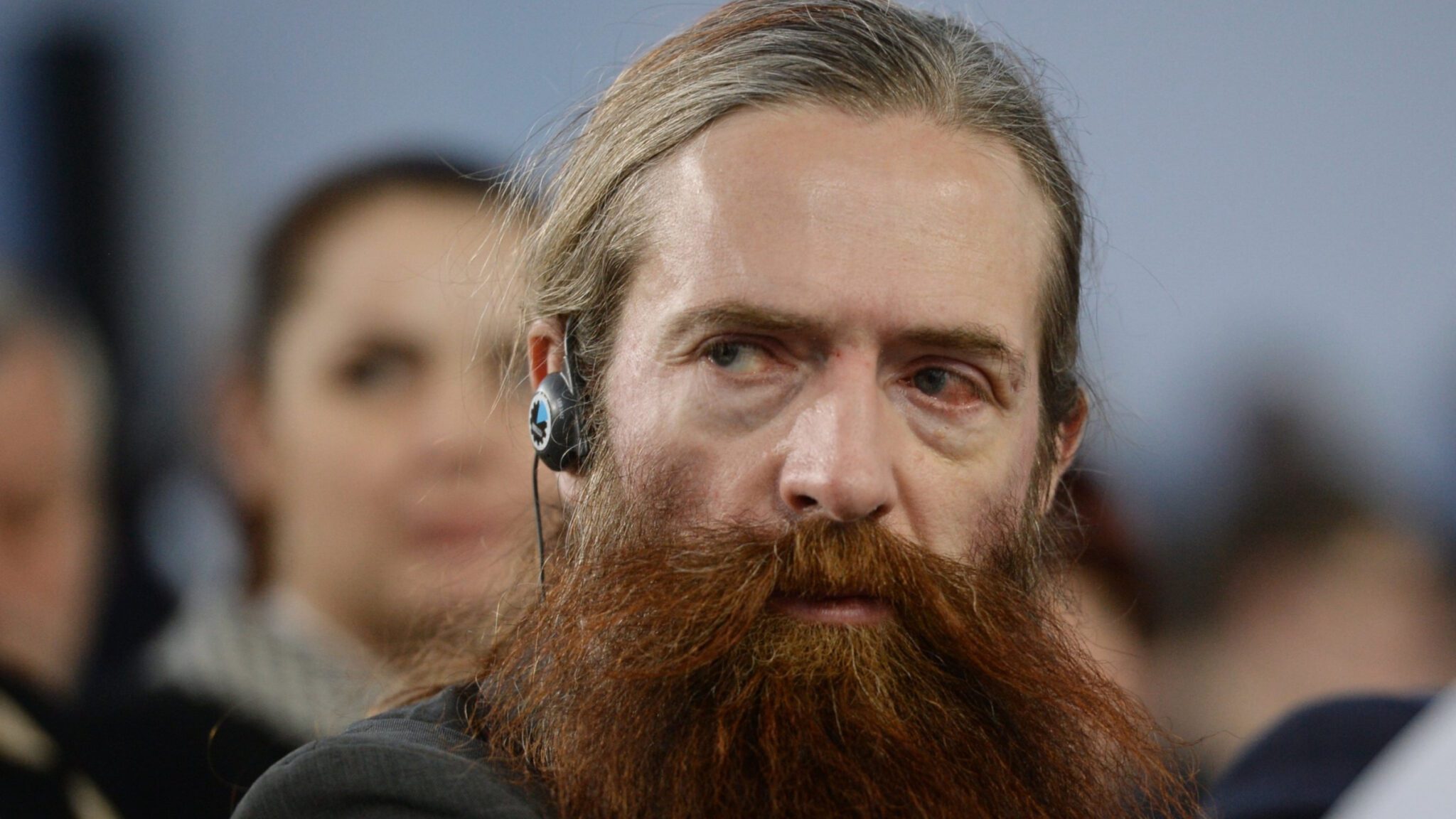 Aubrey de Grey (Mikhail Voskresenskiy/Sputnik via AP Images)
UP­DAT­ED: Lead­ing an­ti-ag­ing re­searcher Aubrey de Grey ac­cused of sex­u­al ha­rass­ment by two col­leagues, in­clud­ing while one was a mi­nor
Two women came for­ward with sex­u­al ha­rass­ment al­le­ga­tions against a promi­nent an­ti-ag­ing re­searcher Tues­day evening, ac­cus­ing the sci­en­tist of mak­ing in­ap­pro­pri­ate re­marks while serv­ing as their men­tor as his or­ga­ni­za­tion looked the oth­er way.
Aubrey de Grey, CSO of the SENS Re­search Foun­da­tion, is al­leged to have en­gaged in preda­to­ry be­hav­ior to­ward Ce­line Halioua and Lau­ra Dem­ing, in­clud­ing while Dem­ing was a mi­nor. Halioua and Dem­ing wrote about their ex­pe­ri­ences with de Grey on their Twit­ter ac­counts and per­son­al web­sites, and as­sert­ed they fall in­to part of a larg­er pat­tern of ha­rass­ment and tox­i­c­i­ty sur­round­ing de Grey and SENS.
"There was kind of a sex­u­al un­der­cur­rent in every­thing that SENS did," Halioua said in an in­ter­view Wednes­day af­ter­noon with End­points News. "As an in­tern, it was made clear that there was a rank­ing of the at­trac­tive­ness of the in­terns, and I was one of the 'hot­ter' ones."
She added, "I knew that Aubrey thought I was at­trac­tive, and that was made ex­plic­it."
De Grey de­clined to com­ment be­yond a lengthy Face­book de­nial post­ed ear­ly Wednes­day morn­ing. In an emailed state­ment, SENS said it placed de Grey on ad­min­is­tra­tive leave soon af­ter it learned of the al­le­ga­tions in late June.
Dem­ing says she first came in con­tact with de Grey when she was around 14 years old. As an as­pir­ing sci­en­tist, she emailed sev­er­al promi­nent fig­ures seek­ing ad­vice for how to break in­to the field, and de Grey was among the re­cip­i­ents. He served as an in­for­mal men­tor to her, and they re­con­nect­ed lat­er when he in­ter­viewed her for a fel­low­ship pro­gram.
At the age of 17, Dem­ing says de Grey sent her an in­ap­pro­pri­ate email from his work ad­dress, in which he de­tailed his "ad­ven­tur­ous love life," and ad­mit­ted he had con­sid­ered let­ting their con­ver­sa­tions "stray in that di­rec­tion."
"I was 17, and I as­sumed that I had done some­thing ter­ri­bly wrong" by en­ter­ing the field at such a young age, Dem­ing said in an in­ter­view. In her post, she added that in­stances like these made her con­sid­er leav­ing the field on mul­ti­ple oc­ca­sions.
Four to five years lat­er, Halioua says she was a SENS-fund­ed stu­dent when de Grey made sex­u­al re­marks to her at a din­ner with SENS ex­ec­u­tives and donors. She said de Grey "fun­neled me al­co­hol and hit on me the en­tire night," and told her she had a "re­spon­si­bil­i­ty to have sex with the SENS donors in at­ten­dance so they would give mon­ey to him."
Halioua had ini­tial­ly joined SENS as a fresh­man in col­lege and says de Grey would dis­cuss his sex life at work. In her post Tues­day night, Halioua fur­ther ac­cused an­oth­er un­named ex­ec­u­tive of ha­rass­ing her so se­vere­ly she dropped out of her PhD pro­gram. She says her com­plaint spurred a le­gal in­ves­ti­ga­tion, which didn't amount to much.
"It was just in­ap­pro­pri­ate be­hav­ior for months and months and months, both from a sex­ism stand­point and from a ha­rass­ment stand­point," she said of the un­named ex­ec­u­tive Wednes­day.
Both Halioua and Dem­ing say they will no longer as­so­ciate with de Grey or SENS in any ca­pac­i­ty. Dem­ing wrote she de­cid­ed to come for­ward now be­cause she does not have con­fi­dence SENS will act to pre­vent de Grey from ha­rass­ing more women in the fu­ture.
"It might be an open se­cret in the longevi­ty com­mu­ni­ty that this is a prob­lem, but kids on the in­ter­net don't have ac­cess to that in­for­ma­tion, and Aubrey is still men­tor­ing mi­nors," Dem­ing wrote. "So, we're mak­ing our ex­pe­ri­ences pub­lic."
As part of de Grey's lengthy Face­book de­nial, he con­tend­ed Halioua and Dem­ing have been "set up" by un­named third par­ties. While de Grey claims there are no oth­er ac­cusers, he wrote: "I'm putting it out there right now: if oth­er ac­cusers come for­ward with sup­port­ing ev­i­dence, I will step aside a great deal faster than [New York Gov. An­drew] Cuo­mo just did."
But with­in the de­nial, de Grey con­firmed send­ing the lewd email to Dem­ing while she was 17, an email he said he wrote "in­ad­vis­ed­ly, for sure, and which I un­re­served­ly re­gret." He al­so de­nied mak­ing any of the al­leged re­marks to Halioua at the SENS donor din­ner, say­ing fol­low­ing cor­re­spon­dences be­tween him and the woman con­tin­ued for years with­out is­sue.
No one who has met Ce­line would be­lieve that she would ever lose con­trol of how much she drinks, and most of her ac­cu­sa­tions con­cern­ing that din­ner ap­pear to be of oth­er peo­ple, not of me. It is in­struc­tive that the very next day she wrote to me with­out the faintest hint of am­biva­lence, ask­ing for ad­di­tion­al feed­back on her pre­sen­ta­tion, and that every one of our ex­changes, of which the most re­cent was less than a year ago, has been of sim­i­lar­ly un­tar­nished char­ac­ter.
Though the al­le­ga­tions were pub­li­cized for the first time Tues­day, both Halioua and Dem­ing not­ed that SENS launched an in­ves­ti­ga­tion in­to the mat­ter ear­li­er this year on­ly af­ter re­peat­ed com­plaints against de Grey. They claimed in their posts that oth­er anony­mous in­di­vid­u­als had brought forth tes­ti­monies of phys­i­cal sex­u­al abuse to the SENS board against de Grey ear­li­er in 2021, but didn't act up­on them.
In its emailed state­ment to End­points, SENS con­firmed it hired an in­de­pen­dent in­ves­ti­ga­tor to probe the in­ci­dents when it first learned of them in late June. Ac­cord­ing to SENS' lat­est tax re­turns, the CSO was mak­ing just un­der $80,000 in 2018.
We are aware of the al­le­ga­tions against the Foun­da­tion's Chief Sci­ence Of­fi­cer raised by two mem­bers of our sci­en­tif­ic com­mu­ni­ty, and, when we first learned of the al­le­ga­tions in late June, we worked quick­ly to re­tain an in­de­pen­dent in­ves­ti­ga­tor to in­ves­ti­gate these con­cerns. We quick­ly placed the em­ploy­ee in ques­tion on ad­min­is­tra­tive leave pend­ing the out­come of the in­ves­ti­ga­tion. No oth­er al­le­ga­tions were brought to SRF man­age­ment.

We re­spect the in­tegri­ty of this in­ves­tiga­tive process, and it would not be ap­pro­pri­ate to spec­u­late on the out­comes while the process re­mains on­go­ing. We can promise that we will take se­ri­ous­ly the find­ings and, if ap­pro­pri­ate, take de­ci­sive ac­tion.
Since SENS be­gan its in­quiry, the or­ga­ni­za­tion raised about $25 mil­lion aid­ed by de Grey's fundrais­ing ca­pa­bil­i­ties with­out dis­clos­ing the probe, Halioua and Dem­ing wrote.
Re­ac­tions to the news poured in overnight on so­cial me­dia, with some on Twit­ter say­ing any­one who knows de Grey "knows this is true." Oth­ers, such as in­dus­try fig­ure and In­sil­i­co CEO Alex Zha­voronkov, jumped to his de­fense and laud­ed him for his role in sup­port of women on Face­book, adding "in to­day's tran­si­tionary pe­ri­od of fe­male em­pow­er­ment in acad­e­mia, we need to sup­port fe­males even when they are wrong."
He was on the board of my first start-up. One of my co­founders (male – went back to school for PhD) and I left be­cause it was all TED talk­ery from his crowd.

This is much worse than the fo­cus on siz­zle over steak & gen­er­al­ly off vibe I'd as­sessed there. https://t.co/3i0b8Cgt­BA

— eliz­a­beth.ai (@eI­iz­a­bethai) Au­gust 11, 2021
Any­one who knows him and the peo­ple around him knows this is true. More need to come for­ward and tell their sto­ry. https://t.co/c9YvJNB6QF

— PJ Man­ney — Phoenix Hori­zon tril­o­gy com­plete! (@PJ­Man­ney) Au­gust 11, 2021
I be­lieve this woman. Peo­ple have talked about Aubrey de Grey for years and the peo­ple "kept" in his home. I'm not sur­prised to see al­le­ga­tions about mi­nors. The LA par­ties co-at­tend­ed by Pe­ter Ny­gard should be viewed crit­i­cal­ly in hind­sight. Vi­ta­lik Bu­terin – what say you? https://t.co/vO1SQxN­Tq7

— Keri Kukral (@kerikukral) Au­gust 11, 2021
Knew this ages ago but was afraid to say any­thing. https://t.co/f6gKhI291C

— Rachel Hay­wire (@Be­yondThe­Cen­ter) Au­gust 11, 2021
Zha­voronkov clar­i­fied his stance to End­points in an ear­ly Thurs­day email, writ­ing he thinks that "the email Aubrey wrote to Lau­ra 9 years ago was high­ly in­ap­pro­pri­ate. And he needs to apol­o­gize. As for Ce­line — there needs to be an in­ves­ti­ga­tion. And even if it does not prove that Aubrey is guilty, it is great that she came for­ward with this is­sue and we should en­sure that there are poli­cies in place to pro­tect them."
Zha­voronkov added he thought the sto­ry was a "big sur­prise" be­cause he knew Halioua and Dem­ing were both close with de Grey. He wrote that, un­til the in­ves­ti­ga­tion is over, moral sup­port should be pro­vid­ed to "all par­ties."
Halioua and Dem­ing are both well-known fig­ures in the an­ti-ag­ing world. Halioua found­ed and serves as CEO of Loy­al, a biotech de­vel­op­ing drugs to ex­tend the lifes­pan of dogs, while Dem­ing is a ven­ture cap­i­tal­ist who runs the Longevi­ty Fund. Halioua had pre­vi­ous­ly served as Dem­ing's chief of staff.
De Grey co-found­ed SENS — which stands for "strate­gies for en­gi­neered neg­li­gi­ble senes­cence" — in March 2009 with the no­tion that one can slow or con­trol the ag­ing process by ad­dress­ing key dis­eases and re­pair­ing the dam­age that builds up in our bod­ies over time. The foun­da­tion's re­cent fundrais­er was aimed at boost­ing re­search ca­pa­bil­i­ties, and those who do­nat­ed re­ceived a cryp­tocur­ren­cy called PulseChain in re­turn.
De Grey gave an in­ter­view as CSO with the Dai­ly Ex­press, a UK tabloid, about the raise in Ju­ly, even though, ac­cord­ing to SENS' state­ment, he was put on leave the month pri­or.
The Uni­ver­si­ty of Cam­bridge grad­u­ate isn't just out to con­trol ag­ing. At de Grey's oth­er start­up, Vien­to, he's work­ing on tech­nol­o­gy he thinks could en­able "im­me­di­ate, tar­get­ed ma­nip­u­la­tion of weath­er pat­terns" through the use of su­per­com­put­ers and in­fra­struc­ture like wind tur­bines.
For a short two years, de Grey was VP of new tech­nol­o­gy and dis­cov­ery at Alame­da, CA-based AgeX Ther­a­peu­tics, which was found­ed in 2017 to un­rav­el the "se­crets of hu­man ag­ing."
The ac­cu­sa­tions against de Grey come months af­ter Eli Lil­ly oust­ed CFO Josh Smi­ley for send­ing "con­sen­su­al but in­ap­pro­pri­ate" mes­sages to em­ploy­ees. The ex­ec was forced to for­feit $24 mil­lion in com­pen­sa­tion as he walked out the door.
Back in March, Mon­cef Slaoui, for­mer head of Pres­i­dent Trump's Op­er­a­tion Warp Speed, was boot­ed from his roles at GSK's Gal­vani, Vax­cyte, and Centes­sa af­ter a probe sub­stan­ti­at­ed sex­u­al ha­rass­ment al­le­ga­tions against him. GSK says he was ac­cused of sex­u­al ha­rass­ment and in­ap­pro­pri­ate con­duct to­ward one of its em­ploy­ees sev­er­al years ago.
This ar­ti­cle has been up­dat­ed to in­clude com­ment from Ce­line Halioua and Lau­ra Dem­ing in an in­ter­view on the af­ter­noon of Aug. 11, as well as ad­di­tion­al com­ment from Alex Zha­voronkov.
Cor­rec­tion: A pre­vi­ous ver­sion of this ar­ti­cle in­cor­rect­ly stat­ed that Halioua ac­cused an un­named SENS donor of ha­rass­ing her so se­vere­ly she dropped out of her PhD pro­gram. She had ac­cused a SENS ex­ec­u­tive.