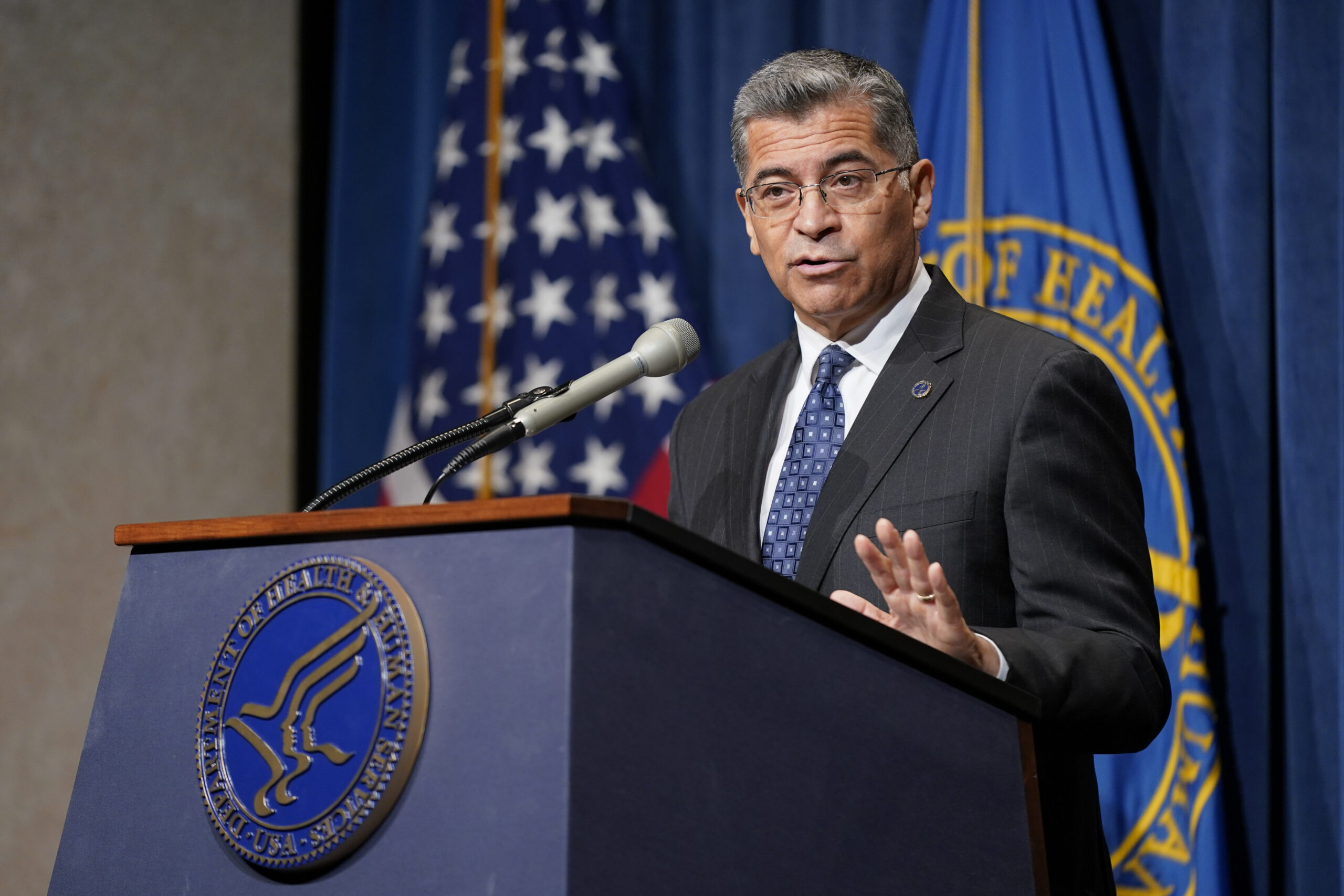 HHS Secretary Xavier Becerra (Patrick Semansky/AP Images)
Leg­is­la­tors call HHS to ac­tion on Xtan­di march-in rights
More than two dozen law­mak­ers are putting re­newed pres­sure on the fed­er­al gov­ern­ment to use its march-in rights to low­er the price of prostate can­cer drug Xtan­di.
The group — led by Sens. Eliz­a­beth War­ren (D-MA) and An­gus King (I-ME), and Rep. Lloyd Doggett (D-TX) — penned a let­ter to HHS Sec­re­tary Xavier Be­cer­ra on Tues­day re­quest­ing a "long over­due" pub­lic hear­ing on a pe­ti­tion to low­er Xtan­di's price filed by pa­tients more than a year ago. Ear­li­er this month, the pe­ti­tion­ers got word that the NIH is still "cur­rent­ly co­or­di­nat­ing with HHS to re­view and as­sess the in­for­ma­tion," ac­cord­ing to the let­ter.
"The In­fla­tion Re­duc­tion Act (IRA) has been signed in­to law and will pro­vide crit­i­cal re­lief for Medicare ben­e­fi­cia­ries, but there are ad­di­tion­al ac­tions – in­clud­ing grant­i­ng march-in rights for Xtan­di – that the ad­min­is­tra­tion can take to fol­low through on its com­mit­ment to re­duce drug prices for all Amer­i­cans," the let­ter reads.
Xtan­di was first ap­proved back in 2012 for late-stage cas­tra­tion-re­sis­tant prostate can­cer, and has since been award­ed new in­di­ca­tions in non-metasta­t­ic cas­tra­tion-re­sis­tant and metasta­t­ic cas­tra­tion-sen­si­tive pa­tients. The av­er­age whole­sale price is more than $189,000 per year, the pe­ti­tion­ers wrote to Be­cer­ra in No­vem­ber.
The pe­ti­tion­ers ar­gue that the fed­er­al gov­ern­ment should ex­er­cise its rights un­der the Bayh-Dole Act to grant patent li­cens­es for gener­ic man­u­fac­tur­ers to pro­duce cheap­er ver­sions of the drug, which was de­vel­oped at UCLA us­ing gov­ern­ment fund­ing.
Robert Sachs, one of the prostate can­cer pa­tients who sub­mit­ted the Xtan­di march-in pe­ti­tion to NIH, came to be in­volved af­ter the fall of 2020 when his prostate can­cer had metas­ta­sized. He was pre­scribed Xtan­di, and said his co­pays at the time would amount to about $10,000 per year.
"We're hap­py if they des­ig­nate this for a hear­ing. A pub­lic hear­ing with an in­de­pen­dent de­ci­sion mak­er, with an op­por­tu­ni­ty for pub­lic par­tic­i­pa­tion and let the facts dri­ve the de­ci­sion," Sachs, who's now in re­mis­sion, tells End­points News.
Leg­is­la­tors on Tues­day re­quest­ed that HHS an­swer sev­er­al ques­tions by the end of the month, in­clud­ing whether HHS has pro­ce­dures in place that gov­ern how of­fi­cials re­spond to march-in pe­ti­tions, and whether the agency has set an in­ter­nal dead­line to re­spond to the Xtan­di pe­ti­tion. They al­so asked the agency to name the HHS of­fi­cials in­volved in the re­view process.
"You have the pow­er to take on the mo­nop­oly abus­es of the phar­ma­ceu­ti­cal in­dus­try and the re­spon­si­bil­i­ty to en­sure Amer­i­cans have af­ford­able ac­cess to the med­i­cines they need," the let­ter states.