By the num­bers: 2-year tal­ly of Cel­gene's biotech part­ner­ship deals tops $3B in cash
Bob Hug­in and his busy deal­mak­ing wiz George Golumbes­ki have po­si­tioned Cel­gene as an in­dus­try-lead­ing wheel­er and deal­er.
$1 bil­lion to part­ner with Juno on CAR-T? OK. $200 mil­lion in cash to rewrite a pact with Agios? They'll take that. An­oth­er $450 mil­lion to part­ner with As­traZeneca on its check­point? No prob­le­mo. As big­ger com­pa­nies fret­ted over the val­u­a­tions they were see­ing in the biotech boom, Cel­gene's ex­ec­u­tive team were struck by the op­por­tu­ni­ties. "If we see them, we're go­ing to go af­ter them at the right time," Cel­gene CEO Bob Hug­in told me last sum­mer, af­ter grab­bing Re­cep­tos for its im­munol­o­gy pipeline for $7.2 bil­lion.
Any doubts on that score should have been laid to rest with their lat­est deal to mar­ry up with Jounce for $261 mil­lion in an up­front and eq­ui­ty in­vest­ment, a blend that Cel­gene has long liked. Golumbes­ki is al­so a known fan of the op­tion agree­ment.
To give you a bet­ter idea of just how pro­lif­ic Cel­gene has been in re­cent years, we asked RBC's Michael Yee if we could share his chart col­lec­tion of Cel­gene's part­ner­ship deals. To put this in some per­spec­tive, we know from the com­pa­ny's state­ments that it has com­mit­ted $3.2 bil­lion in cash for Yee's list of pacts just over the past two years.
That's more than what Gilead spent for all of R&D in 2015.
There's al­so at least $5 bil­lion in mile­stones to con­sid­er (Cel­gene doesn't re­lease every fig­ure tied to a deal). In­ter­est­ing­ly, that ra­tio of cash to mile­stones helps il­lus­trate why biotech com­pa­nies are so joy­ful when they see Golumbes­ki at the deal ta­ble. It al­so doesn't hurt that Cel­gene typ­i­cal­ly leaves its part­ners in charge of the in­no­va­tion de­vel­op­ment work need­ed to be done.
---
Here's a list of se­lect Cel­gene part­nered pro­grams:
| | | | |
| --- | --- | --- | --- |
| Jounce Ther­a­peu­tics | Jul-16 | JTX-2011 + suc­ces­sor | Im­muno‐on­col­o­gy |
| Nurix | Sep‐15 | Small Mol­e­cule Drug Dis­cov­ery | On­col­o­gy, In­flam­ma­tion, Im­munol­o­gy |
| Epizyme | Jul‐15 (+1) | 3 Pre­de­fined Tar­gets; DOTL1 | To be De­ter­mined; MLL |
| Juno Ther­a­peu­tics | Jun‐15 | CD19 and CD22 CAR‐T | Can­cer, Au­toim­mune Dis­eases |
| Lyc­era | Jun‐15 | LYC‐30937 | Im­muno‐on­col­o­gy |
| As­traZeneca | Apr‐15 | ME­DI4736 | Can­cer Hema­tol­ogy |
| Zymeworks | Jan‐15 | | |
| Sutro Bio­phar­ma | Oct-14 (+1) | An­ti­body Dis­cov­ery | Undis­closed Im­muno‐on­col­o­gy |
| No­gra Phar­ma | Apr‐14 | GED‐0301 | Crohn's dis­ease |
| Abide Ther­a­peu­tics | Feb‐14 | AB101131; Drug Dis­cov­ery | In­flam­ma­tion; Im­munol­o­gy |
| Nant­Bio­Science | Jan‐14 | NTB‐011, NTB‐010; nab‐based mol­e­cules | Can­cer |
| On­coMed | Dec‐13 | Demi­cizum­ab; 6 an­ti‐CSC Prod­ucts | Sol­id tu­mors, NSCLC, Pan­cre­at­ic |
| Phar­mAkea | Oct‐13 | Small‐mol­e­cule Dis­cov­ery | Can­cer, Fi­brot­ic dis­ease |
| Adimab | Aug‐13 | An­ti­body Dis­cov­ery | Undis­closed |
| Acety­lon | Jul‐13 | Ri­col­i­no­s­tat; ACY‐738 | Can­cer; Hema­tol­ogy |
| Ar­ray Bio­phar­ma | Jul‐13 | | In­flam­ma­tion |
| Ten­gion | Jul‐13 | Neo-Kid­ney Aug­ment Pro­gram | CKD |
| Con­cert Phar­ma | May‐13 | CTP‐730 | In­flam­ma­tion |
| FOR­MA ther­a­peu­tics | Apr‐13 | | Pro­tein Home­osta­sis |
| Blue­Bird Bio | Mar-13 (+2) | CAR‐T Cell BC­MA | Hema­tol­ogy |
| Presage Bio­sciences | Mar‐13 | Drug‐Dis­cov­ery Plat­form | Sol­id tu­mors |
| Ven­tiRx | Oct‐12 | VTX‐2337 | Sol­id tu­mors |
| In­hi­bRx | Jun‐12 | An­ti­body Dis­cov­ery | Undis­closed |
| Anap­tys­Bio | Apr‐12 | An­ti­body Dis­cov­ery | Can­cer, In­flam­ma­tion |
| Quan­ti­cel Phar­ma­ceu­ti­cals | Nov‐11 | | Can­cer |
| Agios | Apr-10 (+2) | AG‐221, AG‐881 | IDH2/pan Mu­tant Can­cers |
| GlobeIm­mune | May‐09 | GI‐6301, GI‐6207, GI‐4000 | On­col­o­gy |
| Ac­celeron | Feb‐08 | So­tater­cept, Lus­pa­ter­cept | Be­ta‐Tha­lassemia, MDS, CKD |
Cour­tesy Michael Yee, RBC Cap­i­tal Mar­kets
---
And this is the slide from Cel­gene's own deck show­ing off their part­ner­ing prowess: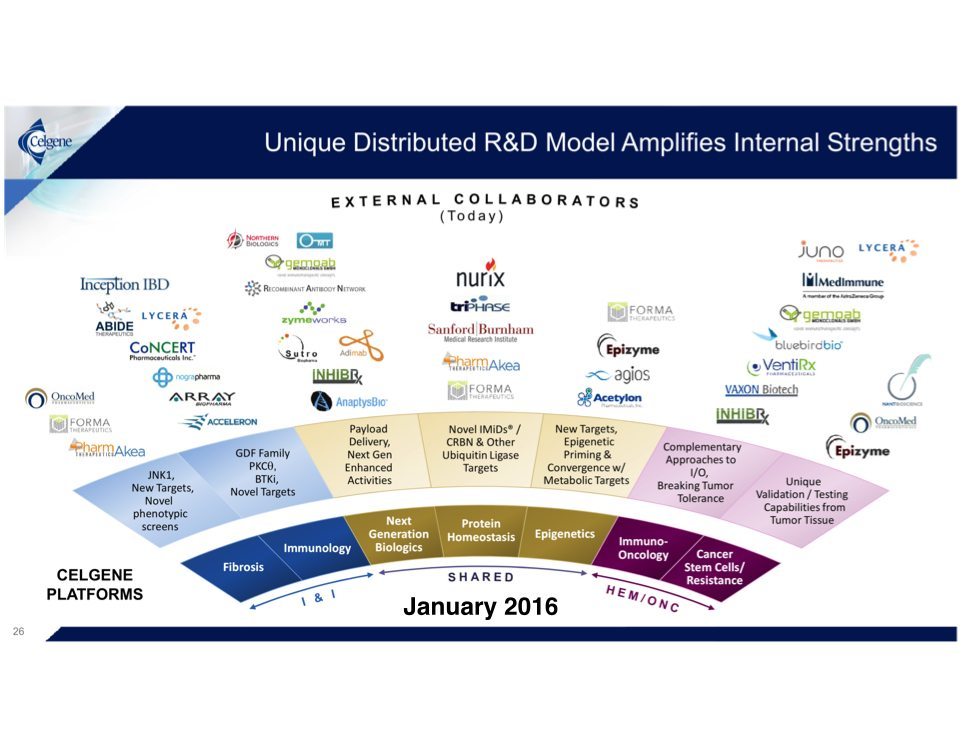 Cel­gene 2016 JPM Pre­sen­ta­tion (pg 26)