List prices in drug ads on TV com­ing as CMS fi­nal­izes rule
De­spite nu­mer­ous com­ments rais­ing ques­tions about a pro­pos­al to in­clude list prices in phar­ma­ceu­ti­cal di­rect-to-con­sumer (DTC) ad­ver­tise­ments, the Cen­ters for Medicare and Med­ic­aid Ser­vices (CMS) on Wednes­day moved ahead and fi­nal­ized the pro­pos­al.
The fi­nal rule, which will take ef­fect in Ju­ly, re­quires that tele­vi­sion ad­ver­tise­ments for pre­scrip­tion drugs or bi­o­log­i­cal prod­ucts with a list price of $35 or more con­tain a state­ment in­di­cat­ing the Whole­sale Ac­qui­si­tion Cost (al­so re­ferred to as WAC or the list price) for a typ­i­cal 30-day reg­i­men or for a typ­i­cal course of treat­ment, whichev­er is most ap­pro­pri­ate.
The dis­clo­sure, which will be de­ter­mined on the first day of the quar­ter dur­ing which the ad­ver­tise­ment is be­ing aired or oth­er­wise broad­cast, will be in­clud­ed as fol­lows: "The list price for a (30-day sup­ply of ) (typ­i­cal course of treat­ment with) (name of pre­scrip­tion drug or bi­o­log­i­cal prod­uct) is (in­sert list price). If you have health in­sur­ance that cov­ers drugs, your cost may be dif­fer­ent."
In de­fend­ing its rule, the CMS ex­plained how in 2017, over $5.5 bil­lion was spent on pre­scrip­tion drug ad­ver­tis­ing, in­clud­ing near­ly $4.2 bil­lion on tele­vi­sion ad­ver­tis­ing. And spend­ing on DTC phar­ma­ceu­ti­cal com­mer­cials in­creased 62 per­cent be­tween 2012 and 2017.
Mean­while, a re­cent poll by the Kaiser Fam­i­ly Foun­da­tion found that 88% of Amer­i­cans sup­port re­quir­ing drug man­u­fac­tur­ers to in­clude their list prices in DTC ad­ver­tise­ments, the CMS said.
Crit­ics of the pro­pos­al, how­ev­er, have ex­plained how in­clud­ing the prices in DTC ads is not like­ly to low­er drug prices over­all, how list prices are not rep­re­sen­ta­tive of what con­sumers pay, how the CMS has not cre­at­ed an en­force­ment mech­a­nism to en­sure com­pa­nies com­ply with the new rule, and some even ques­tioned whether the new re­quire­ment should fall un­der the CMS' purview.
In de­fend­ing its right to re­quire the list price dis­clo­sures, the CMS said in the fi­nal rule: "Al­though we ac­knowl­edge that nei­ther sec­tion 1102 nor sec­tion 1871 of the So­cial Se­cu­ri­ty Act specif­i­cal­ly ref­er­ences pre­scrip­tion drugs or bi­o­log­i­cal prod­ucts, their prices, or ad­ver­tise­ments, we nev­er­the­less be­lieve that re­quir­ing man­u­fac­tur­ers to in­clude list prices in DTC tele­vi­sion ad­ver­tise­ments is sup­port­ed by the plain text of these statutes."
In terms of the WAC not be­ing a mean­ing­ful mea­sure of what a pa­tient will pay for a drug, the CMS coun­tered with a re­cent JA­MA study that found con­sumers could more ac­cu­rate­ly de­ter­mine their out-of-pock­et costs when list prices were dis­closed.
Some crit­ics al­so con­tend­ed that the rule would be a vi­o­la­tion of man­u­fac­tur­ers' First Amend­ment rights.
But the CMS coun­ters that "the speech here at is­sue does not im­pli­cate core First Amend­ment in­ter­ests. Man­u­fac­tur­ers al­ready dis­close the very same in­for­ma­tion at is­sue, their prod­ucts' WACs, to pur­chasers as well as pub­lish­ers of var­i­ous pric­ing data­bas­es and oth­er com­pen­dia."
The CMS al­so took is­sue with in­dus­try group PhRMA's re­cent­ly im­ple­ment­ed vol­un­tary pro­gram to re­quire mem­ber com­pa­nies to dis­close drug prices on­line.
"PhRMA's is­suance of a new guid­ing prin­ci­ple in Oc­to­ber 2018 does not change the need for the rule. The
PhRMA prin­ci­ples are vol­un­tary; they are not bind­ing on PhRMA mem­bers, let alone non-mem­bers, and there is noth­ing to pre­vent PhRMA from re­vis­ing its prin­ci­ples at any time … We be­lieve that rel­a­tive­ly few view­ers will make use of the ap­proach ad­vo­cat­ed by the PhRMA pro­pos­al, even as­sum­ing that its mem­bers im­ple­ment the pro­pos­al," the CMS said.
PhRMA said in a state­ment Wednes­day that it be­lieves "there are op­er­a­tional chal­lenges, par­tic­u­lar­ly the 60-day im­ple­men­ta­tion time­frame, and think the fi­nal rule rais­es First Amend­ment and statu­to­ry con­cerns."
But as far as en­force­ment of the rule, the CMS does not plan to force com­pa­nies to com­ply, oth­er than by main­tain­ing an an­nu­al list of drugs that have vi­o­lat­ed the rule.
"We an­tic­i­pate that the pri­ma­ry en­force­ment mech­a­nism will be the threat of pri­vate ac­tions un­der the Lan­ham Act sec. 43(a), 15 U.S.C. 1125(a), for un­fair com­pe­ti­tion in the form of false or mis­lead­ing ad­ver­tis­ing," the CMS added.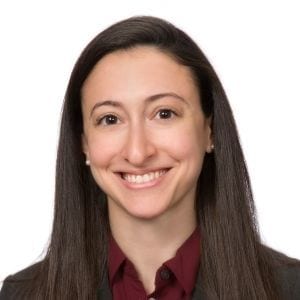 Rachel Sachs
But Rachel Sachs, as­sis­tant pro­fes­sor of law at Wash­ing­ton Uni­ver­si­ty in St. Louis, ex­plained to Fo­cus that it's not clear that all com­pa­nies would even have com­peti­tors to file such suits un­der the Lan­ham Act, or that com­peti­tors would even file such suits be­cause of how ex­pen­sive they are.
Sachs al­so ex­plained how she does be­lieve an en­ti­ty will sue the CMS on Con­sti­tu­tion­al and statu­to­ry grounds be­fore this fi­nal rule is im­ple­ment­ed. She said the CMS will like­ly be chal­lenged be­cause of the broad in­ter­pre­ta­tion of its au­thor­i­ty to reg­u­late drug ad­ver­tis­ing.
"More gen­er­al­ly, we should be skep­ti­cal that trans­paren­cy on its own can en­cour­age phar­ma­ceu­ti­cal com­pa­nies to low­er prices," Sachs added. "It doesn't mean it's bad pol­i­cy, but it's im­por­tant to make sure the ad­min­is­tra­tion is do­ing oth­er re­forms along­side" this one.
---
First pub­lished in Reg­u­la­to­ry Fo­cus™ by the Reg­u­la­to­ry Af­fairs Pro­fes­sion­als So­ci­ety, the largest glob­al or­ga­ni­za­tion of and for those in­volved with the reg­u­la­tion of health­care prod­ucts. Click here for more in­for­ma­tion.