New Lis­te­ria fears spot­light­ed as Aduro's CRS-207 is slapped with par­tial hold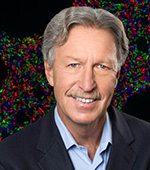 Aduro CEO Stephen Isaacs
Nag­ging fears that Aduro Biotech's can­cer vac­cine CRS-207 could trig­ger se­ri­ous Lis­te­ria in­fec­tions mush­roomed in­to a se­vere set­back on Mon­day morn­ing as the biotech re­port­ed that it had to halt en­roll­ment in all of its clin­i­cal stud­ies us­ing that tech­nol­o­gy. The par­tial hold was in­sti­tut­ed by the FDA af­ter a pa­tient test­ed pos­i­tive for Lis­te­ria, which is sus­pect­ed to be CRS-207, Aduro's lead can­cer vac­cine.
CRS-207 is made up of reengi­neered Lis­te­ria mono­cy­to­genes — re­mov­ing genes in or­der to dis­arm the bac­te­ria — that ex­press mesothe­lin, spark­ing an im­mune re­sponse to a pro­tein con­cen­trat­ed on can­cer cells. Aduro has matched it with an­oth­er can­cer vac­cine, GVAX, hop­ing to pro­vide a one-two punch against can­cer, with an op­tion to add on ad­di­tion­al drugs to con­tin­ue to build an at­tack on can­cer cells.
Aduro's shares $ADRO were ham­mered ear­li­er this year by the fail­ure of a com­bo study for pan­cre­at­ic can­cer. And the stock dropped 12% in pre-mar­ket trad­ing on Mon­day.
This isn't the first time that Aduro has had to deal with Lis­te­ria fears. Last fall its stock briefly tum­bled when a pa­tient tak­ing the ther­a­py — which is sup­posed to be reengi­neered to pre­vent in­fec­tions — de­vel­oped Lis­te­ria. That news was dis­closed in a SEC fil­ing, trig­ger­ing fears that a hold could be on the way for Aduro. This sec­ond case rais­es fresh con­cerns that the drug may not have been com­plete­ly dis­armed, as promised.
The new set­back came as a sur­prise to a num­ber of an­a­lysts, who had ex­pect­ed that Aduro would be re­port­ing re­sults from a triple com­bo study of CRS-207, GVAX and Bris­tol-My­ers Squibb's Op­di­vo for pan­cre­at­ic can­cer. That tri­al and oth­ers which are ful­ly en­rolled will con­tin­ue on sched­ule. Tri­als that have been de­layed in­clude a Phase I ovar­i­an can­cer study as well as a glioblas­toma tri­al.
In a call with an­a­lysts, CEO Stephen Isaacs heav­i­ly em­pha­sized that this is a par­tial hold af­ter the sec­ond Lis­te­ria case seen in 350 treat­ed pa­tients. R&D chief Dirk Brock­st­edt added that the com­pa­ny be­lieves that it's "like­ly" that the strain dis­cov­ered in the fe­male pa­tient is '207. And both em­pha­sized that they are prepar­ing to in­sti­tute changes to the tri­al, in­clud­ing a mod­i­fi­ca­tion of the tri­al pro­to­cols with a re­vi­sion in an­tibi­ot­ic treat­ment and their sur­veil­lance of the pa­tients af­ter treat­ment.
"We're op­ti­mistic this is go­ing to be re­solved and we're do­ing all we can to re­solve it," Isaacs summed up.
Lis­te­ria was de­tect­ed on an "in­dwelling port" used on de­vices, and some an­a­lysts are spec­u­lat­ing that pa­tients with such ports are like­ly to be barred from treat­ment to re­duce the risk of in­fec­tion.
In their state­ment, Aduro re­port­ed:
Aduro is work­ing with the FDA to lift the par­tial hold so as to re­sume new pa­tient en­roll­ment in its LADD clin­i­cal tri­als. The com­pa­ny is re­vis­ing study pro­to­cols in ac­cor­dance with feed­back from the agency, in­clud­ing the mod­i­fi­ca­tion of an­tibi­ot­ic ad­min­is­tra­tion fol­low­ing treat­ment, ex­tend­ed pa­tient sur­veil­lance, and, as a pre-emp­tive mea­sure, ex­clu­sion of pa­tients who are on or will re­ceive cer­tain im­mune-sup­pres­sive treat­ments or who have cer­tain pros­thet­ic de­vices. Aduro will be pro­vid­ing pro­posed re­vi­sions to the pro­to­cols, pa­tient con­sent forms, and in­ves­ti­ga­tor brochures to the agency lat­er this week.