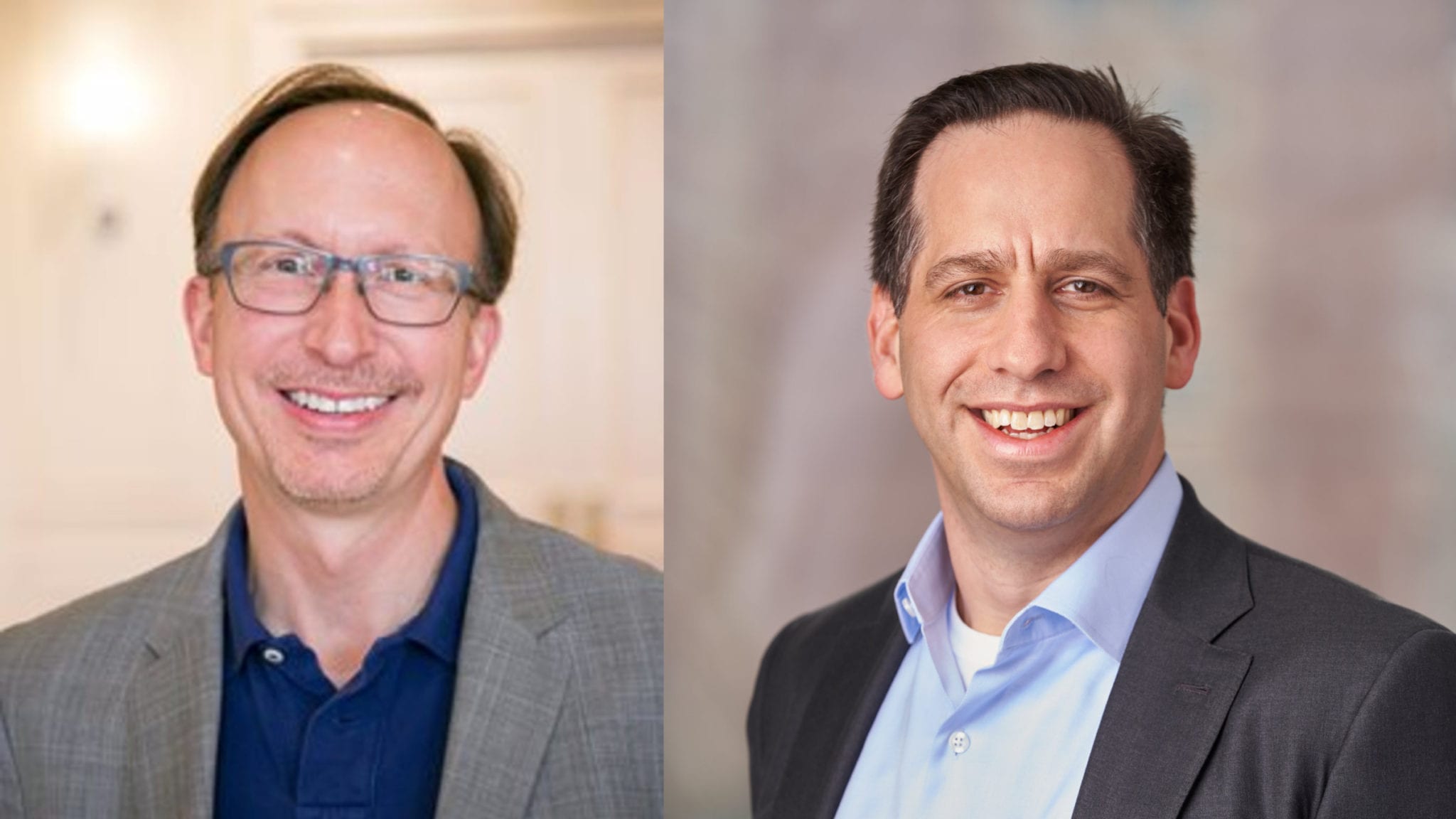 Thomas Gajewski, David Steinberg. (CRI, Pyxis)
Bay­er, Long­wood back star re­searcher's deep dive in­to the tu­mor mi­croen­vi­ron­ment for new I/O tar­gets
From PD-1 tar­get­ing to the RAS path­way to the STING com­plex, Thomas Gajew­s­ki has spent the past two decades of his ca­reer de­cod­ing the var­i­ous ways the im­mune sys­tem can be un­leashed to de­fend against can­cer. So when the Uni­ver­si­ty of Chica­go pro­fes­sor comes around to putting all his find­ings in­to a new plat­form for find­ing new tar­gets, VCs and phar­ma groups alike pay at­ten­tion.
"He's been study­ing T cells for 20 years, plus he's one of the world's lead­ers if not the world leader in the space," David Stein­berg, part­ner at Long­wood Fund, said. "Fur­ther­more, let me add he did a lot of the foun­da­tion­al re­search and al­so some of the sem­i­nal clin­i­cal tri­als in the ex­ist­ing set of I/O agents. He un­der­stands the space re­al­ly well, he un­der­stands the cur­rent strengths, and I think he un­der­stood re­al­ly well what was miss­ing, so he knew where to look."
Long­wood is launch­ing Pyx­is On­col­o­gy with Gajew­s­ki and John Flavin, a sea­soned life sci­ences en­tre­pre­neur and for­mer ven­ture cap­i­tal­ist him­self. The ini­tial Se­ries A comes in at $22 mil­lion; Leaps by Bay­er took the lead­ing role while Agent Cap­i­tal, Ipsen and Long­wood chipped in.
As can be ex­pect­ed from a start­up that's rapid­ly beef­ing up its op­er­a­tions and so­lid­i­fy­ing its IP foun­da­tion, Stein­berg, the CEO, is tight-lipped about the ex­act na­ture of their work ex­cept that they are brand new tar­gets that, to the best of their knowl­edge, are not in any dis­closed clin­i­cal pipelines any­where.
By ex­am­in­ing the tu­mor mi­croen­vi­ron­ment, he added, Gajew­s­ki had been able to iden­ti­fy new bi­o­log­i­cal phe­nom­e­na me­di­at­ing the ac­tion be­tween the tu­mor and the T cell — po­ten­tial­ly un­lock­ing a sec­ond lev­el of T cell in­hi­bi­tion by can­cer.
Bay­er jumped right on board, VP of ven­ture in­vest­ments Jak Knowles said.
Hav­ing on­ly first met with Stein­berg in April, "this is ac­tu­al­ly, I think, the deal that we've closed the fastest since Leaps' ex­is­tence," he told me.
While Pyx­is is start­ing out on the tried and true path of an­ti­body de­vel­op­ment, he be­lieves it can be­come an even big­ger play in the I/O field by find­ing the next tar­get for a T cell or NK cell-based ther­a­py.
But it's still ear­ly days, and both the com­pa­ny and the syn­di­cate are clear­ly tak­ing it step by step. Pyx­is now has more board mem­bers and sci­en­tif­ic ad­vi­sors than staffers, but Stein­berg plans to bal­ance that out by ramp­ing up to 15 to 20.
The SAB com­pris­es:
Michael Atkins, Deputy Di­rec­tor of the George­town-Lom­bar­di Com­pre­hen­sive Can­cer Cen­ter and the Scholl Pro­fes­sor and Vice-Chair of the De­part­ment of On­col­o­gy at George­town Uni­ver­si­ty School of Med­i­cine.
Lisa But­ter­field, VP of the Park­er In­sti­tute for Can­cer Im­munother­a­py and Ad­junct Pro­fes­sor of Mi­cro­bi­ol­o­gy and Im­munol­o­gy at the Uni­ver­si­ty of Cal­i­for­nia, San Fran­cis­co.
Alan Ko­r­man, Se­nior Vice Pres­i­dent of Hu­man Im­munol­o­gy at Vir Biotech­nol­o­gy and For­mer Vice Pres­i­dent of Im­muno-On­col­o­gy Dis­cov­ery at Bris­tol-My­ers Squibb.
Ja­son Luke, As­so­ci­ate Pro­fes­sor of Med­i­cine and Di­rec­tor of the Can­cer Im­munother­a­peu­tics Cen­ter at the Uni­ver­si­ty of Pitts­burgh School of Med­i­cine.
Mean­while, Knowles and his Bay­er col­league Lu­cio Ian­none will serve on the board, chaired by Flavin, to ad­vise on po­ten­tial col­lab­o­ra­tions and com­bos.
"Part of the rea­son we were ex­cit­ed to work with both Bay­er and Ipsen on this is be­cause it's sort of re­in­force­ment of the in­ter­est and ex­cite­ment about these kinds of ap­proach­es from with­in the phar­ma in­dus­try," Stein­berg said.