Loxo takes cen­ter stage at AS­CO with its ground­break­ing shot at a bio­mark­er-based can­cer drug ap­proval
CHICA­GO — Loxo On­col­o­gy made it in­to the AS­CO show­case over the week­end, boast­ing of a small but grow­ing num­ber of cas­es where chil­dren and adults with TRK fu­sion can­cer re­spond­ed to their lead drug, larotrec­tinib (LOXO-101). And they're pack­ag­ing it in­to a new drug ap­pli­ca­tion they ex­pect to hus­tle to reg­u­la­tors ei­ther lat­er this year or ear­ly 2018, while show­ing off a next-gen drug com­ing up the pipeline that they're al­ready claim­ing has es­tab­lished proof-of-con­cept ev­i­dence of ef­fi­ca­cy in two cas­es.
This Stam­ford, CT-based biotech $LOXO is all about hus­tle.
For a small com­pa­ny with just 35 staffers, Loxo has enor­mous am­bi­tions that in­clude shoot­ing at some ground­break­ing ad­vances in drug de­vel­op­ment. At AS­CO, the biotech boast­ed a 76% tu­mor re­sponse rate among pa­tients with mul­ti­tude of dif­fer­ent tu­mor types. Un­like a typ­i­cal can­cer drug fo­cused on the anato­my, Loxo is go­ing af­ter a bio­mark­er — tropomyosin re­cep­tor ki­nase (TRK) fu­sions — and at AS­CO it cob­bled to­geth­er re­sponse da­ta from three ear­ly-stage tri­als.
Specif­i­cal­ly there were 50 pa­tients — 43 adults and 12 chil­dren — with 12% com­plete and 64% par­tial re­spon­ders. That's a high rate of suc­cess and it fits with their ear­li­er state­ments on progress in the clin­ic. Small groups of pa­tients like this are al­so not un­usu­al for a can­cer type shared by on­ly a few thou­sand US pa­tients.
The in­vestor crowd ate it up. Loxo's shares spiked 51% mid­day Mon­day.
Just days ago Mer­ck won the first pi­o­neer­ing ap­proval for the ge­net­i­cal­ly de­fined use of a can­cer drug, an­oth­er boost for its glob­al star Keytru­da. Larotrec­tinib is be­ing pushed down the same path­way, but it is ex­per­i­men­tal. And Loxo is the po­lar op­po­site of a gi­ant like Mer­ck, which has been pour­ing cash in­to its well-es­tab­lished Keytru­da pro­gram in si­mul­ta­ne­ous pur­suit of dozens of tar­gets.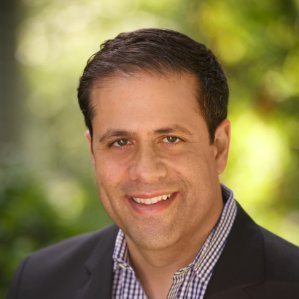 Josh Bilenker, Loxo On­col­o­gy
Go­ing af­ter an FDA ap­proval for both chil­dren and adults like this "has nev­er been done be­fore," Loxo CEO Josh Bilenker tells me. But he is ab­solute­ly con­vinced that the da­ta he has is enough to form the ba­sis of a win­ning ap­pli­ca­tion.
It's not un­usu­al these days to see bio­phar­ma com­pa­nies use ear­ly-stage da­ta to go af­ter an ac­cel­er­at­ed ap­proval at the FDA. What was once the ex­cep­tion is now the rule. But Loxo — which part­nered with Ar­ray on the pro­gram — is press­ing the en­ve­lope, us­ing small groups of pa­tients across Phase I and II tri­als to pro­vide the ev­i­dence they need that larotrec­tinib works. That strat­e­gy is nec­es­sary to achieve their goal, they say, and they have the agency's break­through ther­a­py des­ig­na­tion to pro­vide an open door, which Bilenker says led to a meet­ing with the FDA 18 months ago that set them on this path.
As a pub­lic com­pa­ny, Loxo al­so has tout­ed — and ben­e­fit­ed — from just about every scrap of da­ta ex­ecs can lay its hands on, with new in­stances of par­tial re­spons­es used to rev up its stock price.
In Chica­go Sat­ur­day, that strat­e­gy was on full view as they not­ed the first glim­mer of ev­i­dence that its next-gen drug LOXO-195 trig­gered two par­tial re­spons­es af­ter it was used in emer­gency cas­es in­volv­ing re­sis­tance to a TRK fu­sion in­hibitor.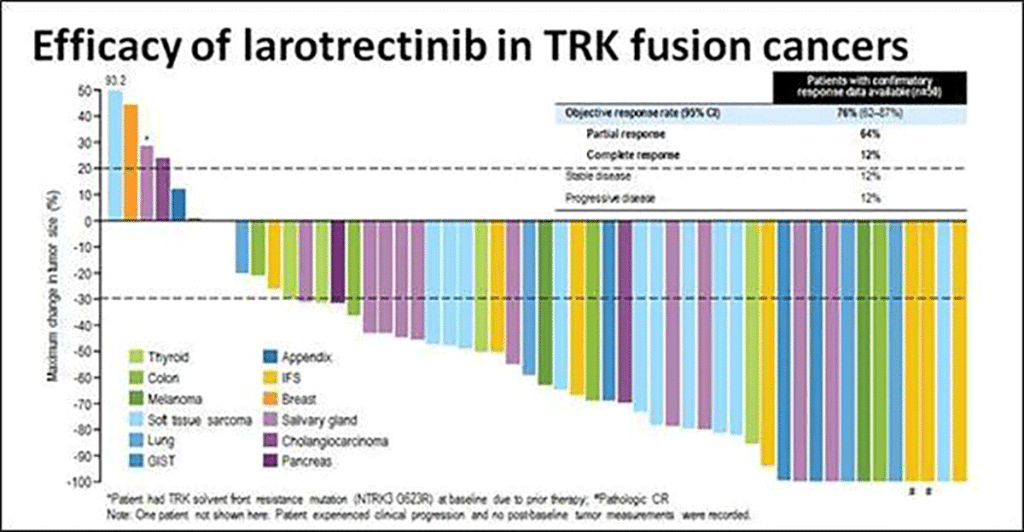 Cour­tesy Loxo On­col­o­gy.
---
If in fact they can prove that it can work against cas­es of TRK fu­sion drug re­sis­tance, their drug could be­come a reg­u­lar part of the treat­ment land­scape for pa­tients with their bio­mark­er. And they will tout any ev­i­dence of ef­fi­ca­cy they gath­er on their next trip to reg­u­la­tors.
Loxo's mar­ket cap is up to $1.3 bil­lion as some mar­ket an­a­lysts cheer them at every stage.
Loxo, though, al­so has com­pe­ti­tion in the field. Igny­ta $RXDX has a Phase II un­der­way for en­trec­tinib for TRK-fu­sion pos­i­tive adult and pe­di­atric pa­tients. Just a cou­ple of weeks ago Igny­ta won their own break­through stays for their drug, giv­ing them the same easy ac­cess that Loxo en­joys. And not all an­a­lysts are ig­nor­ing the po­ten­tial for a matchup as these two small out­fits com­pete for the lime­light in can­cer R&D.
"The com­pa­ny guid­ed for NDAs for Trk+ and ROS1+ pts in 2018 and a U.S. launch in 2019 (MAA sub­mis­sion in 2019)," not­ed Jef­feries re­cent­ly. "The break­through des­ig­na­tion for en­trec­tinib helps lev­el the play­ing field some with LOXO-101, which re­ceived BTD in Ju­ly 2016 (NDA sub­mis­sion ex­pect­ed in late-2017 or ear­ly-2018)."
If they do make it to the mar­ket, Bilenker says Loxo plans to set up a com­mer­cial group and launch this it­self. "We own world­wide rights to the drug and that's our plan," he says, shrug­ging off the sug­ges­tion of a com­pa­ny sale.
It's a big goal.
Very en­cour­ag­ing da­ta but NU­ANCE is key on $LOXO
Best ef­fi­ca­cy is in ge­net­i­cal­ly "sim­ple" pe­di­atric tu­mors dri­ven by TRK fu­sions
$AS­CO17 https://t.co/QPE4FP­NGVV

— Anir­ban Maitra (@Ai­ims1742) June 3, 2017