Mam­moth Bio­sciences teams with GSK to put Covid-19 CRISPR tests at home, air­ports, bor­ders
The old CRISPR ri­val­ry is back in pan­dem­ic fash­ion.
Two weeks af­ter Feng Zhang-found­ed Sher­lock Bio­sciences launched the first Covid-19 CRISPR test, Jen­nifer Doud­na-found­ed Mam­moth Bio­sciences has part­nered with Glax­o­SmithK­line on their own tests, with plans to even­tu­al­ly roll it out in places like homes and air­ports. Take a swab, get a green light, and you're good to board.
"You can al­so imag­ine about build­ing a com­pan­ion app, so you're con­nect­ing to next steps or tele­health" if you test pos­i­tive, Mam­moth CEO and co-founder Trevor Mar­tin told End­points News. "There's a lot of op­por­tu­ni­ty to re­al­ly in­te­grate in­to the broad­er ecosys­tem. That's why we're work­ing with an or­ga­ni­za­tion like GSK — they ob­vi­ous­ly have a glob­al reach to un­der­stand dif­fer­ent needs, how to scale, and are plugged in­to this broad­er ecosys­tem."
Thus far, the at-home Covid-19 tests in­volved swab­bing and then send­ing the sam­ple out to a re­search lab for the analy­sis. The kits the two com­pa­nies are mak­ing and hop­ing to sub­mit to the FDA by the end of the year would give an an­swer im­me­di­ate­ly. That GSK-Mam­moth vi­sion would mark a turn­ing point not on­ly for the pan­dem­ic — de­mar­cat­ing a world, al­ready ar­tic­u­lat­ed by oth­ers, where di­ag­nos­tic tests are near­ly as com­mon­place as tick­et checks or as tem­per­a­ture read­ings have al­ready be­come in some ar­eas — but al­so for CRISPR it­self.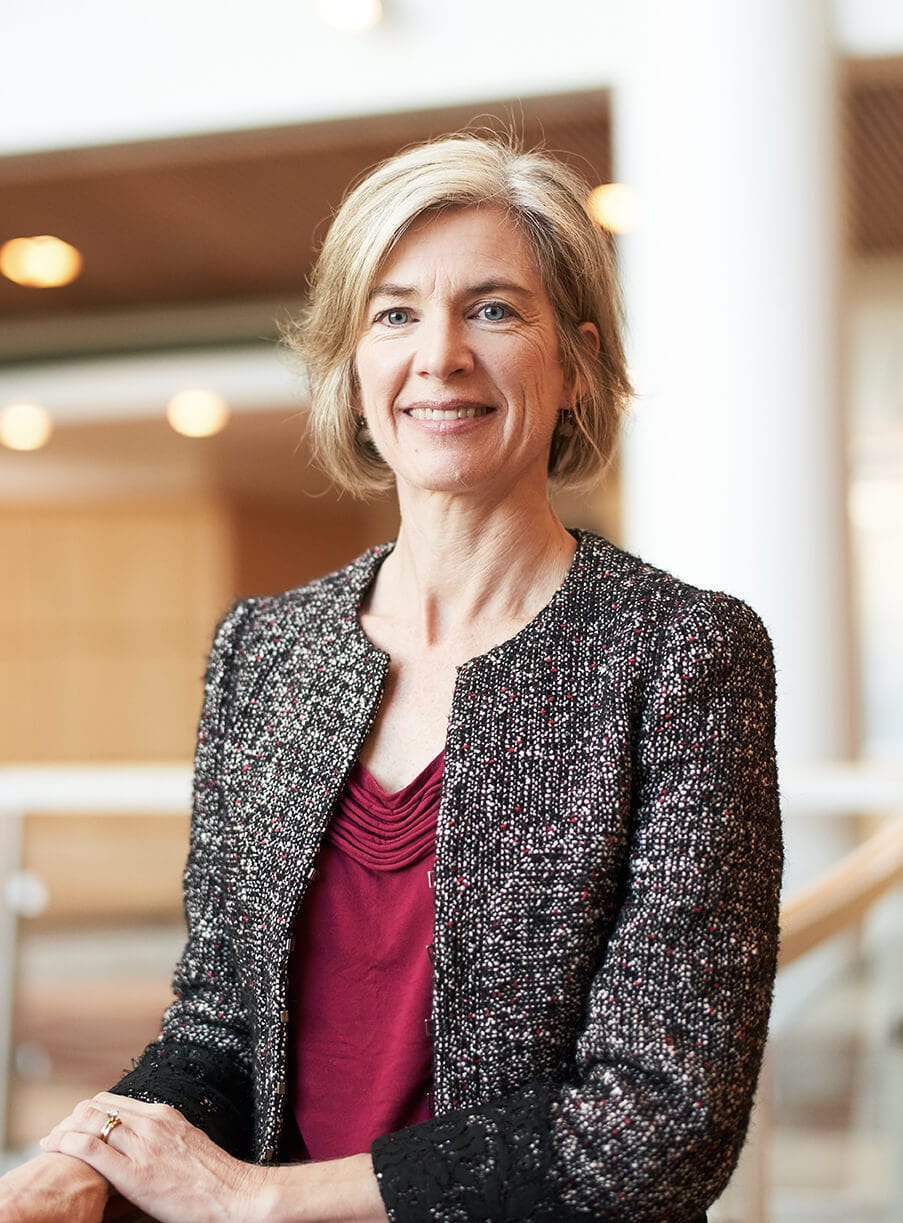 Jen­nifer Doud­na
In the decade since CRISPR was pi­o­neered by Doud­na and Zhang at UC Berke­ley and MIT, the tech­nol­o­gy has at­tract­ed an al­most mys­ti­cal lore when it ap­peared in the pop­u­lar press: a pow­er­ful tool that can cut and paste the code of life, cure ge­net­ic dis­eases and make dystopic changes to hu­man evo­lu­tion. The tool it­self, though, has so far re­mained in re­search labs, hav­ing been used on pa­tients on­ly in a hand­ful cas­es and con­di­tions. Wide­spread Covid-19 CRISPR tests could have thou­sands of peo­ple us­ing it dai­ly.
"It al­lows you to think even more broad­ly, right? Now we're start­ing to see peo­ple think about CRISPR as an an­tivi­ral — to find the virus and de­stroy it," Mar­tin said. "When you start think­ing about CRISPR in these dif­fer­ent ways, it ex­pands the po­ten­tial of CRISPR even more, which is ex­cit­ing be­cause it's al­ready an ex­treme­ly ver­sa­tile tool."
That vi­sion, though, may not come for a while. Or a while, by pan­dem­ic de­vel­op­ment stan­dards: 2021. For now, Mam­moth is await­ing a de­ci­sion for the emer­gency use au­tho­riza­tion they filed re­cent­ly, which would make them the sec­ond ap­proved CRISPR di­ag­nos­tic test af­ter Sher­lock and set them up for use in doc­tors of­fices. Zhang has al­so talked about the po­ten­tial for Sher­lock's test to be used at home, al­though it's not yet ap­proved for that set­ting.
Feng Zhang
Both Sher­lock and Mam­moth have been work­ing on their tests for months now, with Mam­moth pub­lish­ing their pro­to­col last month, but de­vel­op­ing some­thing that works is not the same as de­vel­op­ing one any per­son could use. To make the ini­tial CRISPR test, Mam­moth took the SARS-CoV-2 genome and scanned it for se­quences that are on the virus but not in hu­mans, se­lect­ing one. It then de­vel­oped a CRISPR tool with a guide pro­tein that, when it sees the se­quence, be­gins cut­ting not on­ly that spe­cif­ic se­quence but oth­er mol­e­cules, to cre­ate more ma­te­r­i­al that can lat­er be picked up by the test.
"You go from bind­ing a sin­gle mol­e­cule — say Covid-19 — to cleav­ing many or­ders of mag­ni­tude more," Mar­tin said. "It's a sig­nal am­pli­fi­ca­tion." The sam­ple can then be added to a small cas­sette that in­di­cates pos­i­tive or neg­a­tive by giv­ing a col­or change, or in­volve re­porter mol­e­cules that give off flo­res­cence
For an at-home test, though, you have to build a test that does all that but re­quires few mov­ing parts, on­ly es­sen­tial­ly a sin­gle swab and an in­ser­tion. "You want to re­al­ly make sure that this is a test that is tru­ly ac­ces­si­ble; it's not some­thing where you have a bunch of user steps where you're kind of mix­ing some­thing and then you're putting it in this thing and and then you're tak­ing it over here," Mar­tin said.
Ex­perts de­bate whether a take-home test will have a large im­pact on pub­lic health and curb­ing fu­ture out­breaks — one Im­pe­r­i­al Col­lege of Lon­don re­port es­ti­mat­ed rou­tine screen­ing of peo­ple with no symp­toms would be most ef­fec­tive in at-risk pop­u­la­tions and there­fore re­duce trans­mis­sion by about a 3rd — but at min­i­mum, the test should add an­oth­er way of get­ting a quick di­ag­no­sis. It works un­der 20 min­utes, as fast as the fastest PCR tests and the re­cent­ly ap­proved anti­gen test. And it can de­tect the virus ear­li­er than an anti­gen test will.
For a look at all End­points News coro­n­avirus sto­ries, check out our spe­cial news chan­nel.