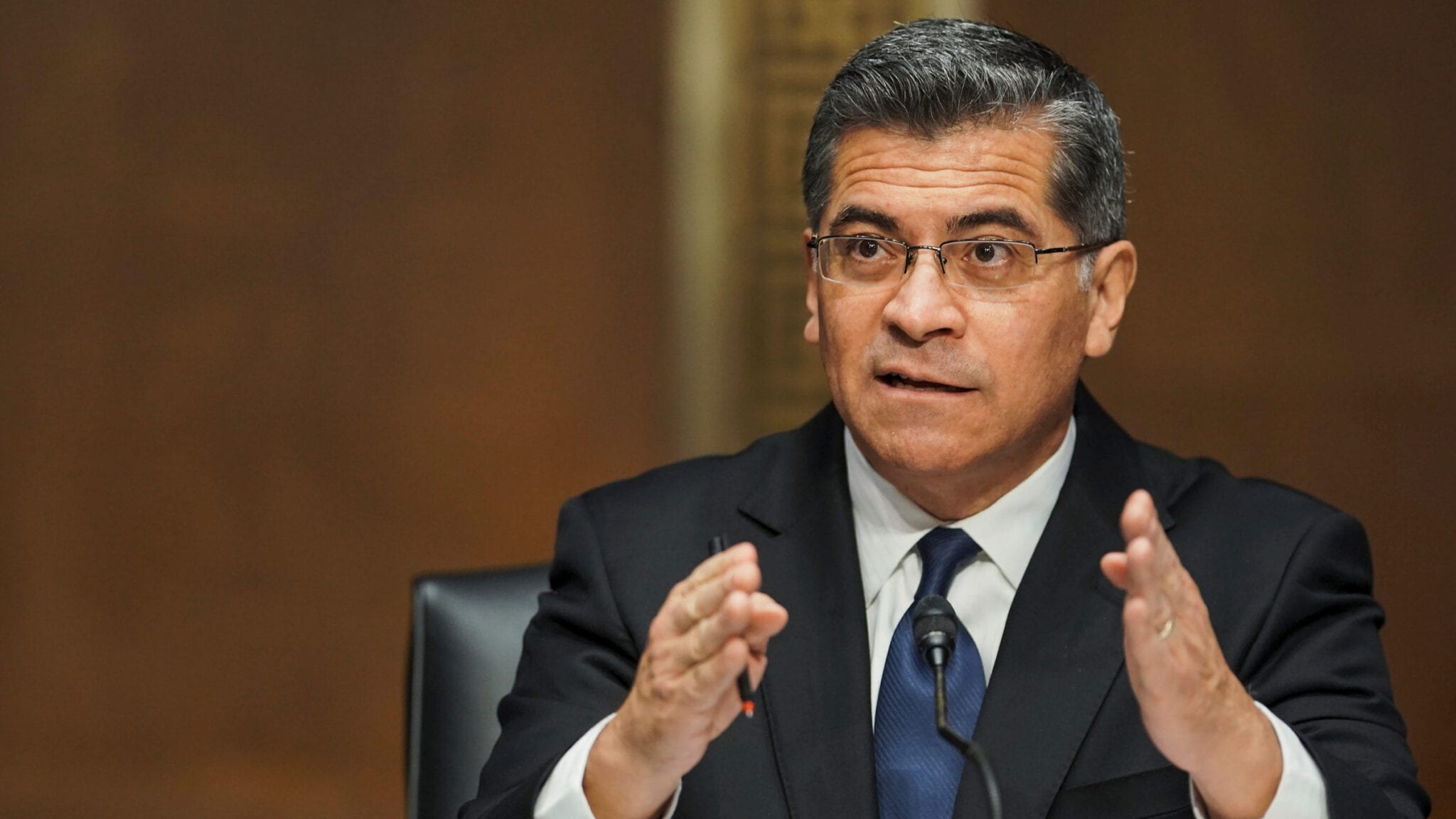 HHS Secretary Xavier Becerra (AP Images)
'March-in' bat­tles heat up as non­prof­its pe­ti­tion HHS on 6 drugs as ear­li­er pe­ti­tion awaits de­ci­sion
Eight non­prof­its in­clud­ing Pub­lic Cit­i­zen and PrEP4All are pe­ti­tion­ing HHS Sec­re­tary Xavier Be­cer­ra to use con­tro­ver­sial "march-in" rights to low­er the prices of 6 drugs.
The idea be­hind the let­ter is cen­tered on the Bayh-Dole Act, which al­lows fed­er­al agen­cies to march-in on a fed­er­al­ly-fund­ed in­ven­tion when a rights hold­er fails to achieve "prac­ti­cal ap­pli­ca­tion" of the in­ven­tion, mean­ing that the rights hold­er fails to make the ben­e­fits of the in­ven­tion "avail­able to the pub­lic on rea­son­able terms."
Such a move in the realm of drug prices has nev­er oc­curred be­fore, but sev­er­al high-pro­file De­moc­rats in re­cent months have sig­naled that it's well with­in HHS' le­gal bounds to get cre­ative in find­ing new ways to bring down drug prices. Re­pub­li­cans and phar­ma have de­rid­ed the idea as more of a cheap trick (NIH has nev­er agreed to use march-in) that would dis­cour­age R&D, and par­tic­u­lar­ly R&D on gov­ern­ment-fund­ed prod­ucts.
This lat­est pe­ti­tion re­leased Thurs­day tar­gets price re­duc­tions for Pfiz­er's prostate can­cer drug Xtan­di ($129,000 per year) and its Covid-19 drug Paxlovid ($530 per 5-day course) which has been in short sup­ply, Gilead's HIV drug De­scovy ($24,000 per year) and its he­pati­tis C drug Ep­clusa ($24,000 list price even with an au­tho­rized gener­ic), as well as in­halers and in­sulin, which are no­to­ri­ous­ly ex­pen­sive and dif­fi­cult to make gener­i­cal­ly.
Pe­ter De­Fazio
The pe­ti­tion builds on an ear­li­er pe­ti­tion from sev­er­al di­ag­nosed with prostate can­cer that is seek­ing to march-in to low­er Xtan­di's price specif­i­cal­ly. NIH said yes­ter­day that it's still re­view­ing that pe­ti­tion, al­though it pre­vi­ous­ly said it would com­plete its re­view by last month.
"We are cur­rent­ly re­view­ing the in­for­ma­tion sub­mit­ted in the 2021 pe­ti­tion to de­ter­mine whether the ini­ti­a­tion of the march-in pro­ce­dures out­lined in 37 CFR 401.6 may be war­rant­ed," act­ing NIH di­rec­tor Lawrence Tabak said in a let­ter dat­ed March 24 to Rep. Pe­ter De­Fazio (D-OR).
Lloyd Doggett
Ear­ly last month, De­Fazio and Rep. Lloyd Doggett (D-TX) sent a let­ter to Be­cer­ra urg­ing him to use march-in to low­er these pre­scrip­tion drug costs. And this week's pe­ti­tion­ers not­ed that the fed­er­al gov­ern­ment's use of the law al­low­ing march-in oc­curred re­peat­ed­ly in the 1960s to buy low-cost gener­ic drugs.
But in­dus­try and oth­ers con­tin­ue to beat the drum over the wider ram­i­fi­ca­tions of such a move.
A lit­tle more than a week ago, near­ly 100 aca­d­e­mics, life sci­ence or­ga­ni­za­tions, lawyers and oth­ers sent a let­ter to Be­cer­ra call­ing on him to re­ject the pe­ti­tion, ex­plain­ing that march-in
was nev­er in­tend­ed as a means for the gov­ern­ment to im­pose ar­bi­trary price con­trols on re­sult­ing prod­ucts, as the NIH has con­clud­ed time and again. As then NIH Di­rec­tor Elias Zer­houni not­ed in 2004 while re­ject­ing the first march in pe­ti­tion seek­ing to im­pose price con­trols on a suc­cess­ful­ly com­mer­cial­ized prod­uct: '… the ex­tra­or­di­nary rem­e­dy of march-in rights is not anap­pro­pri­ate means of con­trol­ling prices.' That was cor­rect then and re­mains so to­day.