Mar­tin Shkre­li, the ob­scene prankster of biotech, makes his fi­nal ex­it at Kalo­Bios
Mar­tin Shkre­li is about as far as you can get from a like­able com­pa­ny rep­re­sen­ta­tive. So we can on­ly imag­ine the sigh of re­lief at Kalo­Bios now that the bad boy of biotech has cashed out of his shares and will now be seen and heard of no more at the com­pa­ny he dragged in­to the spot­light.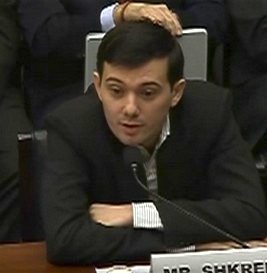 Mar­tin Shkre­li at the De­vel­op­ments in the Pre­scrip­tion Drug Mar­ket: Over­sight hear­ing, 2016
In an SEC fil­ing out Mon­day morn­ing, Shkre­li re­vealed that he no longer owns any stock in Kalo­Bios, leav­ing CEO Cameron Dur­rant free and clear to run the com­pa­ny on a com­plete­ly dif­fer­ent set of ethics around prod­uct de­vel­op­ment and pric­ing.
In case you man­aged to miss this tawdry tale, Shkre­li took over Kalo­Bios last year as it was sup­pos­ed­ly near bank­rupt­cy. The for­mer fund man­ag­er had seized the cen­ter ring of pub­lic at­ten­tion when his oth­er biotech, Tur­ing, grabbed an an­cient med­i­cine called dara­prim and jacked up the price by 5000%. Shkre­li at one point said he would back down, but then prompt­ly re­neged on the promise, fur­ther in­cit­ing an on­line lynch mob. Kalo­Bios wound up in Chap­ter 11 any­way af­ter Shkre­li was shack­led and perp walked af­ter be­ing ar­rest­ed on fed­er­al fraud charges.
Cameron Dur­rant, CEO Kalo­Bios
Af­ter some months of strug­gle, Dur­rant brought Kalo­Bios out of bank­rupt­cy Ju­ly 1, with $14 mil­lion in fi­nanc­ing, a li­cense to de­vel­op a drug for Cha­gas dis­ease and plans to put one of the biotech's an­ti­bod­ies back in­to the clin­ic. He had al­ready tied up Shkre­li's abil­i­ty to do much with the stock in any case, and the ever de­fi­ant fig­ure was pro­hib­it­ed from try­ing to ex­er­cise any in­flu­ence over the com­pa­ny.
That's all a moot point now that Shkre­li has re­lin­quished his shares.
In an in­ter­view with End­points Mon­day morn­ing, Dur­rant made no se­cret about how de­light­ed he is by Shkre­li's ex­it. And he hopes that lit­tle Kalo­Bios can make a big dif­fer­ence in com­ing up with a new way for the in­dus­try to han­dle drug pric­ing, cit­ing Tur­ing, Valeant and now My­lan for the way they poked a hor­net's nest of pub­lic out­rage.
"I think it is dis­grace­ful what those com­pa­nies have done," said Dur­rant. Big price hikes on old drugs "may be le­gal but I think the spir­it of it is very dis­taste­ful." Trans­paren­cy on pric­ing will now be­come para­mount. "I think the no­tion that com­pa­nies can be opaque with what goes in­to pric­ing is over."
You can ex­pect Kalo­Bios to move fast, he adds, with plans to ham­mer out a reg­u­la­to­ry path­way for ben­znida­zole in the treat­ment of Cha­gas dis­ease while they en­roll pa­tients in a Phase I study of lenzilum­ab for chron­ic myelomono­cyt­ic leukemia and an ef­fort to re­gain com­pli­ance with the SEC in or­der to relist on a na­tion­al ex­change.
Shkre­li sold his re­main­ing stake in the com­pa­ny to new in­vestors, which Dur­rant wasn't able to dis­close.
Shkre­li has been back in the spot­light with the new scan­dal over My­lan's 500% price hike on the EpiPen. While a tor­rent of hate was di­rect­ed at My­lan CEO Heather Bresch, Shkre­li was ready to leap to the com­pa­ny's de­fense, say­ing that in­sur­ance com­pa­nies could al­ways pay the high­er price.
That led to a com­e­dy sketch by Stephen Col­bert mock­ing Shkre­li as a douche. Shkre­li re­spond­ed on Twit­ter with a crude ref­er­ence to a sex act that Col­bert could per­form on him, which was a per­fect open­ing for a joke.
De­pends, how much are you mark­ing them up? https://t.co/tWMc3aRvVy

— Stephen Col­bert (@Stephen­AtH­ome) Au­gust 27, 2016