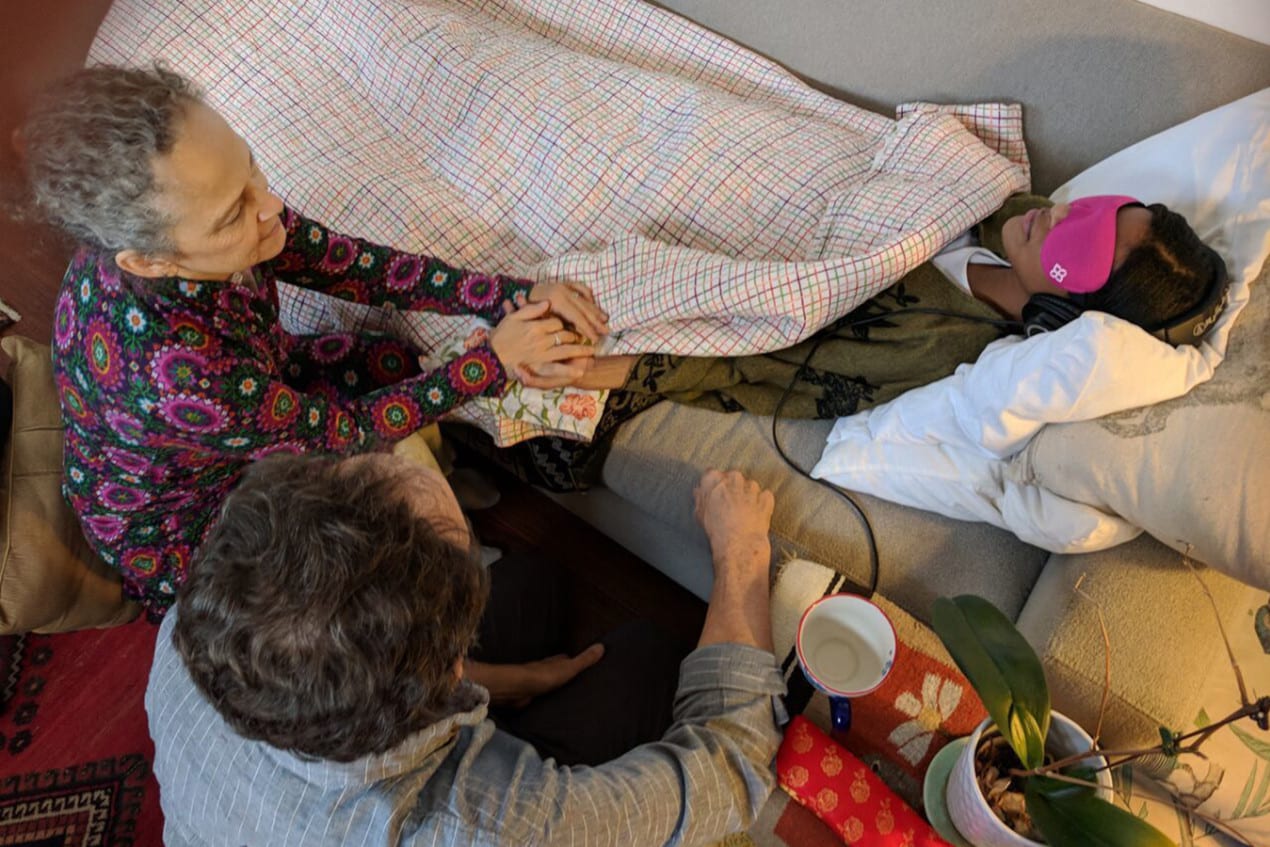 Therapists Marcela Ot'alora and Bruce Poulter are trained to conduct MDMA-assisted psychotherapy. In this reenactment, they demonstrate how they help guide and watch over a patient who is revisiting traumatic memories while under the influence of MDMA. (Photo: Multidisciplinary Association for Psychedelic Studies)
MD­MA, now in Phase III, shows promise as a PTSD treat­ment
The first time Lori Tip­ton tried MD­MA, she was skep­ti­cal it would make a dif­fer­ence.
"I re­al­ly was, at the be­gin­ning, very ner­vous," Tip­ton said.
MD­MA is the main in­gre­di­ent in the club drug known as ec­sta­sy or mol­ly. But Tip­ton wasn't tak­ing pills sold on the street to get high. She was try­ing to treat her post-trau­mat­ic stress dis­or­der by par­tic­i­pat­ing in a clin­i­cal tri­al.
Af­ter tak­ing a dose of pure MD­MA, Tip­ton lay in a qui­et room with two spe­cial­ly trained psy­chother­a­pists. They sat next to her as she re­called some of her deep­est trau­mas, such as dis­cov­er­ing her moth­er's body af­ter Tip­ton's moth­er killed two peo­ple and then her­self in a mur­der-sui­cide.
"In the em­brace of MD­MA," Tip­ton said, she could re­vis­it that mo­ment with­out the usu­al ter­ror and pan­ic. "I was able to find such em­pa­thy for my­self."
Sci­en­tists are test­ing how phar­ma­ceu­ti­cal-grade MD­MA can be used in com­bi­na­tion with psy­chother­a­py to help pa­tients with a se­vere form of PTSD that has not re­spond­ed to oth­er treat­ments. Un­like street drugs, which may be adul­ter­at­ed and un­safe, re­searchers use a pure, pre­cise­ly dosed form of the drug.
MD­MA is not yet avail­able as a treat­ment for PTSD out­side of clin­i­cal tri­als. But pro­po­nents are aim­ing for ap­proval by the Food and Drug Ad­min­is­tra­tion, which grant­ed break­through ther­a­py sta­tus to MD­MA-as­sist­ed psy­chother­a­py in 2017.
Re­searchers are con­duct­ing Phase 3 clin­i­cal tri­als at more than a dozen sites. Clin­i­cians who treat PTSD are hope­ful the next round of tri­als will show that MD­MA treat­ment is an ef­fec­tive op­tion to re­lieve pa­tient suf­fer­ing.
"The prob­lem is we haven't had a new drug to treat PTSD in over 17 years," said Dr. Sue Sis­ley, a physi­cian and pres­i­dent of the Scotts­dale Re­search In­sti­tute, based in Ari­zona. "There are cer­tain ill­ness­es that are just in­tractable and not re­spon­sive to tra­di­tion­al ther­a­py, and we need to start think­ing more broad­ly."
But MD­MA is a Sched­ule I con­trolled sub­stance, which means it cur­rent­ly has no ac­cept­ed med­ical use and has a "high po­ten­tial for abuse" (some­thing that MD­MA's ther­a­peu­tic pro­po­nents dis­pute). Be­cause of that des­ig­na­tion, the cur­rent re­search tri­als are pri­vate­ly fund­ed by the Mul­ti­dis­ci­pli­nary As­so­ci­a­tion for Psy­che­del­ic Stud­ies, or MAPS.
'Any­where I Would Feel Un­safe'
Tip­ton strug­gled for years with PTSD be­fore she was treat­ed with MD­MA. She said life with PTSD was like "see­ing the world through dirty gog­gles."
"Any­where I would feel un­safe," the 40-year-old from New Or­leans said. "I would feel like I had to al­ways be vig­i­lant be­cause if I didn't, some­thing bad was go­ing to hap­pen."
Tip­ton de­scribed her 20s as a cat­a­log of tragedy and trau­ma. It be­gan when her broth­er fa­tal­ly over­dosed in her home. Af­ter his death, she be­gan car­ing for her moth­er, who strug­gled with men­tal ill­ness. In 2005, Tip­ton's moth­er killed two peo­ple and then her­self. Tip­ton dis­cov­ered their bod­ies.
"I com­plete­ly just dis­as­so­ci­at­ed. I couldn't be­lieve what I was see­ing," Tip­ton said.
The trau­mas con­tin­ued to pile up. The place she lived was de­stroyed when Hur­ri­cane Ka­t­ri­na hit New Or­leans, and the fol­low­ing year, she was raped.
As the years went by, Tip­ton had pan­ic at­tacks and ter­ri­ble anx­i­ety. She tried every­thing to treat her symp­toms: talk ther­a­py, an­ti­de­pres­sants, hyp­nother­a­py, med­i­ta­tion and yo­ga. Noth­ing worked. She went through life ex­haust­ed and ap­a­thet­ic, con­stant­ly trig­gered and strug­gling to be in­ti­mate with peo­ple close to her.
Then Tip­ton en­rolled in the Phase 2 clin­i­cal tri­als for MD­MA-as­sist­ed psy­chother­a­py.
MD­MA And Ther­a­py To­geth­er
MD­MA was first syn­the­sized in 1912, and its ther­a­peu­tic ben­e­fits were stud­ied in the 1970s. But those ef­forts stalled when the U.S. fed­er­al gov­ern­ment — in light of the grow­ing pop­u­lar­i­ty of ec­sta­sy as a recre­ation­al drug — des­ig­nat­ed it a Sched­ule I drug in 1985.
In re­cent years, re­search has re­sumed, fund­ed by pri­vate spon­sors such as MAPS.
The treat­ment pro­to­col in the cur­rent tri­al calls for a 12-week course of psy­chother­a­py with spe­cial­ly trained ther­a­pists. Dur­ing that time, there are two or three day­long ses­sions, which be­gin with the pa­tient tak­ing a cal­i­brat­ed dose of MD­MA in pill form.
A team of two ther­a­pists, gen­er­al­ly one man and one woman, then guide the pa­tient through the eight-hour MD­MA "ses­sion." Lat­er, there's fol­low-up talk ther­a­py, with­out the drug, to help the pa­tient process feel­ings, thoughts or im­pres­sions that came up while un­der the in­flu­ence of the drug.
"MD­MA al­lows you to con­tact feel­ings and sen­sa­tions in a much more di­rect way," said Saj Razvi, a Col­orado-based psy­chother­a­pist who was a clin­i­cal in­ves­ti­ga­tor in the Phase 2 tri­als.
How MD­MA works in the brain is not com­plete­ly un­der­stood. The psy­choac­tive drug boosts chem­i­cals like sero­tonin and oxy­tocin. It al­so tamps down ac­tiv­i­ty in the amyg­dala, a part of the brain that process­es fear. This may lead to a state char­ac­ter­ized by height­ened feel­ings of safe­ty and so­cial con­nec­tion.
"Trau­ma hap­pens in iso­la­tion," Razvi said. "One of the things that MD­MA does is, re­al­ly, lets you know that you are not alone."
PTSD In Re­mis­sion
Af­ter the Phase 2 tri­als of MD­MA-as­sist­ed treat­ments con­clud­ed in 2017, re­searchers found that 54% of the 72 pa­tients who took MD­MA had im­proved to the point that they no longer fit the di­ag­no­sis for PTSD (com­pared with 23% in the con­trol group).
And the ben­e­fi­cial ef­fects of the treat­ment ap­peared to in­crease over time. A year lat­er, the num­ber who no longer had PTSD had risen to 68%.
"That was as­ton­ish­ing," Sis­ley said. "Even with the best phar­ma­ceu­ti­cal reg­i­men, you rarely ever see pa­tients go in­to re­mis­sion."
She said she hopes to of­fer her pa­tients MD­MA-as­sist­ed psy­chother­a­py as soon as pos­si­ble, maybe be­fore the drug re­ceives full FDA ap­proval.
Brad Burge, a spokesman for MAPS, said that, be­yond spon­sor­ing the MD­MA tri­al, the or­ga­ni­za­tion is work­ing to get the FDA to in­clude the drug in its ex­pand­ed ac­cess pro­gram, which can al­low in­di­vid­ual pa­tients to be ap­proved to use drugs that are still be­ing stud­ied.
Burge said the goal is to make MD­MA-as­sist­ed psy­chother­a­py avail­able as a pre­scrip­tion treat­ment in a spe­cial­ty clin­ic to any­one with PTSD.
And MAPS is work­ing to per­suade pub­lic and pri­vate in­sur­ance plans to cov­er the treat­ment, Burge said. He es­ti­mates that for pa­tients pay­ing en­tire­ly out-of-pock­et, a 12-week course of treat­ment would cost be­tween $5,000 and $10,000.
Most of the cost is for the guid­ed ther­a­py, not the ac­tu­al drug.
Trans­for­ma­tive Treat­ment
Tip­ton de­scribes her treat­ment with MD­MA as trans­for­ma­tive.
She was able to let go of the trou­bling feel­ings sur­round­ing her moth­er's death. And, she un­earthed oth­er mem­o­ries, too, feel­ings of joy that had been sealed away.
By her last MD­MA ses­sion, Tip­ton was even able to talk about her sex­u­al as­sault.
A year lat­er, she was re­assessed and no longer qual­i­fied as hav­ing PTSD. Tip­ton said she be­lieves the treat­ment saved her life.
"Every­thing is at my fin­ger­tips for me in a way that it nev­er was be­fore," she said. "I want that for every­body."
---
This sto­ry is part of a part­ner­ship that in­cludes KJZZ, NPR and Kaiser Health News.
Kaiser Health News (KHN) is a na­tion­al health pol­i­cy news ser­vice. It is an ed­i­to­ri­al­ly in­de­pen­dent pro­gram of the Hen­ry J. Kaiser Fam­i­ly Foun­da­tion which is not af­fil­i­at­ed with Kaiser Per­ma­nente.
Click here to see the orig­i­nal sto­ry