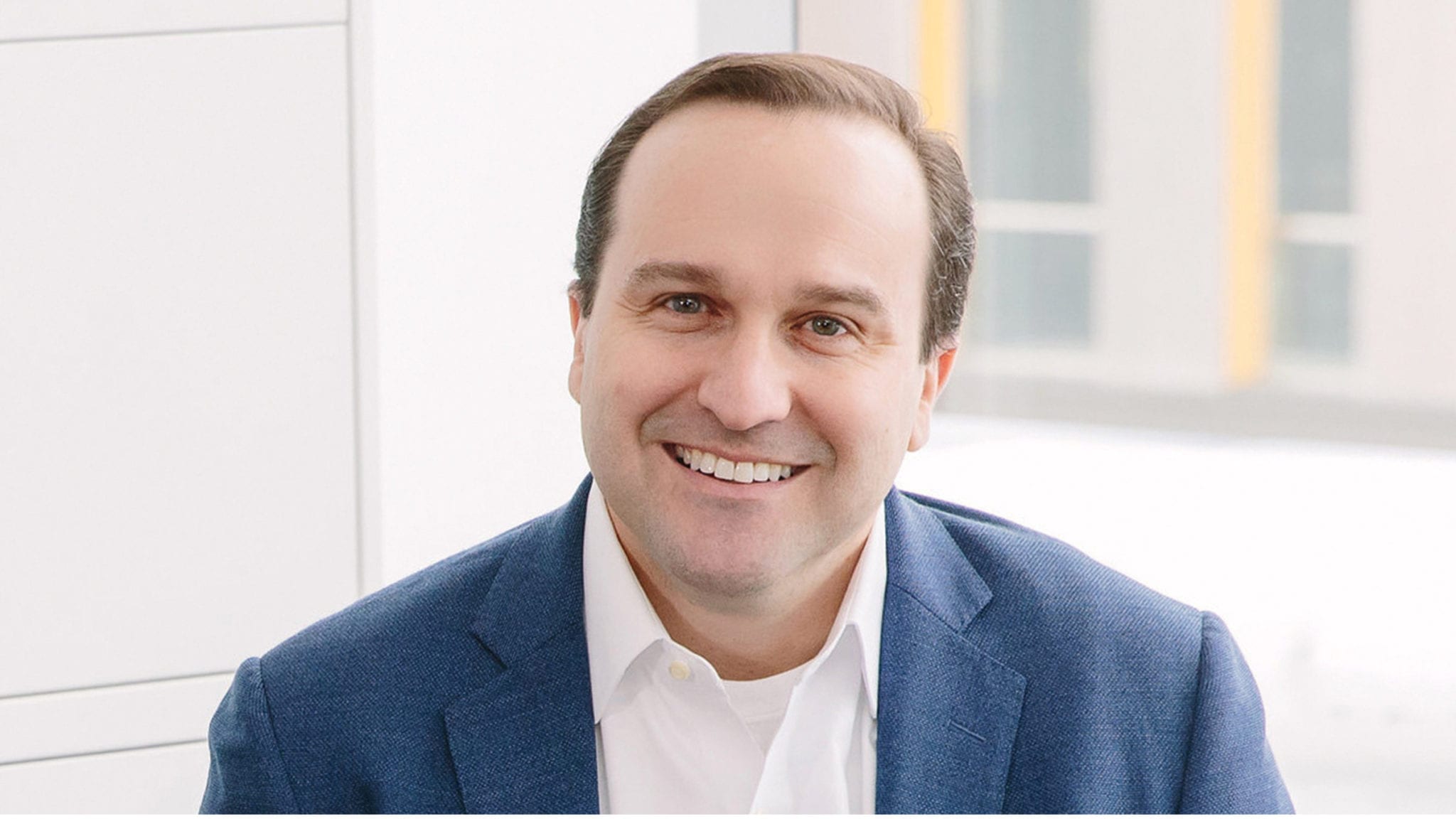 Adrian Gottschalk, Foghorn CEO
Mer­ck dan­gles up to $425 mil­lion to team with Flag­ship's Foghorn Ther­a­peu­tics on drug­ging the shape of DNA
Two years af­ter it first emerged from stealth mode, Flag­ship's Foghorn Ther­a­peu­tics has nabbed its first Big Phar­ma part­ner as Mer­ck signs on to the biotech's vi­sion of drug­ging the very shape of DNA.
The deal, worth up to $425 mil­lion but with the up­front cash undis­closed, comes as Foghorn nears a piv­ot to a clin­i­cal stage biotech. The Cam­bridge-based com­pa­ny has added near­ly 60 staffers from the 25 it had when it first emerged out of Flag­ship and, CEO Adri­an Gottschalk said, they have fi­nal­ly re­fined the screen­ing tech­nol­o­gy at the heart of the com­pa­ny, with plans to file their first IND to­wards the end of the year.
"In the last 6 months, ac­tu­al­ly pri­or to the con­ver­sa­tions with Mer­ck, we had in­dus­tri­al­ized our abil­i­ty to in­ter­ro­gate the bi­ol­o­gy," Gottschalk told End­points News. "We've made some very nice progress, re­al­ly start­ing from scratch sev­er­al years ago."
First found­ed in 2016, Foghorn is one of a spate of re­cent biotechs that try to treat can­cer by tar­get­ing how genes are ex­pressed, as op­posed to try­ing to change the genes them­selves or in­hib­it the pro­teins they code for. Michael Gilman's Ar­rakis Ther­a­peu­tics is built, like Foghorn, on drug­ging DNA reg­u­la­tors called tran­scrip­tion fac­tors and ear­li­er this year got $190 mil­lion up­front and "sev­er­al bil­lion" in mile­stones for a deal with Roche. Sy­ros, an­oth­er Flag­ship-backed com­pa­ny, at­tract­ed con­sid­er­able buzz sev­er­al years ago by go­ing af­ter so-called "su­per-en­hancers," though they have since strug­gled to find trac­tion in the clin­ic. More broad­ly, the still-ju­ve­nile field has yield­ed few ma­jor in-hu­man suc­cess­es.
Mer­ck has al­ready sig­naled its be­lief in the ap­proach, at least in cer­tain man­i­fes­ta­tions. Last year, they bought up Pelo­ton Ther­aepeu­tics and its late-stage, kid­ney can­cer tran­scrip­tion fac­tor drug for $1 bil­lion in cash and an­oth­er $1 bil­lion in mile­stones.
Foghorn's twist, Gottschalk said, is look­ing at how these fac­tors in­ter­act with these spher­i­cal struc­tures on top of DNA, called chro­matin re­mod­el­ing com­plex­es. Ba­si­cal­ly, hu­man DNA con­tains bil­lions of genes, not all of which are turned on at any point in time or in any cell. That DNA sits in tight­ly com­pact­ed strands called chro­matin at the nu­cle­us at the cen­ter of the cell, and one of the ways the body can de­cide which genes need to be turned on is to open and close those strands.
The mol­e­c­u­lar thing that de­ter­mines whether and where genes are turned on is the in­ter­ac­tion be­tween those tran­scrip­tion fac­tors that car­ry in­struc­tions and the chro­matin re­mod­el­ing com­plex that does the open­ing and clos­ing. Foghorn com­pares it to air traf­fic con­trol, the two types of pro­teins telling the genes where to launch and where not to launch. And Gottschalk cit­ed da­ta that sug­gest around 25% of can­cers can be chalked up in part to those bi­o­log­i­cal con­trollers get­ting their sig­nals crossed.
For the last four years, Foghorn has de­vel­oped a high-through­put screen­ing sys­tem to al­low their sci­en­tists to mod­el both the tran­scrip­tion fac­tors and the re­mod­el­ing com­plex­es and fig­ure out which mol­e­cules can mod­u­late each. Though "high-through­put screen­ing" is about as com­mon a word in the drug in­dus­try these days as "pan­cakes" are in the din­er in­dus­try, Gottschalk said that was no easy feat. The chro­matin re­mod­el­ing com­plex­es are just that — com­plex — and they need­ed to set up a sys­tem that could han­dle pro­teins as much as ten times as large as the ones most screens han­dle.
Un­der the new deal, Mer­ck has es­sen­tial­ly li­censed one of the fac­tors Foghorn has just be­gun test­ing, buy­ing ex­clu­siv­i­ty on any po­ten­tial drugs that emerge to tar­get it. In­ter­nal­ly, mean­while, Gottschalk said that af­ter years build­ing their sys­tems, the com­pa­ny is prepar­ing to soon bring a few of its 10 pre­clin­i­cal and un­named pro­grams in­to the clin­ic for sev­er­al ge­net­i­cal­ly-de­fined can­cers that cur­rent­ly have few good treat­ment op­tions.
"I think this bi­ol­o­gy has been un­ex­plored and un­ex­ploit­ed as drug, and I think the time is right," Gottschalk said.