Mer­ck halts en­roll­ment on two PhI­II Keytru­da com­bo stud­ies as out­side mon­i­tors flag a wor­ry­ing rate of deaths
Mer­ck $MRK has had to hit the brakes on en­rolling new pa­tients for two of its late-stage com­bo stud­ies in­volv­ing its block­buster check­point Keytru­da af­ter the mon­i­tor­ing com­mit­tee raised a red flag on an im­bal­ance of deaths in the stud­ies in­volv­ing mul­ti­ple myelo­ma.
Treat­ment in the two tri­als will con­tin­ue, says Mer­ck, as they try to eval­u­ate why there were more deaths in the Keytru­da arms of KEYNOTE-183 and KEYNOTE-185. The tri­als in­volve com­bi­na­tions with Cel­gene's Po­m­a­lyst as well as its flag­ship drug Revlim­id in a field Cel­gene dom­i­nates in.
Mer­ck shares slid 1.3% as in­vestors got their first whiff of bad news about Keytru­da in some time.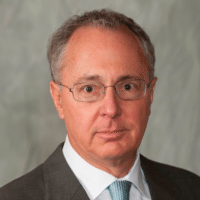 Roger Perl­mut­ter, Mer­ck
Keytru­da isn't just Mer­ck's biggest drug in the pipeline. It rep­re­sents a pipeline of its own for R&D chief Roger Perl­mut­ter, with dozens of com­bi­na­tion stud­ies un­der­way as the phar­ma gi­ant hur­ries to ex­pand its use. These check­points, in­clud­ing Bris­tol-My­ers Squibb's Op­di­vo, have had a ma­jor im­pact for some pa­tients, un­leash­ing an im­mune sys­tem at­tack on can­cer cells in a va­ri­ety of tu­mors. But their grow­ing use has come with a num­ber of nasty sur­pris­es over what works and what doesn't, as Roche found when its PD-L1 su­per­star Tecen­triq failed a re­cent Phase III.
Right now, though, there's no ex­act ex­pla­na­tion for what trig­gered the im­bal­ance in deaths among a very sick group of pa­tients who had al­ready failed ear­li­er ther­a­pies.
Ex­plains Mer­ck:
KEYNOTE-183 is a Phase 3 study com­par­ing po­ma­lido­mide and low-dose dex­am­etha­sone with KEYTRU­DA to po­ma­lido­mide (Po­m­a­lyst) and low-dose dex­am­etha­sone alone in pa­tients with re­frac­to­ry or re­lapsed and re­frac­to­ry mul­ti­ple myelo­ma (rrMM) who have un­der­gone at least 2 lines of pri­or treat­ment. KEYNOTE-185 is a Phase 3 study com­par­ing lenalido­mide (Revlim­id) and low-dose dex­am­etha­sone with KEYTRU­DA to lenalido­mide and low-dose dex­am­etha­sone alone in pa­tients with new­ly di­ag­nosed and treat­ment-naïve mul­ti­ple myelo­ma who are in­el­i­gi­ble for au­tol­o­gous stem cell trans­plant (Au­to-SCT).
Cred­it Su­isse an­a­lysts were ready to shrug off the jit­ters. In a note, they re­port­ed:
We spoke with MRK, and they con­firmed that this is not a clin­i­cal hold; en­rolled pa­tients are con­tin­u­ing with their treat­ment reg­i­mens. How­ev­er, they were not able to pro­vide ad­di­tion­al col­or re­gard­ing how many pa­tients have died, or whether the im­bal­ance was seen in both stud­ies, or just one study with both halt­ed for pre­cau­tion­ary mea­sures. We have seen da­ta from the Po­m­a­lyst com­bo be­fore in a Phase I study that was pre­sent­ed at ASH in 2015, and there were no signs of an ob­vi­ous tox­i­c­i­ty with the com­bi­na­tion that were of con­cern to doc­tors.