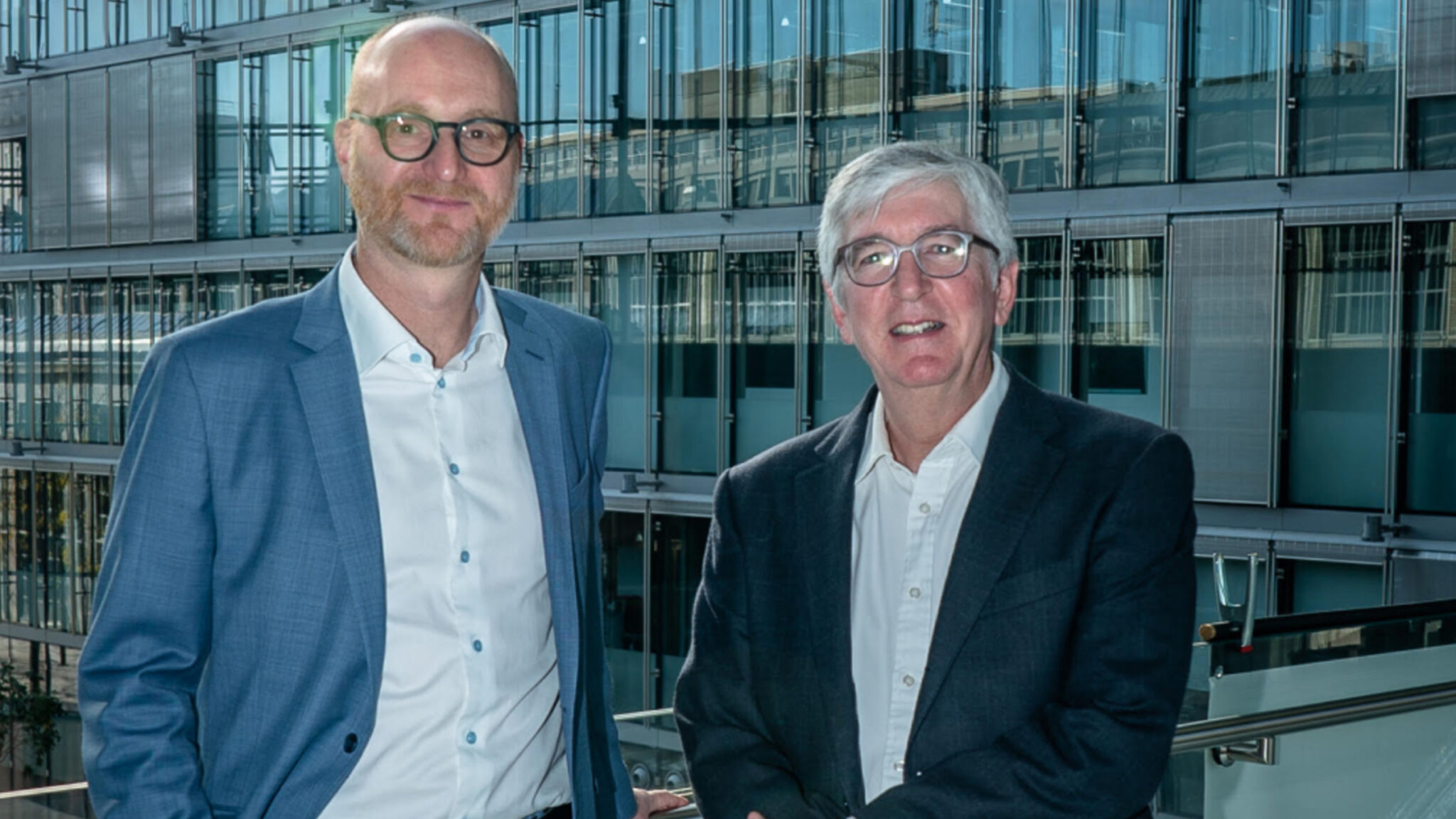 Tom Plitz (L) and Arthur Roach, Chord Therapeutics CEO and founder
Mer­ck KGaA snatch­es up Gene­va biotech as re­pur­posed chemother­a­py mis­sion strikes a 'Chord'
About a year af­ter Gene­va-based Chord Ther­a­peu­tics emerged from stealth to see if it could re­pur­pose an old chemother­a­py agent for rare dis­eases, Mer­ck KGaA is swoop­ing in with a buy­out.
While the com­pa­nies are keep­ing mum about the fi­nan­cial terms of the deal, Mer­ck KGaA is adding Chord's lead can­di­date to its neu­rol­o­gy pipeline — a small mol­e­cule oral ver­sion of the chemother­a­py drug cladrib­ine dubbed CRD1.
Up­on an­nounc­ing the news on Mon­day morn­ing, the com­pa­ny's stock $MKKGY was up about 1.74%.
This wouldn't be the first time re­searchers at the Ger­man phar­ma com­pa­ny have worked with cladrib­ine. Back in 2019, Mer­ck KGaA (known as the EMD group in the US and Cana­da) got its own cladrib­ine tablets ap­proved by the FDA for mul­ti­ple scle­ro­sis. While cladrib­ine (which has been around since the 1990s) is nor­mal­ly used to treat cer­tain types of leukemia, Mer­ck KGaA's Maven­clad showed a 58% rel­a­tive re­duc­tion in an­nu­al­ized re­lapse rate in MS pa­tients com­pared to place­bo (p<0.001).
Since launch­ing with $16 mil­lion from Omega Funds last Oc­to­ber, Chord's been look­ing to build pro­grams around "well-un­der­stood ac­tive sub­stances with a his­to­ry of clin­i­cal test­ing and use in hu­man pa­tients."
For the last 14 months, the biotech's been work­ing on turn­ing CRD1 in­to treat­ments for a neu­ro­mus­cu­lar con­di­tion called gen­er­al­ized myas­the­nia gravis, and an au­toim­mune dis­ease of the cen­tral ner­vous sys­tem called neu­romyelitis op­ti­ca spec­trum dis­or­der (NMOSD).
"We of­ten hear, 'What do you want with these old drugs? You know, isn't there some­thing bet­ter, some­thing mod­ern?'" Chord CEO Tom Plitz told End­points News. "(Cladrib­ine) is not one of these chemother­a­peu­tics that kind of kills every­thing which comes along. It's very spe­cif­ic for lym­pho­cytes and this is linked to the mode of ac­tion."
The drug works by re­duc­ing the num­ber of B and T lym­pho­cytes in the body, and Chord has al­ready es­tab­lished ear­ly proof-of-con­cept in both in­di­ca­tions, ac­cord­ing to Plitz. While he de­clined to give too much away on po­ten­tial time­lines go­ing forth, he said it's Chord's ex­pec­ta­tion that an­oth­er proof-of-con­cept study won't be nec­es­sary, and that re­searchers will be able to dive right in­to reg­is­tra­tional stud­ies.
"It's not all about all new and … first in class, first on tar­get, first ever. There's a lot of mer­its on build­ing on known strength and I think that was some­thing ob­vi­ous­ly Omega picked up on," Plitz said. "We still hope that ob­vi­ous­ly now, what we have built on will be suc­cess­ful­ly con­tin­ued with Mer­ck."