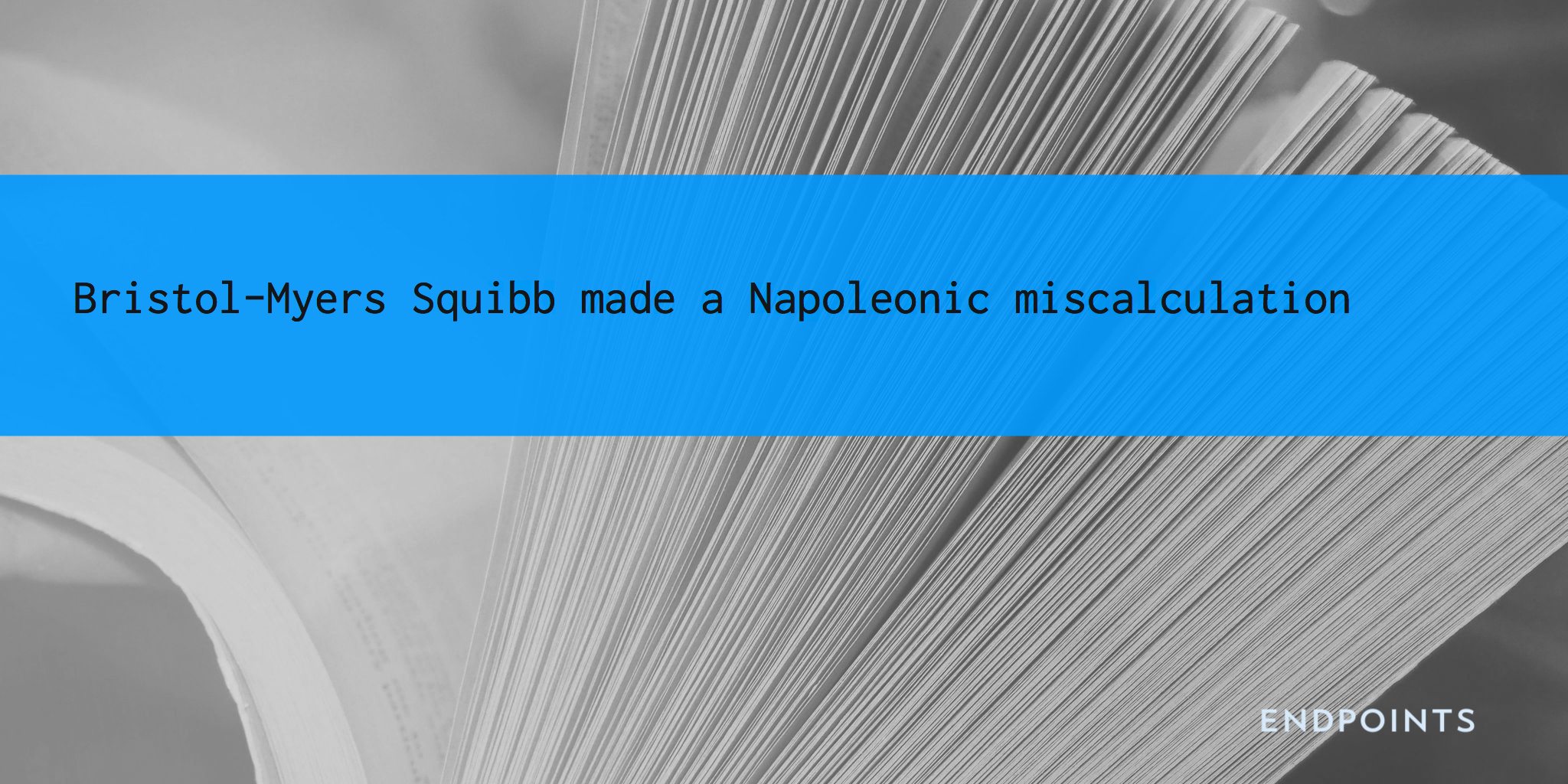 Mer­ck's glo­ri­ous vic­to­ry in lung can­cer marks a Russ­ian win­ter for Bris­tol-My­ers
Sun­day was check­point in­hibitor day at ES­MO, with the three big play­ers now in the mar­ket out­lin­ing how they're lin­ing up in the block­buster field of lung can­cer ther­a­py. Mer­ck was left in the en­vi­able po­si­tion of dri­ving home some im­pres­sive re­sults from its clin­i­cal study while Bris­tol-My­ers Squibb had to try to put its mis­er­able out­comes in a some­what pos­i­tive con­text and a de­ter­mined Roche/Genen­tech team an­gled in on its niche.
As­traZeneca CEO Pas­cal So­ri­ot, mean­while, had to stand on the side­lines de­vout­ly wish­ing he was in the game of block­busters.
Bris­tol-My­ers Squibb $BMY made a Napoleon­ic mis­cal­cu­la­tion when it de­cid­ed to see if Op­di­vo could beat chemother­a­py as a front­line treat­ment for a broad pa­tient pop­u­la­tion suf­fer­ing from non-small cell lung can­cer. We al­ready knew from the top-line an­nounce­ment that the tri­al failed — trig­ger­ing some­thing of a Russ­ian win­ter for Bris­tol stock. Now we know that it failed re­al­ly, re­al­ly bad­ly, and in­vestors weren't hap­py, send­ing its shares down sharply Mon­day morn­ing.
Low­er­ing the bar to pa­tients with 5% or more of their can­cer cells ex­press­ing PD-L1, Bris­tol's Op­di­vo de­layed tu­mor pro­gres­sion 4.2 months. Chemo? 5.9 months.
"We thought Op­di­vo could beat chemother­a­py, and we have an­swered the ques­tion — for the broad pop­u­la­tion it is not enough," Fouad Namouni, on­col­o­gy de­vel­op­ment head at Bris­tol-My­ers, told David Crow at the Fi­nan­cial Times.
That's ac­tu­al­ly a very valu­able point and in the sci­ence world it would and should be ap­plaud­ed. But even in sub­group analy­ses, Bris­tol's in­ves­ti­ga­tors could find new ev­i­dence of suc­cess. To in­vestors ex­pect­ing Bris­tol-My­ers to con­tin­ue their dom­i­na­tion of the sec­tor, though, it all looks like an epic mis­cal­cu­la­tion and set­back with­out a sin­gle re­deem­ing fea­ture.
Mer­ck R&D chief Roger Perl­mut­ter $MRK made no such mis­take in mov­ing on the front­line mar­ket front. Play­ing Welling­ton in this R&D Wa­ter­loo, Perl­mut­ter fo­cused on pa­tients with a 50%-plus PD-L1 ex­pres­sion rate and round­ed up a 50% re­duc­tion in the risk of dis­ease pro­gres­sion and 40% plunge in risk of death com­pared to chemo in pre­vi­ous­ly un­treat­ed pa­tients.
This is what a new stan­dard of care for a seg­ment of front-line lung can­cer cas­es looks like. This drug is al­ready be­ing sold and you can bet that the phar­ma gi­ant will move as fast as it can to cap­i­tal­ize on this mar­ket. That's a glo­ri­ous vic­to­ry by any bio­phar­ma stan­dard.
Over re­cent months Bris­tol-My­ers stock has re­treat­ed sig­nif­i­cant­ly while Mer­ck has ad­vanced. That's how you can score the war. And Mon­day morn­ing Mer­ck stock bub­bled up an­oth­er 3% while Bris­tol-My­ers shares plunged 8%.
But Mer­ck won't re­main un­chal­lenged. Steal­ing some of the thun­der at ES­MO is Genen­tech's Tecen­triq. Roche's big check­point, the third to be ap­proved and start spread­ing its wings, achieved a sol­id suc­cess in sec­ond-line NSCLC. Their 13.8 month me­di­an sur­vival rate com­pared fa­vor­ably with the 9.6 months record­ed for the chemo arm.
Dan Chen, who's head­ed up can­cer im­munother­a­py de­vel­op­ment for Genen­tech, told Fier­cePhar­ma's Car­ly Helfand that the da­ta were "es­sen­tial­ly un­prece­dent­ed." But when you sin­gled out the high PD-L1 ex­pressers, the da­ta weighed even more heav­i­ly on Tecen­triq's side: 20.5 months me­di­an sur­vival com­pared to 8.9 months in the chemo arm.
Now Roche $ROG can break out from its unique blad­der can­cer ap­proval and start to tear up the sec­ond-line lung can­cer mar­ket, look­ing for an ad­van­tage with all the high PD-L1 ex­pressers. A front­line pitch can't be far off.
While Mer­ck, Bris­tol-My­ers and Roche are divvy­ing up the mar­ket, As­traZeneca is still side­lined af­ter its ef­forts fell well be­hind its ri­vals. But who was that stand­ing on the edge of the bat­tle­field?
"Sud­den­ly, this tri­al news opens quite some op­por­tu­ni­ties for us, in both monother­a­py and com­bi­na­tion ther­a­py," a sun­ny As­traZeneca Chief Ex­ec­u­tive Pas­cal So­ri­ot told Reuters' Ben Hirschler, siz­ing up the fast-chang­ing lung can­cer mar­ket.
As­traZeneca's check­point pro­gram $AZN has been a lag­gard and will ar­rive to the fray very late. For So­ri­ot, though, it's all char­ac­ter­ized as an ad­van­tage; a chance to see how oth­ers have done their stud­ies so they can match the best work. But af­ter a se­ries of clin­i­cal set­backs, As­traZeneca looks like its re­ced­ing from So­ri­ot's promis­es of great ad­vances on the rev­enue front, 4 years af­ter he got the top job. He needs a piece of the check­point mar­ket—and fast.