The FDA lifts a par­tial hold on Mer­sana's top drug -- and then its shares crater
Mer­sana $MRSN and the FDA have come up with a new­ly re­vised de­vel­op­ment pro­gram for the biotech's lead drug just a cou­ple months af­ter a pa­tient's death trig­gered a par­tial hold on en­rolling more peo­ple for the study.
From the be­gin­ning, Mer­sana not­ed that the death may have been caused by XMT-1522, an an­ti­body drug con­ju­gate de­signed to drop a ther­a­peu­tic pay­load on HER2-ex­press­ing tu­mors.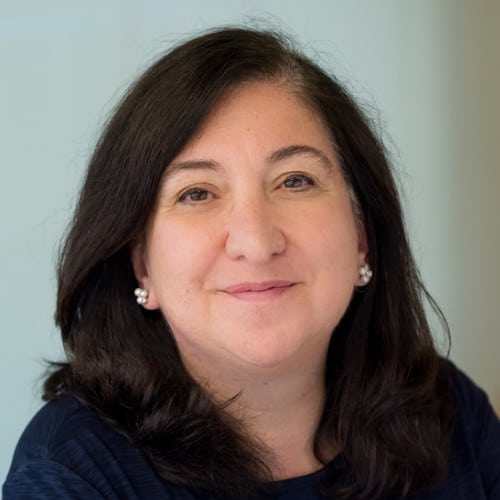 An­na Pro­topa­pas
Quick­ly nav­i­gat­ing their way through the chal­lenge, the com­pa­ny came up with a plan to ex­clude any pa­tient can­di­dates with ad­vanced he­pat­ic im­pair­ment. Re­searchers are al­so adding a once-every-four-weeks dose reg­i­men to com­pared the ef­fi­ca­cy and safe­ty re­spons­es in pa­tients.
The Cam­bridge, MA-based biotech has kept its oth­er clin­i­cal pro­gram on track for XMT-1536 — tar­get­ing NaPi2b — but ex­ecs say they'll make sim­i­lar changes on the par­al­lel track. And af­ter ini­tial­ly boost­ing the biotech's share price, in­vestors scram­bled, send­ing shares down 25% Mon­day af­ter­noon.
Mer­sana CEO An­na Pro­topa­pas saw her com­pa­ny's stock take a nasty hit on the news of the par­tial hold ear­li­er. Since then, the share price has been ris­ing steadi­ly — un­til to­day's news came through.
This morn­ing the stock jumped about 8% in pre-mar­ket trad­ing to help com­plete the come­back, then plunged, drop­ping in­to the red by about 25% in an abrupt turn­about.