Mi­cro­cap biotech Vista­Gen turned to pen­ny­s­tock af­ter PhII re­sults show its de­pres­sion drug does­n't work so­lo
Vista­Gen Ther­a­peu­tics' AV-101 has flunked an ex­plorato­ry Phase II, quash­ing hopes that the drug could work as a monother­a­py for treat­ment-re­sis­tant de­pres­sion.
To be sure, these are tough to treat pa­tients: On av­er­age the 19 pa­tients en­rolled in the study had tried 7.8 dif­fer­ent an­ti­de­pres­sants over their life­time to treat their TRD, which has last­ed an av­er­age of 8.6 years.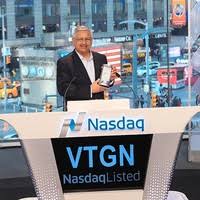 Shawn Singh
Af­ter wan­ing these pa­tients off their an­ti­de­pres­sants, in­ves­ti­ga­tors ad­min­is­tered ei­ther AV-101 or place­bo for 14 days, then fol­low­ing a wash out pe­ri­od swapped the drug and place­bo arms. At the end, the drug did not in­duce a sig­nif­i­cant change from base­line in the Hamil­ton De­pres­sion Rat­ing Scale — the pri­ma­ry end­point.
Nev­er­the­less, Vista­Gen $VSTN said the tri­al (spon­sored by and con­duct­ed at the Na­tion­al In­sti­tute of Men­tal Health) con­firmed the safe­ty pro­file of their drug, which they are con­tin­u­ing to test. Topline re­sults from the oth­er study are ex­pect­ed lat­er this year.
"In con­trast to the NIMH study, our on­go­ing EL­E­VATE study is de­signed to eval­u­ate AV-101 as a nov­el ad­junc­tive ther­a­py in a sig­nif­i­cant­ly dif­fer­ent pop­u­la­tion of MDD pa­tients, name­ly those whose cur­rent de­pres­sive episode is less than 2 years," CEO Shawn Singh said.
In­vestors don't seem as pa­tient. Vista­Gen's share price, which was hov­er­ing above $1, plunged 44% Thurs­day fol­low­ing the an­nounce­ment, throw­ing the mi­cro­cap biotech in­to pen­ny­s­tock ter­ri­to­ry.