Min­er­va claims 'pos­i­tive' PhII da­ta on de­pres­sion drug while skep­tics push stock down
It might have come in a bit of an un­ortho­dox shape, but Min­er­va Neu­ro­sciences says it has a Phase II win in its hands.
When mea­sured against the bar of a 2-sided type I er­ror lev­el of 0.1, the biotech said, one of three test­ed dos­es of its de­pres­sion drug sel­torex­ant pass­es muster for a sta­tis­ti­cal­ly sig­nif­i­cant im­prove­ment over place­bo. In their words:
The least squares mean (LS mean) dif­fer­ence from place­bo of the change in [Mont­gomery-As­berg De­pres­sion Rat­ing Scale] to­tal score at the end of week 6 was 3.1 for the 20 mg dose of sel­torex­ant, and the 2-sided p-val­ue was 0.083, which is be­low the pre-spec­i­fied 2-sided type I er­ror lev­el of 0.1.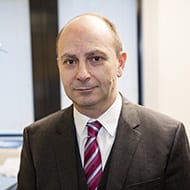 Re­my Luthringer
The 20mg dose is the on­ly arm that Min­er­va was pre­pared to re­port on. In­ves­ti­ga­tors halt­ed en­roll­ment in the 40 mg group ear­li­er, while the 10 mg arm had too few pa­tients to be in­for­ma­tive.
That sounds like cher­ry pick­ing for some in­vestors, send­ing shares $NERV down 7% to $6.42.
Jef­feries an­a­lysts, on the oth­er hand, en­dorsed the rosy view: "We think con­fu­sion on ef­fi­ca­cy da­ta caused the ini­tial stock re­ac­tion, how­ev­er, the da­ta sug­gests a path for­ward w/ PI­II start­ing ear­ly '20."
In the tri­al, the oral pill was giv­en to adult pa­tients with ma­jor de­pres­sive dis­or­der along­side stan­dard an­ti­de­pres­sant ther­a­pies, in­clud­ing sero­tonin re­up­take in­hibitors (SS­RIs) and sero­tonin-nor­ep­i­neph­rine re­up­take in­hibitors (SNRIs), to which they have not re­spond­ed ad­e­quate­ly.
Min­er­va want­ed to boost the re­sponse rates (on­ly 30% to 40% by its count) by tin­ker­ing with the orex­in sys­tem, which is as­so­ci­at­ed with feed­ing, home­osta­sis, arousal, mod­u­la­tion of sleep-wake cy­cles and mo­ti­va­tion. Janssen signed on as a part­ner to sel­torex­ant, an ORX2 in­hibitor, on two in­di­ca­tions in 2014, but re­turned the rights for in­som­nia three years lat­er.
The amend­ed deal left Min­er­va sole­ly in charge of de­vel­op­ing sel­torex­ant as an in­som­nia treat­ment. It took the op­por­tu­ni­ty to high­light the con­nec­tion be­tween the two con­di­tions by sin­gling out one of 19 sec­ondary analy­ses: a sub­group with clin­i­cal­ly sig­nif­i­cant in­som­nia. Those pa­tients, who strug­gle to sleep, saw an LS mean dif­fer­ence ver­sus place­bo of 4.9 on the MADRS score with a 2-sided p-val­ue of 0.050.
Ac­cord­ing to the Jef­feries note, around 105 pa­tients be­tween the drug and place­bo arms be­longed in that group.
"While the 3.1 point dif­fer­ence in the over­all pop­u­la­tion does not ap­pear to dif­fer­en­ti­ate from oth­er an­ti­de­pres­sants ap­proved for ad­junc­tive use (2.8 point dif­fer­ence from pbo ob­served on avg), the 4.9 point dif­fer­ence in the pts with sig­nif­i­cant in­som­nia ap­pears clin­i­cal­ly mean­ing­ful," the an­a­lysts wrote.
A sep­a­rate Phase IIb tri­al for in­som­nia has com­plet­ed en­roll­ment, CEO Re­my Luthringer added with topline re­sults ex­pect­ed lat­er this quar­ter.
---
Im­age: Shut­ter­stock