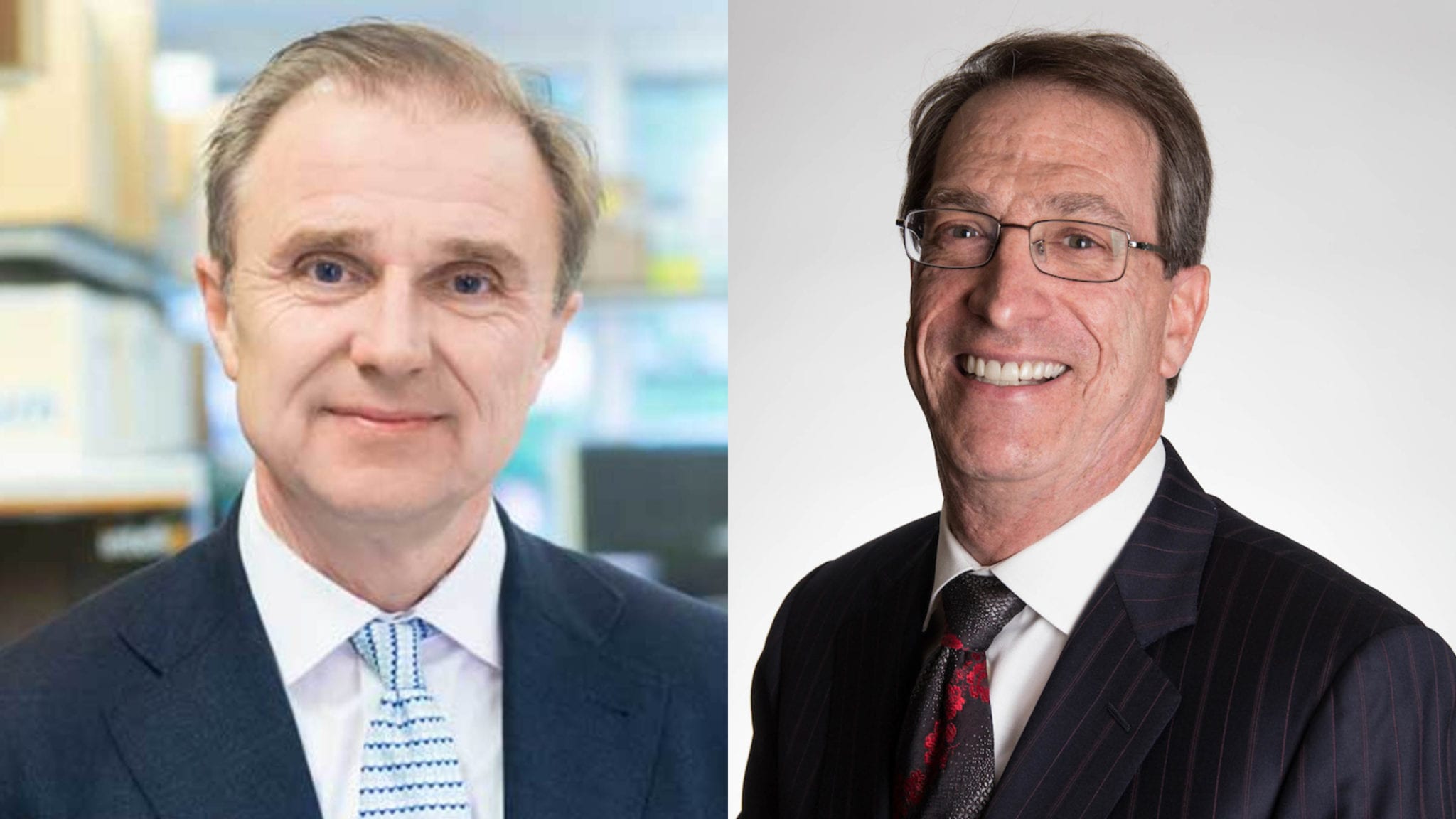 Laurence Cooper and Scott Tarriff
Mi­nor­i­ty in­vestor Wa­ter­Mill suc­ceeds in ac­tivist at­tack of Zio­pharm, win­ning two board seats and re­moval of chair­man
The ac­tivist at­tack launched at Zio­pharm On­col­o­gy $ZIOP that turned in­to an ug­ly and bit­ter pub­lic feud has come to a con­clu­sion.
Two of the three board nom­i­nees put forth by 3.3% mi­nor­i­ty in­vestor Wa­ter­Mill As­set Man­age­ment Corp. will be join­ing Zio­pharm's board af­ter re­ceiv­ing the nec­es­sary 50%+ votes from share­hold­ers, Wa­ter­Mill said Thurs­day morn­ing. Ad­di­tion­al­ly, a ma­jor­i­ty of Zio­pharm share­hold­ers vot­ed to re­call chair­man Scott Tar­riff, the firm said.
No­tably, Wa­ter­Mill founder Robert Post­ma, who first ini­ti­at­ed the at­tack in ear­ly No­vem­ber, is not join­ing the board de­spite al­so gain­ing enough sup­port from in­vestors, Wa­ter­Mill said. Zio­pharm's board is capped at eight mem­bers and had pre­vi­ous­ly stood at sev­en pri­or to the vot­ing dead­line, al­low­ing for on­ly the two who re­ceived high­er vote shares to join with Tar­riff's re­moval.
In ear­ly No­vem­ber, Wa­ter­Mill be­gan its at­tack seek­ing to re­place three board mem­bers and Tar­riff with three in­di­vid­u­als: Post­ma, Jaime Vieser and Hol­ger Weis. Two mem­bers of the board tar­get­ed by Wa­ter­Mill re­signed in the fol­low­ing weeks and one still re­mains.
"We wel­come Messrs. Vieser and Weis as the newest mem­bers of Zio­pharm's Board of Di­rec­tors," Zio­pharm said in a state­ment. "We al­so wish to thank Scott Tar­riff, a mem­ber of the Board since 2015 and Chair­man since 2018, for the nu­mer­ous pos­i­tive con­tri­bu­tions and tire­less com­mit­ment to the pa­tients we hope to serve."
Full re­sults of the vote will not be avail­able un­til Zio­pharm files an up­date with the SEC, and the tim­ing of the 8-K re­mains un­clear, a com­pa­ny spokesman told End­points News. Zio­pharm de­clined to com­ment on the vote and the sta­tus of Post­ma's po­si­tion be­yond its press re­lease.
In a state­ment, Post­ma said that Vieser and Weis "are ful­ly com­mit­ted to putting this con­test be­hind them and im­me­di­ate­ly help­ing the Board chart the right path for­ward." He lat­er added:
While we an­tic­i­pate that many sup­port­ive share­hold­ers will be dis­ap­point­ed that our full slate is not join­ing the Board at this time, Wa­ter­Mill is con­struc­tive­ly en­gag­ing with Zio­pharm to try to en­sure that the mes­sage sent by a crit­i­cal mass of in­vestors is re­spect­ed. Wa­ter­Mill re­mains com­mit­ted to al­ways do­ing what is best for Zio­pharm.
It's not yet clear if Wa­ter­Mill will con­tin­ue push­ing for the last in­di­vid­ual to step down and be re­placed with Post­ma, or if that ac­tion falls un­der what Post­ma says is "best" for the com­pa­ny.
Though the mi­nor­i­ty in­vestor of­fi­cial­ly be­gan its at­tack in ear­ly No­vem­ber, the Zio­pharm brouha­ha had stemmed from months of sim­mer­ing feel­ings over the com­pa­ny's di­rec­tion. Wa­ter­Mill and oth­er in­vestors had raised ob­jec­tions over a for­mer board mem­ber at Zio­pharm's an­nu­al meet­ing over the sum­mer, and that in­di­vid­ual was re­placed in Sep­tem­ber.
Then the board re­place­ment bid be­gan, with Wa­ter­Mill seek­ing the as­cen­sion of all three of Post­ma, Vieser and Weis in or­der to tru­ly right the ship. At the time the at­tack be­gan, Zio­pharm shares were down rough­ly 50% since the start of 2020, with Wa­ter­Mill claim­ing the board as then con­sti­tut­ed re­spond­ed to com­plaints with "clear dis­dain" and in­stalled the oust­ed board mem­ber's boss, de­spite say­ing they'd hire an out­side firm to con­duct a search.
Things on­ly got ugli­er from there, with Zio­pharm at­tempt­ing to paint one of Wa­ter­Mill's nom­i­nees — Weis — as unique­ly un­qual­i­fied to serve on the board. The com­pa­ny cit­ed pub­lic bank­rupt­cy fil­ings from the biotech De­meRx in 2018, which Zio­pharm said showed Weis' his­to­ry of cor­po­rate mal­prac­tice.
Wa­ter­Mill coun­tered by say­ing Zio­pharm was en­gag­ing in a "des­per­ate, low-road smear cam­paign," cit­ing state­ments from two for­mer De­meRx ex­ec­u­tives who vouched for Weis. Though Zio­pharm's board saw heavy churn over the last six months, Tar­riff and CEO Lau­rence Coop­er had not re­placed any of the de­part­ing mem­bers with Wa­ter­Mill nom­i­nees.
Zio­pharm's share prices have not ful­ly re­cov­ered since a pa­tient died in a gene ther­a­py study back in 2016 af­ter de­vel­op­ing an in­tracra­nial he­m­or­rhage 15 days af­ter start­ing treat­ment. The death was deemed to be un­re­lat­ed to the treat­ment.
Then in 2018, Zio­pharm was forced to hit the brakes on a CAR-T ther­a­py when the FDA placed a clin­i­cal hold on its Phase I study of a treat­ment that could be built in 2 days to ex­press CD-19, IL-15 and a safe­ty switch for CD-19/pos­i­tive leukemias and lym­phomas. Ear­li­er this year, though, Zio­pharm saw some ear­ly, pos­i­tive over­all sur­vival da­ta for their con­trolled IL-12 treat­ment in glioblas­toma. The com­pa­ny is al­so look­ing at com­bin­ing that ex­per­i­men­tal drug with Re­gen­eron's Lib­tayo.