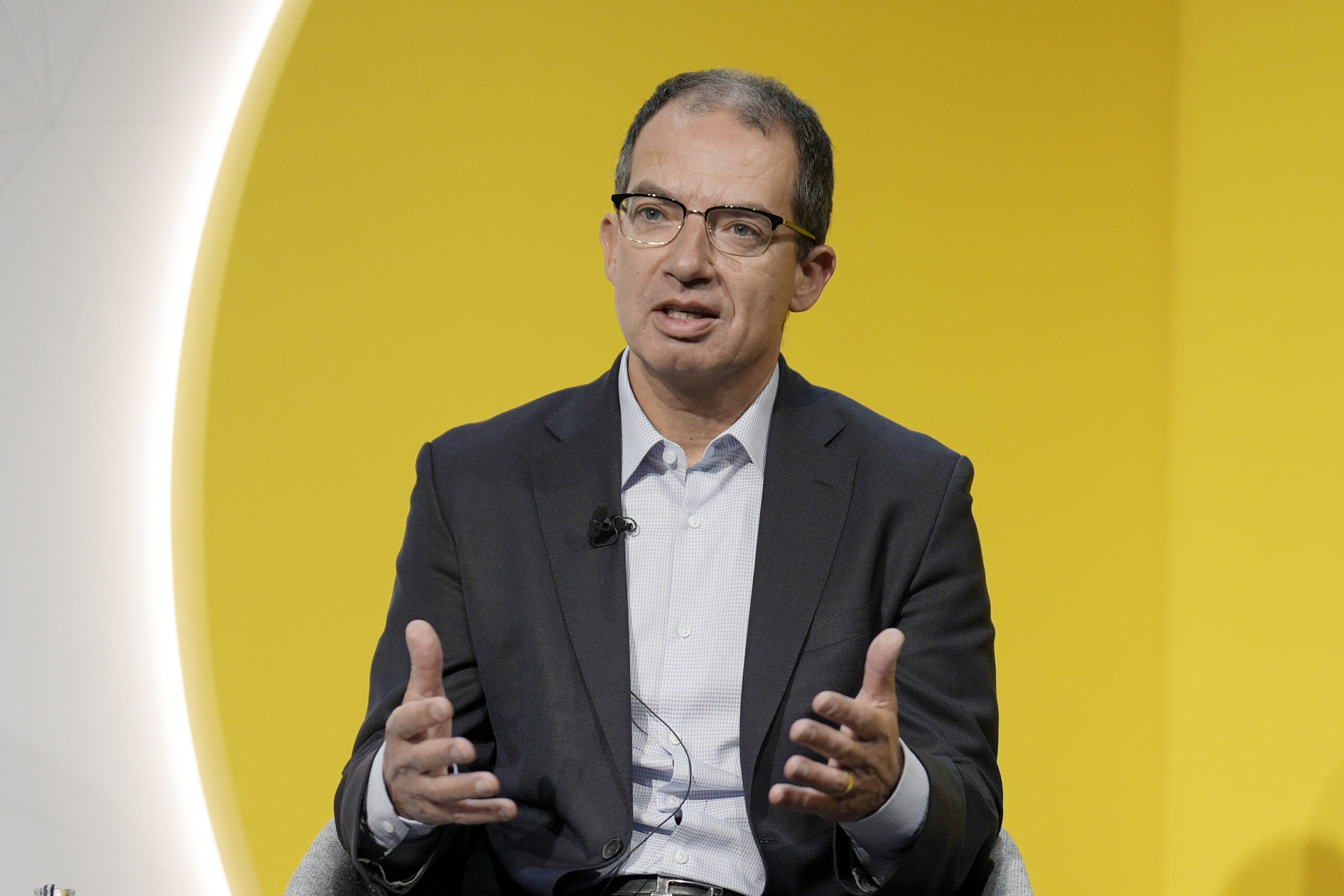 Stéphane Bancel, Moderna CEO (Markus Schreiber/AP Images)
Mod­er­na promis­es to pro­vide vac­cines at no out-of-pock­et cost
Mod­er­na said Wednes­day that peo­ple won't need to pay out-of-pock­et for its Covid vac­cine, re­gard­less of their in­sur­ance sta­tus, once the US gov­ern­ment stops cov­er­ing the cost of the shots.
Last week, the De­part­ment of Health and Hu­man Ser­vices con­firmed plans to on May 11 end the fed­er­al Covid-19 pub­lic health emer­gency. Since Con­gress hasn't signed off on ad­di­tion­al funds for vac­cines and treat­ments, the gov­ern­ment will halt its free shot pro­vi­sion this year.
The ad­min­is­tra­tion reaf­firmed its com­mit­ment to "en­sur­ing that Covid-19 vac­cines and treat­ments will be wide­ly ac­ces­si­ble to all who need them," and added that Covid vac­cines will con­tin­ue to be cov­ered by Medicare Part B and most pri­vate in­sur­ance plans with no cost-shar­ing.
On Wednes­day, Mod­er­na an­nounced that those who are unin­sured or un­der­in­sured will al­so be able to re­ceive the com­pa­ny's shots at no cost through a pa­tient as­sis­tance pro­gram launch­ing af­ter the pub­lic health emer­gency ex­pires.
"Every­one in the Unit­ed States will have ac­cess to Mod­er­na's Covid-19 vac­cine re­gard­less of their abil­i­ty to pay," the com­pa­ny said in a news re­lease.
Sen. Bernie Sanders (I-VT), chair­man of the Sen­ate Com­mit­tee on Health, Ed­u­ca­tion, La­bor and Pen­sions, con­demned Mod­er­na's re­port­ed plans to quadru­ple the price of its Covid-19 vac­cine in a let­ter to CEO Stéphane Ban­cel last month. Ban­cel told the Wall Street Jour­nal that Mod­er­na is con­sid­er­ing pric­ing its vac­cine be­tween $110 and $130 per dose in the US, the same range Pfiz­er sug­gest­ed last fall, ac­cord­ing to mul­ti­ple re­ports. Mod­er­na de­clined fur­ther com­ment.
"The huge in­crease in price that you have pro­posed will have a sig­nif­i­cant­ly neg­a­tive im­pact on the bud­gets of Med­ic­aid, Medicare and oth­er gov­ern­ment pro­grams that will con­tin­ue cov­er­ing the vac­cine with­out cost-shar­ing for pa­tients," Sanders wrote. "Your de­ci­sion will cost tax­pay­ers bil­lions of dol­lars. Your out­ra­geous price boost will al­so in­crease pri­vate health in­sur­ance pre­mi­ums."
Ban­cel has agreed to ap­pear be­fore HELP on March 22, ac­cord­ing to Sanders.
Boost­er shots
US boost­er up­take con­tin­ues to crawl, with just 15.8% of Amer­i­cans hav­ing rolled up their sleeves for the up­dat­ed vac­cine, ac­cord­ing to the CDC's lat­est da­ta. For com­par­i­son, more than 80% of el­i­gi­ble Amer­i­cans have re­ceived at least one dose of a Covid vac­cine.
Last month, the FDA's Vac­cines and Re­lat­ed Bi­o­log­i­cal Prod­ucts Ad­vi­so­ry Com­mit­tee vot­ed unan­i­mous­ly in fa­vor of "har­mo­niz­ing" Covid vac­cine com­po­si­tions, mean­ing all cur­rent vac­cine re­cip­i­ents would re­ceive a bi­va­lent vac­cine, re­gard­less of whether they've got­ten their pri­ma­ry se­ries, in an ef­fort to clear up con­fu­sion and "get clos­er to the strains that are cir­cu­lat­ing," one mem­ber said.
De­spite slow up­take, Ban­cel ex­pects at least $5 bil­lion in 2023 vac­cine sales from al­ready con­firmed ad­vance pur­chase agree­ments and 2022 con­tract de­fer­rals.
Pfiz­er has pre­vi­ous­ly com­mit­ted to of­fer­ing unin­sured US res­i­dents free ac­cess to its vac­cine through the com­pa­ny's pa­tient as­sis­tance pro­gram.