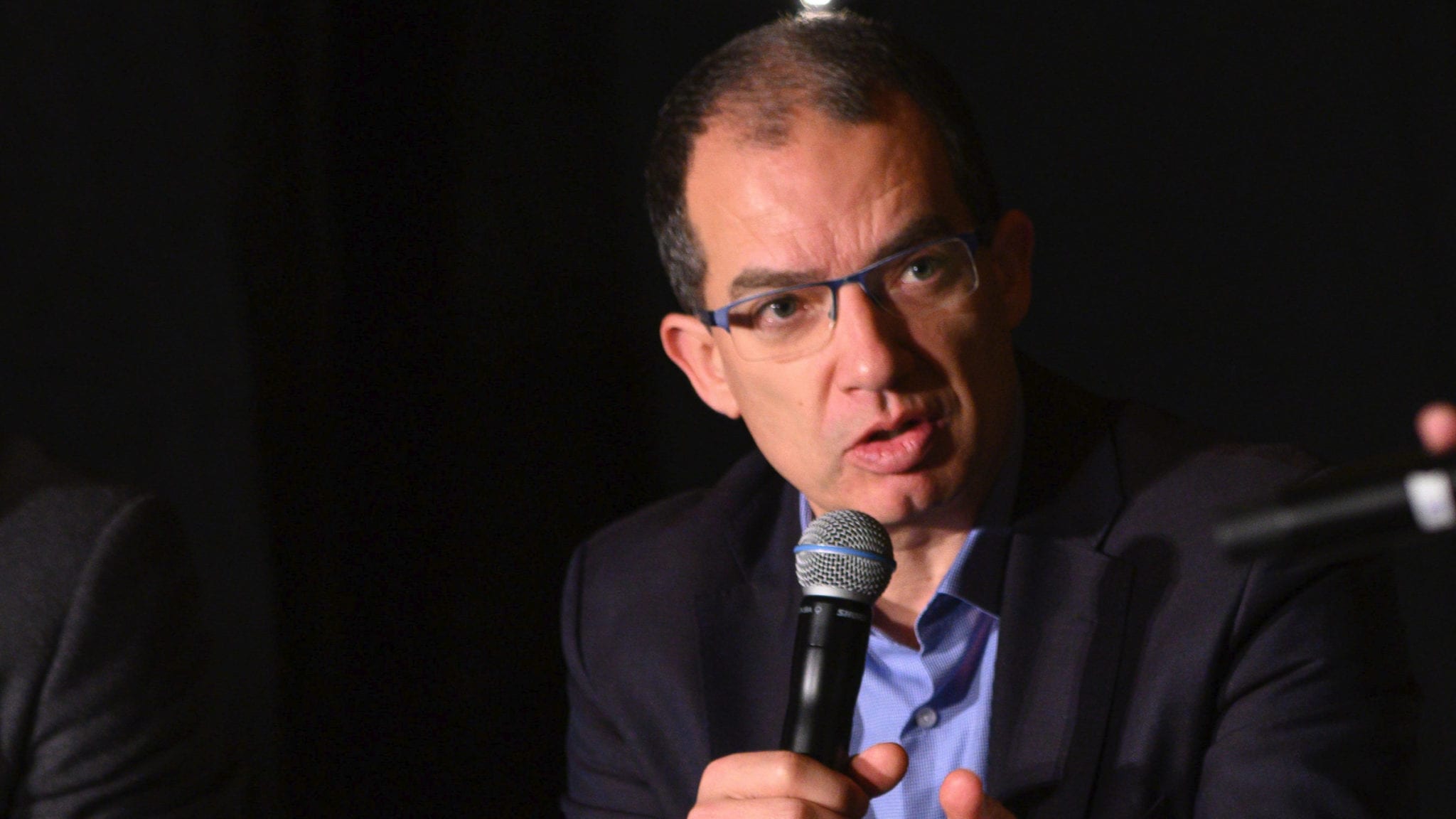 Stéphane Bancel at the Endpoints #JPM20 breakfast panel in San Francisco, January 2020 (Photo: Jeff Rumans, Endpoints News)
Mod­er­na says Covid-19 vac­cine boost­er in­creased im­mune re­sponse against vari­ants of con­cern
About a month af­ter an­nounc­ing their vari­ant-spe­cif­ic Covid-19 vac­cine boost­ers showed promis­ing re­sults in mice, Mod­er­na says it now has some hu­man da­ta to back it up.
Vol­un­teers giv­en a boost­er shot about six to eight months af­ter re­ceiv­ing their sec­ond dose saw in­creased an­ti­body lev­els against SARS-CoV-2 and two vari­ants of con­cern: B.1.351, which was first iden­ti­fied in South Africa, and P.1, first iden­ti­fied in Brazil, the com­pa­ny said on Wednes­day.
The analy­sis came from par­tic­i­pants who were giv­en ei­ther a third dose of mR­NA-1273 (the orig­i­nal vac­cine cur­rent­ly au­tho­rized in the US), or mR­NA-1273.351, a strain-matched boost­er tar­get­ing the B.1.351 vari­ant. Mod­er­na is cur­rent­ly test­ing mR­NA-1273.211 — a 50/50 com­bi­na­tion of mR­NA 1273 and mR­NA-1273.351 — in a dif­fer­ent arm of the Phase II study.
Fol­low­ing a boost of ei­ther mR­NA-1273 or mR­NA-1273.351, par­tic­i­pants' neu­tral­iz­ing an­ti­bod­ies in­creased to lev­els sim­i­lar to or high­er than those seen against the an­ces­tral strain af­ter first vac­ci­na­tion, Mod­er­na said. Fif­teen days post-boost­er, the vari­ant-spe­cif­ic shot ap­peared to be more ef­fec­tive than the orig­i­nal vac­cine at in­creas­ing an­ti­body lev­els against the B.1.351 strain, pro­duc­ing geo­met­ric mean titer lev­els more than one-and-a-half times high­er than mR­NA-1273.
Al­so from the re­sults:
The rel­a­tive de­crease in neu­tral­iz­ing titers be­tween the wild-type (D614G) and B.1.351 as­says al­so im­proved with mR­NA-1273.351 boost­er, from a 7.7-fold dif­fer­ence pri­or to boost to a 2.6-fold dif­fer­ence 15 days af­ter boost, sug­gest­ing a po­ten­tial­ly more bal­anced im­mune re­sponse against the test­ed vari­ants.
Safe­ty and tol­er­a­bil­i­ty da­ta were "gen­er­al­ly com­pa­ra­ble" to those seen af­ter the sec­ond dose of the orig­i­nal vac­cine in pre­vi­ous Phase II and III tri­als, Mod­er­na said. The re­sults have been sub­mit­ted as a preprint to bioRx­iv, and will be sub­mit­ted for peer-re­viewed pub­li­ca­tion af­ter Mod­er­na wraps up the mR­NA-1273.211 por­tion of the study.
"We are en­cour­aged by these new da­ta, which re­in­force our con­fi­dence that our boost­er strat­e­gy should be pro­tec­tive against these new­ly de­tect­ed vari­ants. The strong and rapid boost in titers to lev­els above pri­ma­ry vac­ci­na­tion al­so clear­ly demon­strates the abil­i­ty of mR­NA-1273 to in­duce im­mune mem­o­ry," CEO Stéphane Ban­cel said in a state­ment.
Ban­cel told End­points News last month that he ex­pects the virus to mu­tate very quick­ly in the next cou­ple years, due to the fact that many peo­ple haven't yet been vac­ci­nat­ed or in­fect­ed. He be­lieves there will be a need for sev­er­al boosts over the next cou­ple years, "es­pe­cial­ly peo­ple at high risk." Then in 2023 or 2024, as the speed at which the vac­cine mu­tates slows down, a boost per year might be enough, he said.
"Our mR­NA plat­form al­lows for rapid de­sign of vac­cine can­di­dates that in­cor­po­rate key virus mu­ta­tions, po­ten­tial­ly al­low­ing for faster de­vel­op­ment of fu­ture al­ter­na­tive vari­ant-matched vac­cines should they be need­ed," Ban­cel said Wednes­day.