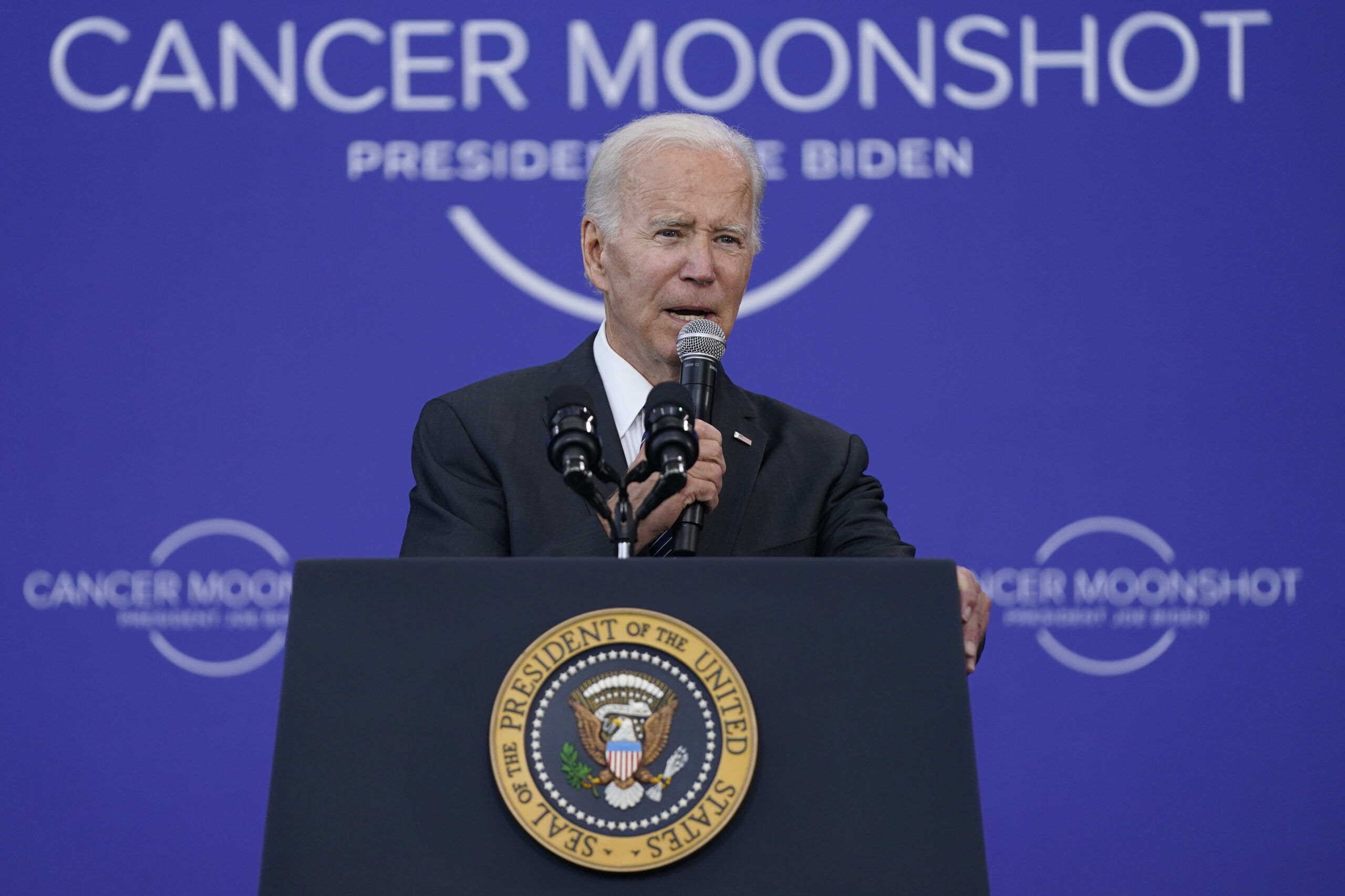 President Biden delivers a speech on the Cancer Moonshot initiative at the John F. Kennedy Presidential Library and Museum, Monday, Sept. 12 (Evan Vucci/AP Images)
Moon­shot re­fresh: Biden calls to cut can­cer death rate by at least 50% in 25 years
Pres­i­dent Joe Biden has long been an al­ly for the fight against can­cer, hav­ing lost his son Beau to an ag­gres­sive brain can­cer in 2015, af­ter which he launched the first Can­cer Moon­shot pro­gram in 2016 as VP.
On Mon­day, Biden looked to hit the re­set but­ton on the moon­shot pro­gram, an­nounc­ing a new goal to cut can­cer in the same way that for­mer Pres­i­dent John F. Kennedy pur­sued the moon, Biden said at the John F. Kennedy Pres­i­den­tial Li­brary and Mu­se­um in Boston.
Biden's speech came ex­act­ly 60 years to the day af­ter Kennedy spoke at Rice Uni­ver­si­ty about send­ing the US to the moon, ex­plain­ing that as a na­tion in 1962,
We choose to go to the moon in this decade and do the oth­er things not be­cause they are easy, but be­cause they are hard. Be­cause that goal will serve to or­ga­nize and mea­sure the best of our en­er­gies and skills, be­cause that chal­lenge is one that we're will­ing to ac­cept. One we are un­will­ing to post­pone.
Biden, mean­while, called for Amer­i­cans to work to­geth­er to cut the can­cer death rate.
"The goal is to cut can­cer death rates by at least 50 per­cent — at least 50 per­cent — in the next 25 years," Biden said. "I'm call­ing on the pri­vate sec­tor to de­vel­op and test new treat­ments, make drugs more af­ford­able, share more da­ta and knowl­edge that can in­form the pub­lic and ben­e­fit every com­pa­ny's re­search. And I'm re­spect­ful­ly call­ing on peo­ple liv­ing with can­cer, and care­givers and fam­i­lies, to keep shar­ing their ex­pe­ri­ence and push­ing for progress."
The speech came amid a busy day of sci­ence and biotech-fo­cused an­nounce­ments for the Biden ad­min­is­tra­tion: from new plans that were hatched to fur­ther grow do­mes­tic bio­man­u­fac­tur­ing with new train­ing and ed­u­ca­tion­al pro­grams, to an ex­ec­u­tive or­der that will ig­nite a new ge­nom­ic da­ta ini­tia­tive and look in­to reg­u­la­to­ry re­forms, to re­veal­ing his ap­point­ment of Re­nee We­grzyn, VP of busi­ness de­vel­op­ment at Gink­go Bioworks, as the first di­rec­tor of the Ad­vanced Re­search Pro­jects Agency for Health (ARPA-H), which aims to en­gage in riski­er bio­phar­ma R&D.
To­mor­row, the White House will host a sum­mit on its Na­tion­al Biotech­nol­o­gy and Bio­man­u­fac­tur­ing Ini­tia­tive dur­ing which cab­i­net agen­cies will an­nounce a wide range of new in­vest­ments and re­sources that will al­low the Unit­ed States to har­ness the full po­ten­tial of biotech­nol­o­gy and bio­man­u­fac­tur­ing and ad­vance the Pres­i­dent's Ex­ec­u­tive Or­der.
The EO al­so called on FDA and oth­er fed­er­al agen­cies to de­ter­mine what might be re­formed, call­ing for new "process­es and time­lines to im­ple­ment reg­u­la­to­ry re­form, in­clud­ing iden­ti­fi­ca­tion of the reg­u­la­tions and guid­ance doc­u­ments that can be up­dat­ed, stream­lined, or clar­i­fied; and iden­ti­fi­ca­tion of po­ten­tial new guid­ance or reg­u­la­tions."
Each year, the FDA com­mis­sion­er will be tasked with iden­ti­fy­ing "any gaps in statu­to­ry au­thor­i­ty that should be ad­dressed to im­prove the clar­i­ty and ef­fi­cien­cy of the reg­u­la­to­ry process for biotech­nol­o­gy prod­ucts, and shall rec­om­mend ad­di­tion­al ex­ec­u­tive ac­tions and leg­isla­tive pro­pos­als to achieve such goals," the EO text adds.
And this now-re­vi­tal­ized Can­cer Moon­shot was in­fused re­cent­ly with a CDC check to the tune of $215 mil­lion as part of a 5-year, $1.1 bil­lion grant to fund the first year of three na­tion­al pro­grams es­tab­lished in the 1990s to im­prove can­cer pre­ven­tion, de­tec­tion, di­ag­no­sis and con­trol.
"With progress over the last 25 years, the death rate from can­cer has fall­en more than 25 per­cent," Biden said Mon­day. "But de­spite the progress of lives ex­tend­ed, lives saved, can­cer is still the num­ber two cause of death in Amer­i­ca, sec­ond on­ly to heart dis­ease."
Biden al­so pre­vi­ous­ly ap­point­ed three doc­tors to serve three-year terms on his Can­cer Cab­i­net: chair Eliz­a­beth Jaf­fee, a deputy di­rec­tor at Johns Hop­kins' can­cer cen­ter and a pre­vi­ous AACR pres­i­dent; Mitchel Berg­er, di­rec­tor of UCSF's Brain Tu­mor Cen­ter; and Car­ol Brown, an on­col­o­gist, SVP and chief health eq­ui­ty of­fi­cer at Memo­r­i­al Sloan Ket­ter­ing Can­cer Cen­ter.