More than 2 years af­ter the ug­ly ro­ci de­ba­cle, Clo­vis says that the SEC is prep­ping civ­il charges
The hot wa­ter that Clo­vis $CLVS has been in with the SEC for the past two years is be­gin­ning to boil.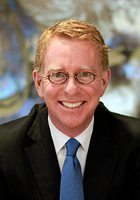 Clo­vis CEO Patrick Ma­haffy
The biotech to­day alert­ed in­vestors that the SEC has filed a Wells No­tice, sig­nal­ing its in­ten­tion to bring civ­il ac­tions against cur­rent and for­mer ex­ecs at the can­cer drug biotech. The SEC fil­ing did not spec­i­fy what ac­tions it will face, but Clo­vis did say it plans to con­test any charges.
Clo­vis' 10-K has spot­light­ed an on­go­ing in­ves­ti­ga­tion by the SEC and the Jus­tice De­part­ment in­to an ug­ly in­ci­dent in late 2015 cen­tered on their now de­funct lung can­cer drug rocile­tinib, say­ing it was co­op­er­at­ing with the feds on their probe.
Here's what hap­pened:
With shares pumped to about $100, Clo­vis stunned in­vestors in late 2015 when it sud­den­ly slashed the re­sponse rate on rocile­tinib for non-small cell lung can­cer to 34% for the 625-mg dose arm, and 28% for the 500-mg dose arm, a plunge of more than 20 points. The news put the drug—un­til then po­si­tioned as a promis­ing ri­val to Tagris­so (AZD9291) backed with peak sales pro­jec­tions of $3 bil­lion—at a dis­tinct dis­ad­van­tage, and the sub­se­quent rout evis­cer­at­ed the biotech's share price.
Set­backs hap­pen in biotech. But some of the ex­perts who watched this drug say this was not the usu­al kind of clin­i­cal re­ver­sal that can eas­i­ly oc­cur in a risky field like drug de­vel­op­ment.
Clo­vis, run by well-known CEO Patrick Ma­haffy, had been pur­pose­ly mis­lead­ing in­vestors with a false por­trait of the da­ta, they claimed.
"I feel that the ef­fi­ca­cy da­ta have, con­sis­tent­ly and re­peat­ed­ly, over many years, been mis­rep­re­sent­ed," R&D ex­pert Kapil Dhin­gra told me months lat­er af­ter he wrote an analy­sis of the da­ta for An­nals of On­col­o­gy. "This is not sim­ply a case of gray zones, this is black and white un­true pre­sen­ta­tion of the da­ta. And it is not just a mi­nor mis­rep­re­sen­ta­tion (such as pho­to­shop­ping a west­ern blot im­age etc that can get a ba­sic sci­en­tist in trou­ble); the true ef­fi­ca­cy is about half of what they rep­re­sent­ed."
The FDA made short work of Clo­vis' ap­pli­ca­tion, re­ject­ing the mar­ket­ing bid af­ter a pan­el of ex­perts shook their heads over a risky safe­ty pro­file and a poor­ly de­fined pro­file of ef­fi­ca­cy da­ta. Clo­vis then dumped the drug rather than try to mount a new study, and turned their at­ten­tion to a late-stage PARP ther­a­py, win­ning an OK for Rubra­ca. Just yes­ter­day it won an ex­pand­ed OK to sell the drug as a main­te­nance ther­a­py.
Reg­u­la­tors, though, have a rep for be­ing slow and steady on the en­force­ment front. And they've ev­i­dent­ly stayed fo­cused on Clo­vis.