Mo­tif Bio's turn­around quest for once-re­ject­ed an­tibi­ot­ic hits the CRL wall
For Mo­tif Bio, 2019 was go­ing to be all about the launch and roll­out of iclaprim. But a com­plete re­sponse let­ter from the FDA has shat­tered that dream and sent its stock crash­ing.
This is the sec­ond time reg­u­la­tors have said no to the an­tibi­ot­ic. The first re­jec­tion took place in 2009, when iclaprim was in the hands of a Roche spin­out named Arp­i­da, as ex­perts ex­pressed con­cern about QT pro­lon­ga­tion and a dis­pro­por­tion­ate num­ber of deaths, while point­ing to murky ef­fi­ca­cy.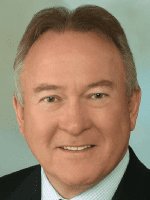 Gra­ham Lums­den
Mo­tif Bio, which end­ed up pick­ing up the drug, has since run two Phase III tri­als demon­strat­ing iclaprim's non-in­fe­ri­or­i­ty com­pared to van­comycin among pa­tients with acute bac­te­r­i­al skin and skin struc­ture in­fec­tions.
The FDA, how­ev­er, re­mains leery about the safe­ty pro­file and are now re­quest­ing ad­di­tion­al da­ta to fur­ther eval­u­ate the risk for liv­er tox­i­c­i­ty, the com­pa­ny said.
"We in­tend to re­quest a meet­ing with the FDA, which typ­i­cal­ly should oc­cur with­in ap­prox­i­mate­ly 30-45 days, to dis­cuss the CRL," CEO Gra­ham Lums­den said in a state­ment.
When reached for com­ment, the com­pa­ny de­clined to elab­o­rate on the na­ture of reg­u­la­tors' con­cern, or how long it might take to re­sub­mit an NDA. It did, how­ev­er, dis­close in its press re­lease that it had $12.3 mil­lion in cash and $15 mil­lion of debt at the end of last year — adding that it will need to raise cap­i­tal soon be­fore the mon­ey runs out in the sec­ond quar­ter.
Mo­tif Bio's shares on the Nas­daq $MTFB took a 76% de­scent pre-mar­ket, wip­ing out all its gains — and more — from a slow climb that start­ed in De­cem­ber.