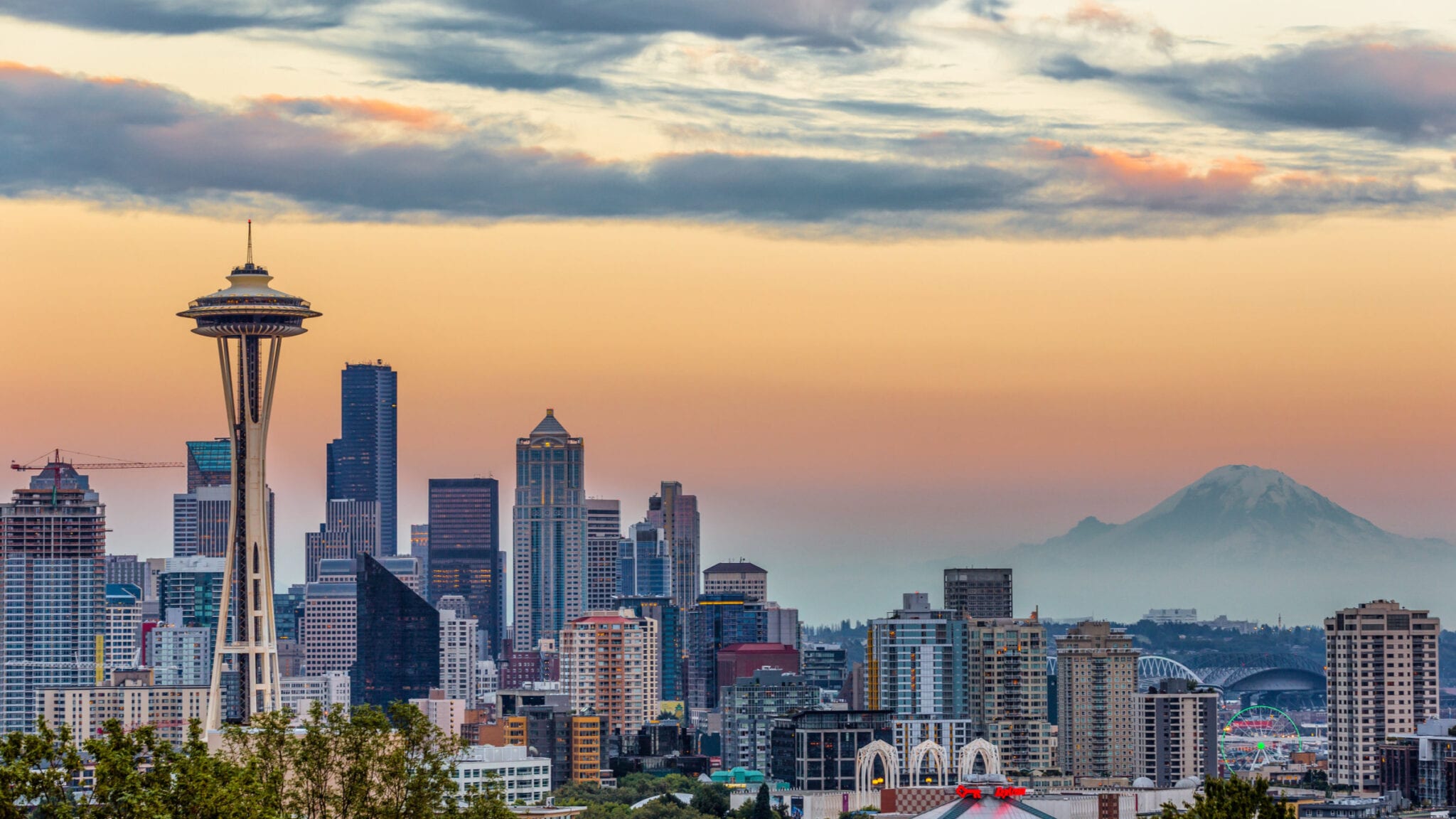 Seattle skyline (TomKli via Shutterstock)
Move over, Boston and San Fran­cis­co? Seat­tle tops list of fastest grow­ing biotech hubs for job op­por­tu­ni­ties — re­port
Boston and San Fran­cis­co have long been es­tab­lished as the two biggest biotechs hubs in the na­tion, homes for R&D that has spread its ten­ta­cles through all lev­els of the in­dus­try. But as the space has grown, those two hubs have im­posed tighter bar­ri­ers to en­try — which means cities like Seat­tle could have a chance to build a hub of in­no­va­tion of their own.
The Seat­tle-Taco­ma-Belle­vue tri­an­gle is the fastest grow­ing area for life sci­ences em­ploy­ment, close­ly fol­lowed by the At­lanta area and the Or­lan­do-Kissim­mee-San­ford tri­an­gle, ac­cord­ing to a new re­port from JLL. The team com­pared em­ploy­ment rates in the in­dus­try be­tween the past five years and the five years pre­ced­ing that.
On that rat­ing, life sci­ence po­si­tions in the Seat­tle area grew at a 3.1% clip, com­pared with 3% for the At­lanta area and 2.9% for the Cen­tral Flori­da tri­an­gle. In terms of wage po­si­tion­ing — a met­ric com­par­ing rel­a­tive wages be­tween biotech hubs — the Seat­tle area ranked fourth just be­hind Los An­ge­les, the Twin Cities and the North Car­oli­na tri­an­gle of Raleigh-Durham-Chapel Hill.
The JLL re­port, ti­tled "Life Sci­ences Emerg­ing Mar­kets In­dex: Poised for a par­a­digm shift," the team not on­ly looked at biotech hubs' "mo­men­tum," but al­so their wealth of avail­able tal­ent and "po­ten­tial" to at­tract a work­force.
"Though Boston, San Fran­cis­co, and San Diego will al­ways oc­cu­py a vault­ed place with­in the life sci­ences pan­theon, the in­cred­i­ble dy­namism of the in­dus­try is jump-start­ing new mar­kets that are of grow­ing in­ter­est to life sci­ences in­vestors and com­pa­nies alike thanks to their lifestyle, cost of liv­ing, and de­mo­graph­ic ad­van­tages," JLL wrote.
In terms of to­tal STEM de­grees, the megac­i­ties ob­vi­ous­ly topped the list: New York City, Los An­ge­les, Chica­go and Wash­ing­ton, DC. Round­ing out the list there are the Hous­ton and Dal­las ar­eas, San Fran­cis­co, Boston, Toron­to and At­lanta.
The re­port al­so out­lined an in­dex for "po­ten­tial," which it de­fined as a ma­trix of hous­ing avail­abil­i­ty, an ex­ist­ing mil­len­ni­al work­force, state cor­po­rate tax­es and high­er-ed­u­ca­tion R&D fund­ing. By that met­ric, the Char­lotte-Gas­to­nia-Con­cord tri­an­gle in North Car­oli­na nar­row­ly edged out the Seat­tle area. Just be­low those fron­trun­ners were the Den­ver-Au­ro­ra-Lake­wood area in Col­orado and the Austin, TX re­gion, in­clud­ing two cities along In­ter­state 35 — Round Rock and George­town. A cou­ple oth­er sur­pris­es on the top 10 po­ten­tial list were Boise, ID, and the greater Nashville area.
Part of what de­fined those ar­eas' po­ten­tial were cor­po­rate tax rates, and on that front Wash­ing­ton and Texas came out on top. Both states boast a 0% cor­po­rate rate — on­ly North Car­oli­na comes close at 2.5%. Mean­while, Cal­i­for­nia, New York and Texas topped the list in terms of high­er-ed­u­ca­tion R&D spend­ing, a guide­post for IP pro­duc­tion and cor­po­rate fol­lowthrough, JLL said.