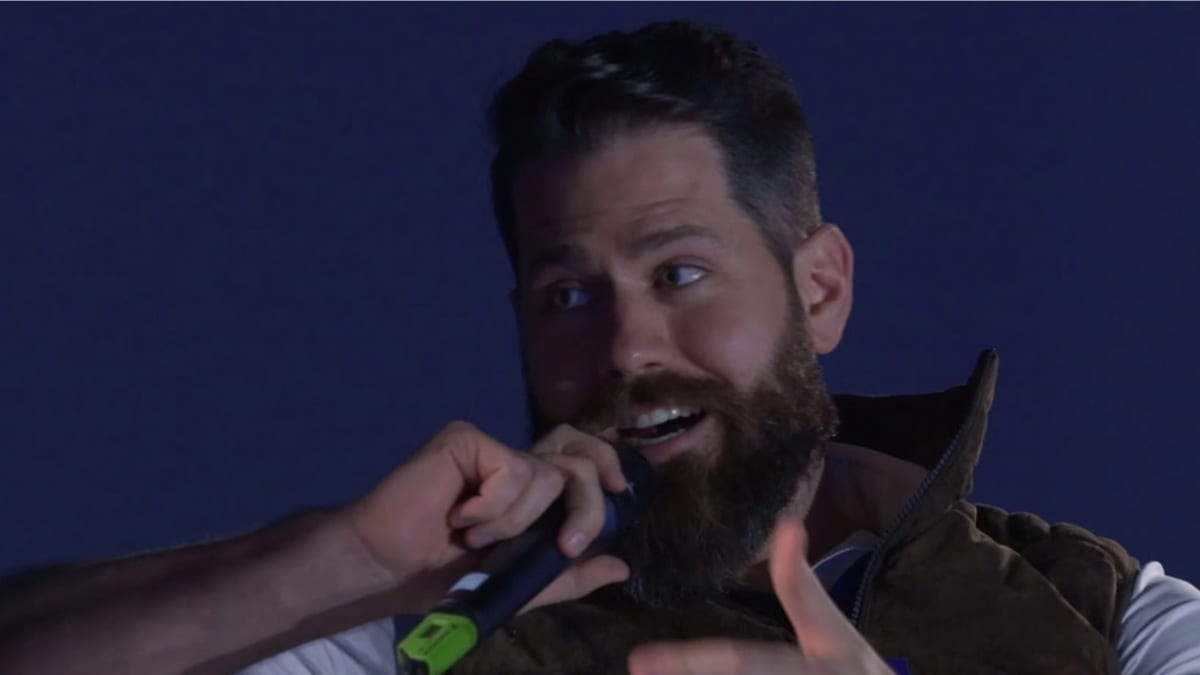 Lars Christian Wilde, Compass co-founder and CBO (via YouTube)
Mush­room mag­ic draws $80M in­jec­tion for Lon­don-based men­tal health start­up
The coro­n­avirus out­break has in­ter­fered with a mid-stage de­pres­sion tri­al test­ing its psilo­cy­bin com­pound, but the mag­ic of the mush­room has scored Pe­ter Thiel-backed Com­pass Path­ways an $80 mil­lion in­jec­tion in fresh fund­ing.
Ex­as­per­at­ed with the of­ten-in­ef­fec­tive ex­ist­ing slate of an­ti­de­pres­sants, the com­pa­ny set up shop in Lon­don in 2016 and made a bee­line for psilo­cy­bin, the psy­choac­tive in­gre­di­ent in mag­ic mush­rooms. It re­ceived the FDA break­through ther­a­py sta­tus for the com­pound for treat­ment-re­sis­tant de­pres­sion in 2018.
The study, de­signed to re­cruit 216 pa­tients across sites in North Amer­i­ca and Eu­rope, had be­gun re­cruit­ing when the coro­n­avirus out­break un­fold­ed. "We de­cid­ed to — with the Covid cri­sis — pause the study for now, un­til there's bet­ter vis­i­bil­i­ty on how the world will de­vel­op," said co-founder and chief busi­ness of­fi­cer Lars Chris­t­ian Wilde in an in­ter­view. "The pos­i­tive news is that we have a huge num­ber of pa­tients that have com­plet­ed pre-screen­ing and we're ready to start over again when the world nor­mal­izes."
Psilo­cy­bin is a sub­stance that in most re­gions is clas­si­fied as hav­ing no med­i­c­i­nal val­ue, falling in the same cat­e­go­ry as chem­i­cals such as LSD. The com­pa­ny's man-made ver­sion of the chem­i­cal — which is il­le­gal across ge­o­gra­phies in its nat­ur­al fun­gi form — had been well-tol­er­at­ed in an ear­ly-stage, place­bo-con­trolled tri­al in 89 healthy vol­un­teers in De­cem­ber.
"I think one thing that stands out not on­ly in our healthy vol­un­teer's study but al­so in the ear­li­er tri­als, is that typ­i­cal­ly pa­tients re­port a deep sense of grate­ful­ness for the ex­pe­ri­ence, a re­con­tex­tu­al­iza­tion of their suf­fer­ing, and of­ten­times in­sight in­to how and what led them to be­come de­pressed, and al­so see­ing so­lu­tions on how to over­come their de­pres­sion," said Wilde, who claimed that one ses­sion with mag­ic mush­rooms had cured his anx­i­ety dis­or­der and de­pres­sion, which led to the cre­ation of Com­pass along with his co-founders.
The new fund­ing round in­clud­ed the par­tic­i­pa­tion of ATAI Life Sci­ences (al­so co-found­ed by Wilde); as well as new in­vestors, in­clud­ing the Mc­Quade Cen­ter for Strate­gic Re­search and De­vel­op­ment (a mem­ber of the glob­al Ot­su­ka fam­i­ly of phar­ma­ceu­ti­cal com­pa­nies), Founders Fund, Able Part­ners, Cam­den Part­ners Nexus, Per­cep­tive Ad­vi­sors, Skyviews Life Sci­ence, and Soleus Cap­i­tal.
Giv­en glob­al spikes in al­co­hol con­sump­tion and symp­toms of lone­li­ness due to iso­la­tion mea­sures, in the coro­n­avirus era men­tal health treat­ments are need­ed now more than ever, Wilde said, not­ing that the plan was to orig­i­nal­ly raise $70 mil­lion.
Psy­choac­tive in­gre­di­ents, whether de­rived from cannabis, LSD or mag­ic mush­rooms, have long cap­ti­vat­ed men­tal health re­searchers. Nav­i­gat­ing the com­plex le­gal hur­dles to ac­cess these com­pounds has thawed the pace of re­search but with mo­ti­vat­ed sci­en­tists and a grow­ing bur­den of poor­ly treat­ed men­tal health con­di­tions, the ecosys­tem of psy­che­del­ic re­search has ex­plod­ed. In Sep­tem­ber, Johns Hop­kins un­veiled it had scored $17 mil­lion to open its very own cen­ter of psy­che­del­ic re­search to ex­plore the im­pact of psy­che­del­ic com­pounds on cre­ativ­i­ty and well-be­ing.
But the brim­ming en­thu­si­asm comes with a healthy dose of skep­ti­cism. Crit­ics wor­ry that the bur­geon­ing re­search could in­cen­tivize un­bri­dled use of non-phar­ma­ceu­ti­cal ver­sions of these drugs and that clin­i­cal tri­al da­ta could be cloud­ed by the fact that place­bo-con­trolled stud­ies are not nec­es­sar­i­ly dou­ble-blind­ed, be­cause it is far too easy to de­ter­mine which group of pa­tients have been giv­en a place­bo.
In a bid to com­bat some of these chal­lenges, the mid-stage tri­al has three arms — eval­u­at­ing a 1 mg, 10 mg and 25 mg dose of psilo­cy­bin.
"Based on ear­li­er clin­i­cal work at Johns Hop­kins, and we're very con­fi­dent that the 1 mg dose doesn't have any sub­jec­tive ef­fects and for the pa­tient, but the ben­e­fit of such a de­sign is that we can at least deal with ex­pectan­cy bias — every pa­tient will re­ceive no­tice that they will re­ceive psilo­cy­bin," Wilde said, adding that the com­pa­ny is al­so us­ing blind­ed raters, who have not par­tak­en in the ther­a­py ses­sion.