NASH con­tender CymaBay runs in­to trou­ble as mid-stage da­ta dis­ap­point
A snap­shot of neg­a­tive da­ta from an on­go­ing 52-week mid-stage NASH study eval­u­at­ing CymaBay Ther­a­peu­tics' lead drug has trig­gered alarm, af­ter the ex­per­i­men­tal liv­er drug, se­ladel­par, per­formed worse than a place­bo at a three-month read­out.
Sur­prised and aghast, in­vestors of the San Fran­cis­co-based biotech wast­ed lit­tle time in reg­is­ter­ing their dis­ap­point­ment. The com­pa­ny's shares $CBAY plum­met­ed about 44.5% to $6.16 in ear­ly Tues­day trad­ing.
In the 181-pa­tient tri­al, pa­tients were ei­ther giv­en place­bo, se­ladel­par 10 mg, 20 mg, or 50 mg once dai­ly. The main goal at the end of 12 weeks was to in­duce a sta­tis­ti­cal­ly sig­nif­i­cant im­prove­ment in liv­er fat con­tent. Pa­tients giv­en the place­bo saw a re­duc­tion of 20.8% in liv­er fat, while those giv­en the three es­ca­lat­ing dos­es of se­ladel­par ex­pe­ri­enced small­er im­prove­ments: 10 mg (9.8%), 20 mg (14.2%) and 50 mg (13%).
Cymabay has pre­vi­ous­ly said it ex­pect­ed to see a 20-30% rel­a­tive — place­bo-ad­just­ed — change in liv­er fat at 12 weeks.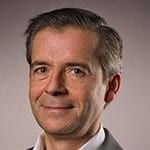 Pol Boudes Linkedin
"While the re­duc­tions in liv­er fat were min­i­mal, we re­main en­cour­aged by the sig­nif­i­cant im­prove­ments in bio­chem­i­cal mark­ers of liv­er in­jury…" Pol Boudes, CymaBay's chief med­ical of­fi­cer, said in a state­ment.
The ex­per­i­men­tal drug's 52-week biop­sy read­out is ex­pect­ed in mid-2020. Se­ladel­par be­longs to a fam­i­ly of drugs that ac­ti­vate pro­teins called per­ox­i­some pro­lif­er­a­tor-ac­ti­vat­ed re­cep­tors (PPARs), which reg­u­late gene ex­pres­sion. Ex­ist­ing ev­i­dence sug­gests that in the liv­er, PPAR ag­o­nists play a role in bile acid syn­the­sis, in­flam­ma­tion, fi­bro­sis and lipid me­tab­o­lism.
"While there is still a 52-week fol­low-up, we be­lieve that these 12-week re­sults sig­nif­i­cant­ly lessen the com­pet­i­tive threat of se­ladel­par in NASH. Hence, by less­en­ing the com­pet­i­tive threat, we be­lieve these re­sults should ben­e­fit In­ter­cept, as OCA re­mains the on­ly med­ica­tion to show a ben­e­fit on fi­bro­sis in a Phase 3 tri­al. While OCA has some is­sues of its own, we think it is no­table that one of those is NOT a failed ran­dom­ized, place­bo con­trolled study," Baird's Bri­an Sko­r­ney wrote in a note.
Akin to CymaBay, French drug de­vel­op­ers Gen­fit (set to re­port piv­otal da­ta in 2019) and In­ven­ti­va are work­ing on their own PPAR ag­o­nists for NASH.
On Tues­day morn­ing, shares of Gen­fit $GN­FT — that re­cent­ly made its Nas­daq de­but — were al­so down about 15% at $20.37. The move­ment like­ly re­flects in­vestors tak­ing the CymaBay da­ta as ev­i­dence against the ef­fi­ca­cy of Gen­fit's elafi­bra­nor, Sko­r­ney not­ed. "We think this move is some­what un­jus­ti­fied…the two med­ica­tions were thought to have dif­fer­en­ti­at­ed mech­a­nisms of ac­tion, it seems that this may not be the case, as se­ladel­par's da­ta sug­gest that the med­ica­tion does not re­duce liv­er fat, which is sim­i­lar to what we have seen from ear­li­er tri­als of elafi­bra­nor."
How­ev­er, as a con­se­quence of the new CymaBay da­ta, the two PPAR ag­o­nists now look more sim­i­lar than dif­fer­ent, he said. "CymaBay may be at a sig­nif­i­cant dis­ad­van­tage mov­ing for­ward as we be­lieve that even if PPAR ag­o­nism is suc­cess­ful in Gen­fit's Phase 3 tri­al, with­out any clear signs of dif­fer­en­ti­a­tion, CymaBay may have an up­hill bat­tle as they work to catch up to Gen­fit in NASH. If elafi­bra­nor fails in NASH, it would prob­a­bly be pre­dic­tive of the out­come of se­ladel­par in NASH. Ei­ther way, we think this makes the PPAR class, as a whole, look like a less sig­nif­i­cant com­pet­i­tive threat to OCA."
Oth­er ma­jor NASH con­tenders — Gilead $GILD (fail in Phase III) and In­ter­cept $ICPT (mixed win in Phase III) — have dis­closed the top line num­bers of their late-stage tri­als. In­ter­cept is poised to sub­mit its mar­ket­ing ap­pli­ca­tion lat­er this year.
Im­age: Shut­ter­stock