Nestlé in­vests $145M in Aim­mune's food al­ler­gy R&D work, tak­ing the head seat at the deal ta­ble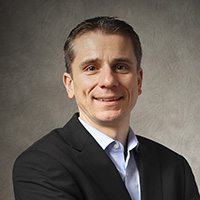 Greg Be­har, CEO, Nestlé Health Sci­ence
Nestlé Health Sci­ence is mak­ing an­oth­er big in­vest­ment in an emerg­ing biotech com­pa­ny. The Bris­bane, CA-based Aim­mune $AIMT is sell­ing a whop­ping $145 mil­lion stake in the com­pa­ny to Nestlé Health Sci­ence.
The in­vest­ment gives Nestlé 15% of the biotech — 7.6 mil­lion shares at $19.20 a share — and cre­ates a new col­lab­o­ra­tion in which Nestlé will pro­vide "on­go­ing sci­en­tif­ic, reg­u­la­to­ry, and com­mer­cial ex­per­tise and ad­vice" on the biotech's de­vel­op­ment of new ther­a­pies for food al­ler­gies. Nes­tle, mean­while, al­so gets an op­tion on get­ting the first crack at part­ner­ing with Aim­mune on its oral food al­ler­gy treat­ments.
That in­cludes Aim­mune's lead Phase III pro­gram for AR101, a bi­o­log­ic in de­vel­op­ment for peanut al­ler­gies.
Nestlé Health Sci­ence has been a busy biotech in­vestor, buy­ing in­to com­pa­nies like Pronu­tria, which has been de­vel­op­ing a new way to de­vel­op pro­teins that can de­liv­er ther­a­peu­tic dos­es of amino acids to the blood­stream. It's al­so in­vest­ed in Seres $MCRB, an­oth­er Cam­bridge, MA-based biotech. And there was a €100 mil­lion deal for DBV Tech­nolo­gies back in May to help de­vel­op a di­ag­nos­tic for pe­di­atric milk al­ler­gies.
Said Greg Be­har, CEO of Nestlé Health Sci­ence:
"Nestlé Health Sci­ence is in­vest­ing and in­no­vat­ing to change the ap­proach to food al­ler­gy man­age­ment, with in­te­grat­ed ap­proach­es from di­ag­nos­tics (Dx) to nu­tri­tion so­lu­tions (Nx) and now bi­o­log­ics (Rx), where Aim­mune's pro­pri­etary ap­proach has trans­for­ma­tion­al po­ten­tial in the lives of pa­tients and fam­i­lies."