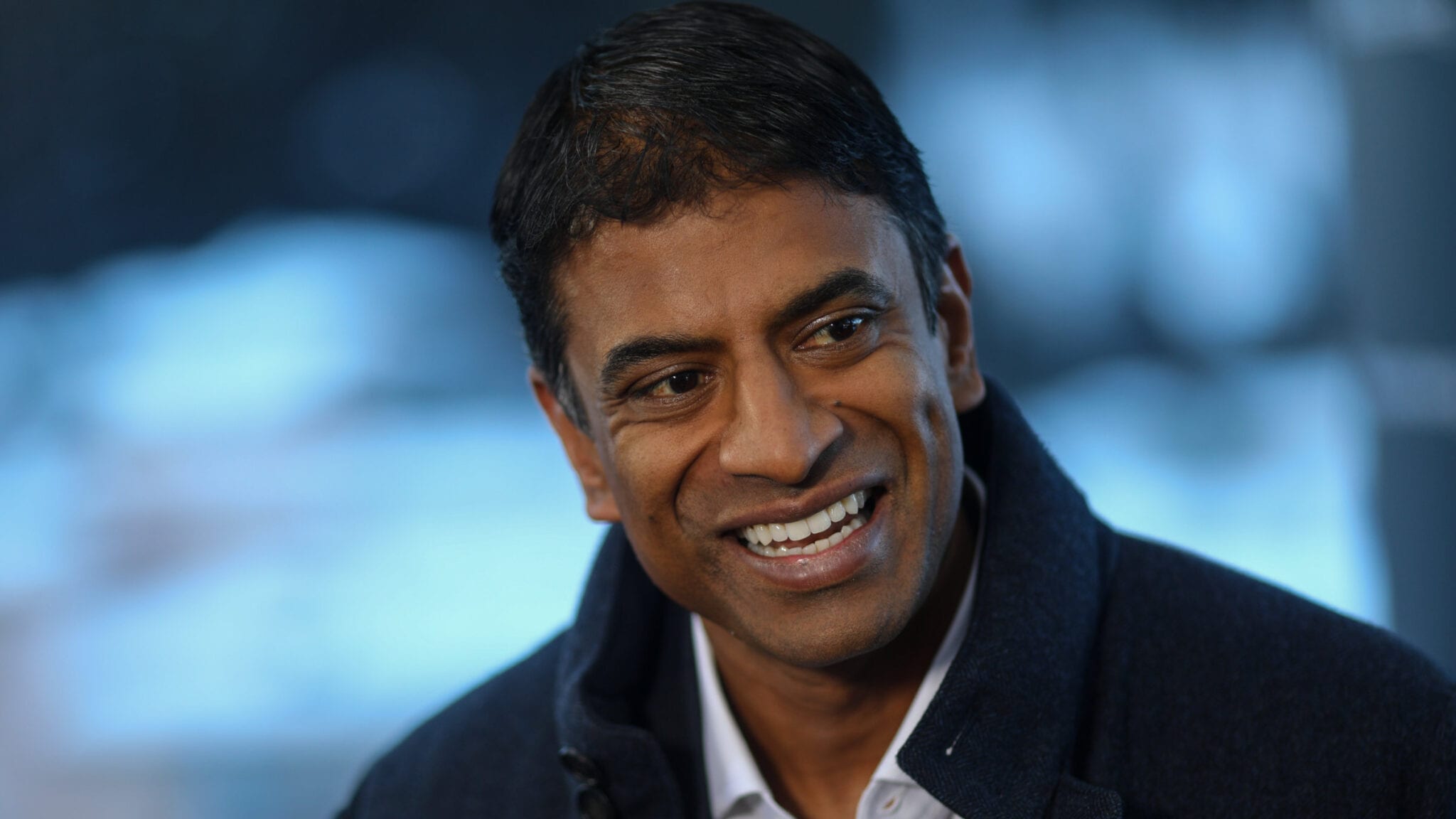 Vas Narasimhan (Photographer: Simon Dawson/Bloomberg via Getty Images)
New buy­ers lin­ing up bids for No­var­tis' gi­ant gener­ics arm
With the fate of No­var­tis' gener­ics unit up in the air, more po­ten­tial buy­ers are re­port­ed­ly lin­ing up for what could be one of the largest M&A deals the in­dus­try has seen in the last year or so.
Black­stone and the Car­lyle Group are con­sid­er­ing a joint of­fer for San­doz that could val­ue that unit at up to $25 bil­lion, Bloomberg and the Fi­nan­cial Times re­port­ed on Tues­day. Some­one with knowl­edge of the mat­ter has con­firmed to End­points News that Car­lyle is in talks with Black­stone re­gard­ing a po­ten­tial of­fer.
When asked about the re­ports, a No­var­tis spokesper­son sim­ply said: "We don't com­ment on mar­ket ru­mor and spec­u­la­tion."
The news comes about a month and a half af­ter re­ports emerged from Ger­many that EQT and the bil­lion­aire Strüng­mann broth­ers were in talks over a $21 bil­lion bid. This wouldn't be the Strüng­manns' first rodeo, as they sold Hexal to No­var­tis in 2005.
No­var­tis' Vas Narasimhan con­firmed back in De­cem­ber that he's seen some un­spec­i­fied M&A in­ter­est, though no hard of­fers were on the ta­ble. In Oc­to­ber, the chief ex­ec­u­tive flagged a plan to un­der­take a strate­gic re­view of San­doz to see whether the gener­ics group should stay in­side No­var­tis, or be sold or spun off in­to an in­de­pen­dent com­pa­ny. Gener­ic drug prices have re­mained un­der in­tense pres­sure — and now, Narasimhan could fol­low in the foot­steps of Mer­ck, J&J and oth­ers and split off from the gener­ics unit en­tire­ly.
"What is clear is that we want to fo­cus No­var­tis pri­mar­i­ly on in­no­v­a­tive med­i­cines," Narasimhan told re­porters late last year. "We gen­er­ate 80% of our sales and 80 to 90% of our prof­its with new med­i­cines, for ex­am­ple for can­cer, car­dio­vas­cu­lar prob­lems or ge­net­ic dis­eases."
A $25 bil­lion deal would top last year's most ex­pen­sive bio­phar­ma ac­qui­si­tion — CSL's $11.7 bil­lion deal for Vi­for Phar­ma — by a sig­nif­i­cant amount. M&A in the bio­phar­ma space has seen a dras­tic slow­down since a round of mega-deals in 2019, in­clud­ing Ab­b­Vie's $63 bil­lion ac­qui­si­tion of Al­ler­gan and Take­da's rough­ly $62 bil­lion takeover of Shire — how­ev­er, an­a­lysts said back in De­cem­ber that they large­ly ex­pect buy­outs to pick up ear­ly this year.